A pneumatic finish nailer is a fantastic tool to give your carpentry project a final touch of rigidity and durability. These nailers eliminate the need for a hammer with just one press on the trigger. These tools work on air pressure, so they remove the need for cords, making them compact and easy to use.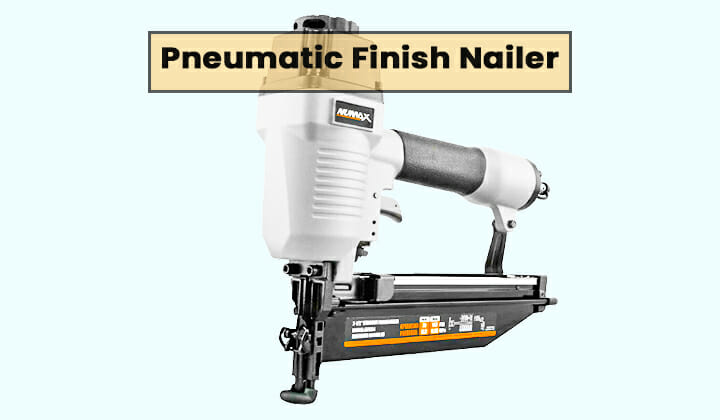 In case you are looking for a reasonable yet most effective option, you can go for NuMax SFN64 16 gauge finish nailer. However, if you are a professional looking to take on heavy projects, BOSTITCH 15 GA Angled Finish Nailer should be a better choice for you.
Best Pneumatic Finish Nailer for You
Editors Choice
Best Buy
Nice Pick
NuMax SFN64 Pneumatic 16-Gauge 2-1/2" Straight Finish Nailer
Hitachi NT65MA4 1-1/4 Inch to 2-1/2 Inch 15-Gauge Angled Finish Nailer with Air Duster
BOSTITCH Finish Nailer, Angled, 15GA, 1-1/4-Inch to 2-1/2-Inch (N62FNK2)
Editors Choice
NuMax SFN64 Pneumatic 16-Gauge 2-1/2" Straight Finish Nailer
Best Buy
Hitachi NT65MA4 1-1/4 Inch to 2-1/2 Inch 15-Gauge Angled Finish Nailer with Air Duster
Nice Pick
BOSTITCH Finish Nailer, Angled, 15GA, 1-1/4-Inch to 2-1/2-Inch (N62FNK2)
There are many finish nailers in the market for you to choose from. However, the best ones differ from others in their brand value, features, and affordability.
1. NuMax SFN64 Pneumatic 16-Gauge 2-1/2″ Straight Finish Nailer | Best Value for Money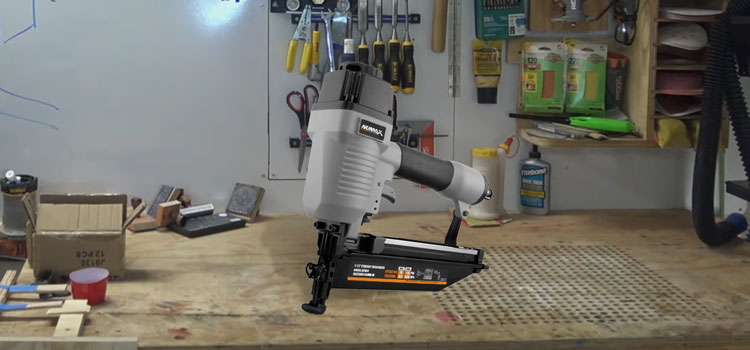 Like a 16 gauge pneumatic finish nailer, NuMax SFN64 does a splendid job in interior and exterior finish projects. Whether you have to give finishing touches to furniture, cabinets, staircases, baseboards, or shoes, this pneumatic gun can handle all types of jobs.
Build quality is the reason behind such power of this tool. Under strict quality control guidelines, the NuMax SFN64 16 gauge finish nailer came into being using the most durable materials. Therefore, this tool can be used beyond DIY projects for professional applications as well.
NuMax SFN64, a 16 gauge finish nailer, has a lightweight and durable body made of aluminum. It also features a comfortable grip handle so that you can continue working for a prolonged period. There is also a no-mar tip to prevent possible damage due to dents and dings.
More features include a quick jam release mechanism. This allows you to deal with the jamming issues conveniently. You can do that without even taking the nailer apart. Overall, this pneumatic gun is a product that offers excellent value combined with satisfactory customer service.
Despite all its benefits, this finish nailer does not have a distinct way of informing you about the nail count. As a result, misfiring issues occur often.
Pros
Lightweight and durable aluminum body.
Quick jam release mechanism.
Affordable.
Cons
2. Hitachi NT65MA4 1-1/4 Inch to 2-1/2 Inch 15-Gauge Angled Finish Nailer | Best for Professional Use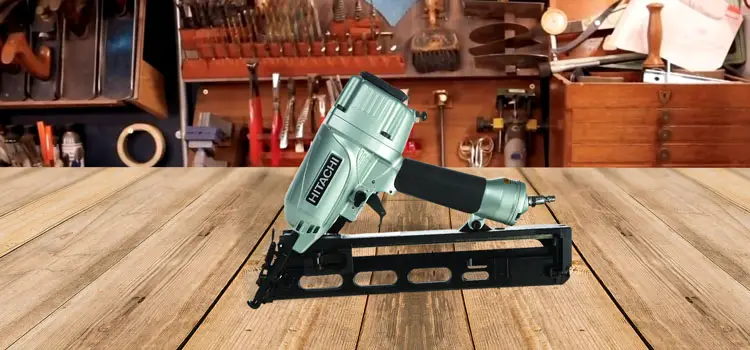 The Metabo NT65MA4 15 GA Angled Finish Nailer is a tool that lets you do your job like none other. You will love the way this angled nailer helps you reach corners and punch nails. The value and quality combined make this product a top choice among many.
This pneumatic gun has a lightweight build. As a result, it is comfortable to hold and reduces fatigue from prolonged use. Being an angled finish nailer, you can easily use this tool in tight angles, such as installing molding, cabinetry, and other finishing jobs.
As for the features, the tool offers a tool-free depth of drive adjustment that gives you improved control over flush fastening. Moreover, the exhaust is a 360° adjustable port that directs air away from your work area. Another intriguing feature is the air duster. It blows away the dust and dirt to keep the work surface clean.
The Hitachi NT65MA4 15 GA Angled finish nailer has a 34-degree magazine angle. This allows you to do intricate projects where you need to reach tight spaces. There is no better option in this price range that offers both better versatility and performance.
However, there have been issues where this pneumatic gun dry-fires. This leaves a hole in the trim with no nail. This causes great inconvenience when you are looking to give your project a finishing touch.
Pros
360° adjustable port.
34 degrees magazine angle.
Air duster.
Cons
3. BOSTITCH Finish Nailer, Angled, 15GA, 1-1/4-Inch to 2-1/2-Inch (N62FNK2) | Best for Heavy Duty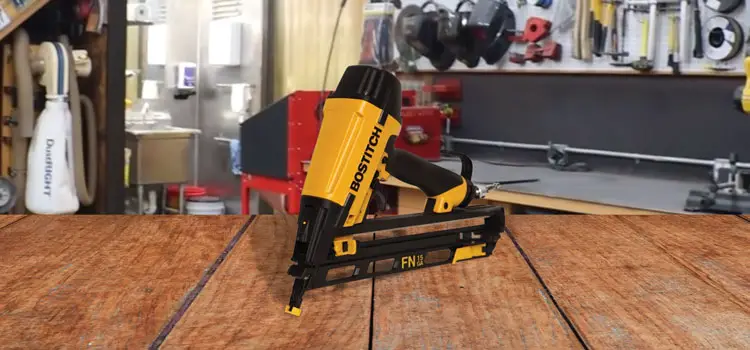 This one is another 15 GA angled finish nailer from BOSTITCH. BOSTITCH has done justice to its reputation by producing this excellent pneumatic gun. With a plethora of features, this finish nailer makes all your finishing projects fun.
This 15 GA angled finish nailer is a product meant for heavy-duty professional use. However, its build quality is impressive, and it is straightforward to use. The lightweight build along with top-notch durability makes it a favorite among carpentry enthusiasts.
Pinning down nails while the exhaust air is faced your way can be unnerving. BOSTITCH addresses the issue quite efficiently with its world-class ultra-quiet rear exhaust. It directs air away from your face so that you can enjoy a smooth operation.
Moreover, you get an integrated air blower with this finish nailer that clears debris from your working area. If you are having trouble with dark spaces, you don't need to worry, thanks to the LED work lights. Additional features like oil-free operation, rear trip design makes this nailer a top choice any day.
On the downside, the angle of this pneumatic gun is not standard. Therefore, no other nail except BOSTITCH nails will fit this nailer.
Pros
Heavy-duty finish nailer.
Rear exhaust.
Oil-free operation.
Cons
Not a standard angled finish nailer.
4. Senco 4G0001N FinishPro 42XP 15 Gauge 1-1/4″ To 2-1/2″ Finish Nailer
The Senco 15 Gauge Finish Nailer is an excellent tool that offers exceptional durability along with fast performance. The versatility of this finish nailer allows it to be used in all kinds of finish and trim applications. Therefore, it is deemed as the perfect nailer for professionals to use. 
Regarding the build, it is challenging yet lightweight, thanks to its rugged internal design with magnesium. Moreover, the users can easily handle the tool as the grip is comfortable and eases fatigue. The ergonomic design and smooth finish make it a popular choice among professional carpenters.
The 42XP is another name for precision and accuracy. It features an adjustable depth of drive that allows you to drive precisely according to your choice. The tool also features an EZ-clear latch that eliminates the chances of jamming.
Another unique aspect of the 42XP is its "NeverLube" to ensure oil-free operation. This feature prevents any kind of damage and mess caused by oil spills. Also, the no-mar pad is there to protect the wood. All these features, along with the improved trigger, make this finish nailer worthy.
However, the rubber grip has some issues with quality. Sometimes it loses its grip on the handle. Also, the plastic box is a bit bulky.
Pros
Rugged internal design.
EZ-clear latch.
"NeverLube" feature.
Cons
The rubber grip lacks in quality.
Frequently Asked Questions
What size air compressor do I need for my pneumatic finish nailer?
To operate your finish nailer, you will have to get an air compressor that can offer pressure and volume of 70 to 120 PSI and 0.3 to 0.5 CFM, respectively. Any small air compressor in the market can supply this amount of pressure and volume.
Can I use my pneumatic finish nailer for framing?
Both types of nailers are designed to perform their respective functions. If you use a framing nailer to fasten crown moldings, they will most probably break. Conversely, if you use a finish nailer for framing, it will ruin your project.
Conclusion
A pneumatic finish nailer is an excellent tool for a faster and more effective finishing operation. Before you decide on your final product, make sure you revise your working criteria, the type of job you will do, and the features you will need. Depending on that, you have to decide on the gauge size and then choose a straight or an angled finish nailer.