To ornate woodworks, the use of trims has rare alternatives. A number of nailers may cross your mind when these molds and trims come to your sight. But whether it be a vintage decoration or DIY project, delicate gluing demands nothing but pin nailers.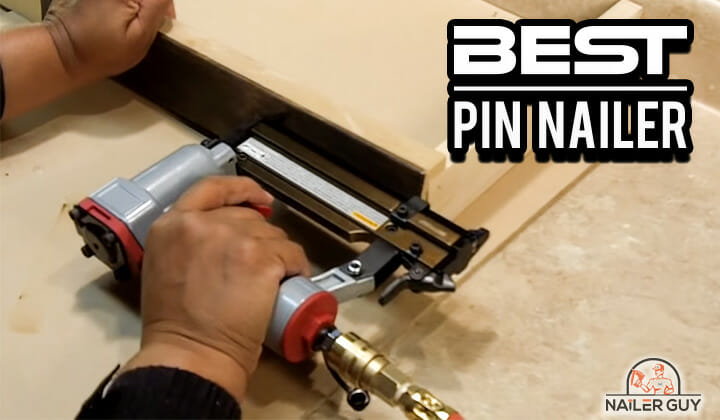 It is the best pin nailers that are gonna suffice if you are a beauty lover. And what else can provide you that "no putty" beauty experience? Let's check them out!
Product Review
Editors Choice
Best Buy
Nice Pick
Grex P635 23 Gauge 1-3/8-Inch Length Headless Pinner
Hitachi NP35A Pin Nailer 23 Gauge, Accepts 5/8 to 1-3/8 Pin Nails, Micro Pinner with Depth Adjustment, 5 Year Warranty
BOSTITCH Pin Nailer 23 Gauge, 1/2-Inch to 1-3/16-Inch (HP118K)
Editors Choice
Grex P635 23 Gauge 1-3/8-Inch Length Headless Pinner
Best Buy
Hitachi NP35A Pin Nailer 23 Gauge, Accepts 5/8 to 1-3/8 Pin Nails, Micro Pinner with Depth Adjustment, 5 Year Warranty
Nice Pick
BOSTITCH Pin Nailer 23 Gauge, 1/2-Inch to 1-3/16-Inch (HP118K)
A few pin handlers to follow are ready to take action. Find your ideal pin nailer now.
1. Grex P635 Headless Pinner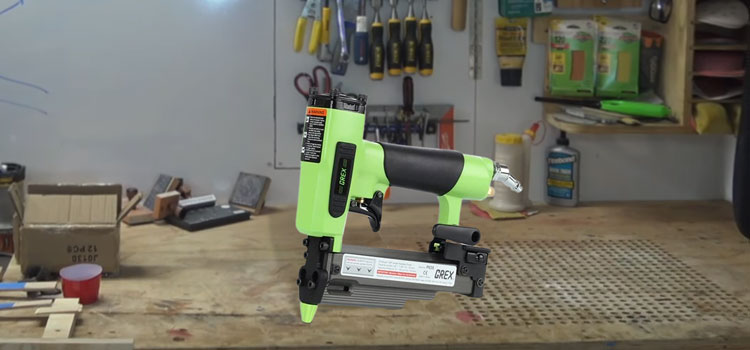 Why choose it?
Headless pinners may not find a better nailer to fit into than this mighty one of Grex. 9 sizes of nails ranging from 3/8 inch to 1-3/8 inch ones will get a magazine featuring self-adjusting accommodation. A fine ergonomic handle makes this 2.1lbs lightweight nailing gun one of the most comfortable nailers of its kind.
Thin nails deserve a good percentage of precision and here we will find some. This 23 gauge nail gun in the green outfit has got one of the narrowest tips. So compact zones and tight nailing spots are really going to find a smooth solution. You are thus free to select the most delicate works including the smallest trims of the town.
A couple of organizations including Wood magazine has put this pin nailer as their favorite. And why not when a number of features including the no-mar tip in this quality construction built tool is ensured. So safety without losing accuracy comes into play.
Safety features begin piling up when you'll discover the double trigger mechanism in it. And yes, misfiring remains no threat to the smoothness of its operation.
The feathery nailer refers to no fatigue other than the depth adjustment issue. Well, you can still handle the nailing depth by controlling the air pressure of the compressor.
What puts it behind?
Though considering other functions, the Grex P635 outperforms many other good nailers, depth of nailing came out as a great drawback. Literally, no adjustment of depth drive control is available in this tool. Well, some expert users have suggested taking off the tip of the gun to avail enough depth.
This pin nailer is, on one hand, pricey and on the other hand not strong enough to tackle relatively harder wood like cherry, hickory, etc.
2. Hitachi NP35A Pin Nailer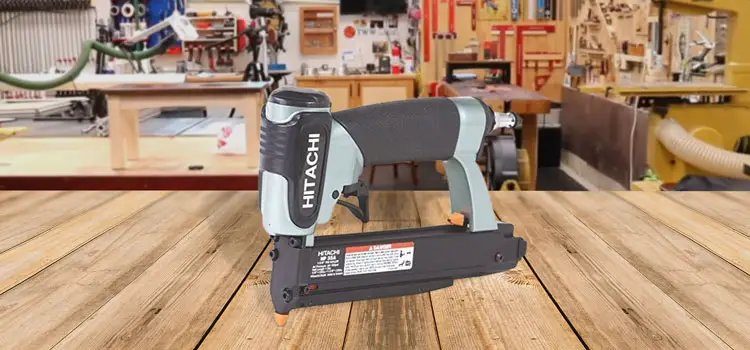 Why choose it?
Hitachi NP35A includes a safety goggle and carry case. A nailer having 5 years warranty and many other versatile aspects often doesn't include accessories. Except for you chose the vanilla model, the kit will pave your way towards a fantastic nailing life.
A number of trim works and other nailing options open their gates as soon as you grab this nailer presenting auto-adjust magazine. That is to say, 5/8 inch to 1-3/8 inch headless pins will be well accommodated by it. And a reload indicator is always active to impress the idea of the remaining pin count. Which makes it one of the best 23 gauge pin nailer on the market.
Misfiring is well fought against by installing dual trigger firing. Again no-mar tip takes the care of keeping a clean workpiece without invoking any damage. These two traits, pairing up, possess the potential to provide some quality trim works with high accuracy as well as an ecstatic experience.
Even great nailers miss out on depth adjustment mechanism, this one, luckily, didn't. Experienced Hitachi engineers did an appreciable job to make the nail depth of drive adjustable to allow a greater number of materials to turn into carpentry beauties.
Well, your beauty is also a concern and the rear exhaust "nailed" it. Neither is dirt and debris going to find your face nor is the oil going to ruin your work. 
What puts it behind?
5/8 inch is the least pin size the Hitachi nailer can accommodate and allow. Surely buying another nailer isn't worth it if you need to deal with yet smaller nails. This may not come out fatal if 5/8 inch is enough. Yet, who knows the future!
Depth adjustment isn't tool-less!
3. BOSTITCH HP118K Pin Nailer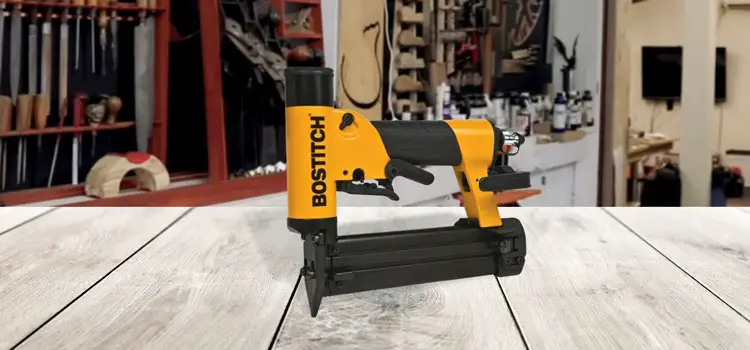 Why choose it?
A well balanced and balanced priced nailer from Bostitch with 7 years of warranty is not something new. HP118K is one of the best choices when pinpointing the nailing spot in your demand. Fasteners of ½ to 1-3/6 inches won't find a more pointed tip from a pin nailer as it offers.
For greater compatibility in terms of both workspace and workpiece material, the aluminum housed pin nailer seldom has alternatives. Narrow trims and work spots won't have the potential to trouble you as you possess this feathery yet tough nailer in your arsenal.
Though loading time may not satisfy every individual, the steps of doing so would surely do. So to say, it's just about playing with a lever. Again the adjustable depth of nailing is availed by this pneumatic pin nailer with ease. The adjustable power switch executes the operation.
A pin nailer with nailing power of 60 inches per lbs is quite overwhelming. And the accessories Bostitch offer with this handy tool includes pins, oil, and a stout carrying case. So a good anti-slip ergonomic nailer offering no practical fatigue yet ensuring nailing accuracy and precision is sure to conquer many hearts.
What puts it behind?
Countersinking or flushing pins with the material surface is quite a troublesome issue while running on standard 80 psi pressure. You'll observe your 1-3/6 inch nails popped up a bit while dealing with maple or similar harder wood unless you set your compressor at 100 psi!
Some customers pointed out denting as an issue too. And what can you find more from a nailer having no no-mar tip? But, if your material isn't much soft, you will probably get along with it. Besides, reloading time is another complaint too!
4. NuMax SP123 Pneumatic Pin Nail Gun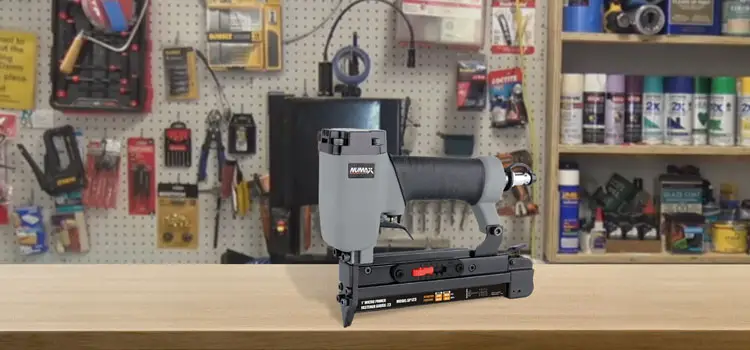 Why choose it?
23 gauge nails ranging between ½ to 1-inch sizes are which NuMax SP123 has dealings with. The pneumatic nailer has great power to deliver yet feels so comfortable right when you grasp it due to the ergonomic handle. And there comes oozing durability owing to the fabulous addition of aluminum in its housing.
Both trigger and belt hook is filled with potential to pour down safety in your Jobsite. Any kind of accidental firing will have to penetrate the rotating trigger safety mechanism barrier to bring about danger. And that's never the case with this single-year warrantied pin nailer. Note that, the belt hook is a reversible one.
You'll always have the option of selecting the right pin without changing the pinner. This miracle is offered by the pin size selector installed. But irrespective of the nail you select, you certainly don't patronize dirt and the anti-dust cap does the job for you.
What puts it behind?
The exhaust is nonadjustable. This may turn out to be so irritating since you do not want air puff on your face every once in a while.
It is likely to take some time to get used to its trigger. No nozzle activation or contact is required while firing. So you may get a number of misfires initially and some cases may prove fatal. So safety is definitely in question until and unless you get along.
5. Freeman PP123 Pneumatic Nail Gun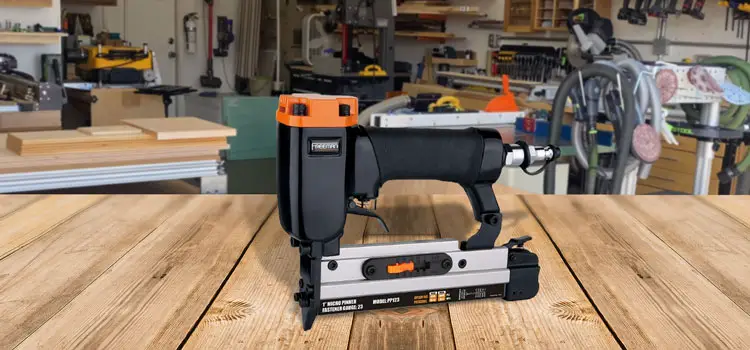 Why choose it?
Here comes Freeman with its fatigue-free 23 gauge nailer. The headless pins will find one of the sturdiest handles with enough ergonomics incorporated. So, custom works including molding, trim works, and so many other trivial yet crucial touches can be dealt with smoothly with its 0.5 to 1-inch pins.
Swift sliding yet nice detents are grooved into the size selector. You can take 5/8, ¾ and 7/8 inches pins to account within the ranges. Such features come up with the handy horizontal bottom magazine. Thus the 3 lbs Freeman nailer is a helping component of your carpentry arsenal.
The USA-certified 7 years warrantied pin nailer should've had a greater asking price or fewer features. But when you find both hygiene and safety from anti-dust cap and reversible belt hook respectively, a few contenders in the market remain who can really stand a chance.
Additional safety is ensured through the embedded misfiring prevention feature. The trigger is backed by a conspicuous spring to tackle down accidental fires. And don't forget the goggles, oil, and aiding adjustment tools that is another part of the package itself.
What puts it behind?
The pretty useful nail size selector slider is a marvelous addition until it begins to jam. Yes, that's the case for some of the users of this 23 gauge pin nailer.
Stain grade moldings can't be handled as swiftly as paint grade ones. This rises up as a drawback due to comparatively less consistency of pinning depth and some trivial jamming issue. A few complaints of misfires are also on the list.
6. PORTER-CABLE PIN100 Pin Nailer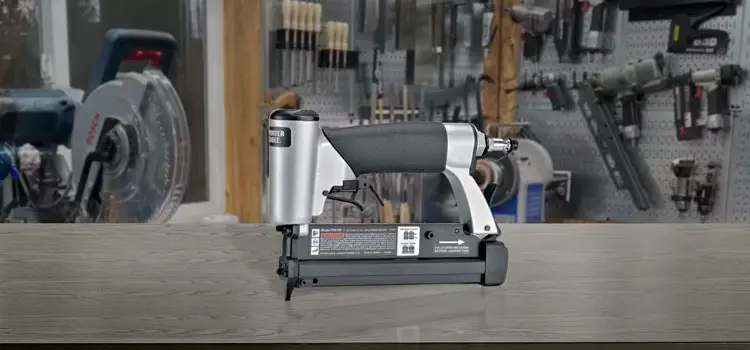 Why choose it?
Among the other top pin nailers, Porter-Cable has acquired a unique position due to its reload indicator. As soon as its 170 pinners holding magazine empties out, the indicator lights up. So PIN100 ensures a greater duty period as well as injects cautious activeness while at job sites.
You'll have the comfort of an ergonomic rubber handle on the top and a convenient bottom load magazine. Tighter and tougher pinning jobs are thus meant to get acquainted with this pinner comprising of a self-adjustable magazine.
Sheer control always doesn't get accompanied by security but this nailer provides both. Along with the lovely workable body, it comes with a dual trigger firing mechanism embedded within the hardware. Any accidental firing of the nails, whether it is 0.5 inch or 1 inch or in between, security is, hence, ensured.
A 23 gauge nailer under such a price range is a lovely choice for Porter-Cable. Pushing fatigue away couldn't have been so easy except for the comfy rubber handle that it features. So, this is overall a good option for budget tightening users.
What puts it behind?
PIN100 has dedicated all its features to pins sized up to 1 inch. But often trims are thick enough to suggest longer nails. Thus, the Porter-Cable nailer just falls short to deliver all it has.
Depth of drive adjustment, the well-renowned nailer feature, has been missed out by this mighty pinner. Moreover, complaints are also found that it leaves dents on softer wood materials. Though the dent is often inconspicuous, the addition of depth adjustment issues creates a greater hole in the mind of users.
Best Pin Nailers- Buying guide
Both money and knowledge are going to dictate the choice you are going to make. Often, your budget's more or less fixed among the two. But certainly, you may invest some of your time to play with and nourish the knowledge of different parameters of a pin nailer. And here comes this buying guide to help you choose the perfect pin nailer made for you.
Power to Feed
Both pneumatic and electric powered pin nailers have saturated the nailer market and pin nailer is not an exception. Airpower is a good source for more power-hungry projects. Long format trimming and molding may not suit other pin nailers except the 70 to 120 psi pneumatic pin nailers.
Overall air powered ones are better for money due to convenience in both maintenance and operation. But the twist in the tale pops up when you don't own a compressor beforehand. Thus the battery-powered pin nailer wins the "race" of convenience. Moreover, they are much portable and great for almost any Jobsite. Who doesn't get the difference in practice: no wires and hoses, mate!
The "green points" of the electric ones are fairly and well slammed by the greater downtime and charging issues. A spare battery may save your day well, but the drawback of less power will still be there.
Pin Size
Pin nailers have dominance in the usage of 23 gauge pins. So you don't have that much freedom in gauge value but certainly, have so in terms of the length of the fasteners. Almost every nailer magazine would allow at least the range of 0.5 inches to 1-inch headless nails.
Though most of the jobs for which pinners are needed are easily got with by the above-stated range of nails, some peculiar DIYs may as to push both the ends. If you have trimming and molding like that, you have to find a nailer that avails 3/8 inch and 2-inch ones to some extreme.
Magazine Size and Position
Greater capacitive magazines may be considered the best option in terms of the magazine. But often people forget to check out the right size. That is, larger magazines are a good choice but are just a waste if you're going to use it for shorter projects.
Certainly, larger magazines mean less downtime and regular users know the significance of workflow. But along with that, the position matters more to other experts. Manufacturers have added magazines at the bottom and in some cases in a slightly tilted position. Top-class pin nailers are always the bottom magazine ones.
Pin size selector
Modern amenities mean the introduction of newer and handier features. And pin selector is one of them. Magazines having size selector sliders ensure the size of the pin it would contain. But note that nailers having such sliders usually do not allow nails below ½ inch and above 1 inch.
No-mar Tip
Decorative materials devoid of dents are quite impossible except for no-mar tips. The rubber protection at the nose helps a lot in free working as you will have nothing to worry about the finish.
Lightweight and Ergonomic Handle
Comfort and swiftness of the nailing tasks are first-hand derivatives of the feathery body and good dripping handle. This two not only increase the control over your job but also reduce fatigue altogether.
You can reach narrower points for pinning as well as easily deal with tighter spots with the two features. So try to get a pin nailer that has got a low pounds count and fits well in your carpenter's palm.
Rear Exhaust for the Finest
Carpentry involves engaging with wood debris a lot. Pin nailers also come with oil as waste. If you want to keep yourself clean from both, which anyone would want, find a nailer that features a rear exhaust system.
Control of Drive Depth
Trims and molds differ from each other in terms of both thickness and density. Moreover, 23 gauge pin nails lack traditional nail heads. So adjustment of pinning depth is much more crucial than others nailers. Make sure the nailer you're going to buy has got a tool-less depth adjustment.
If you choose to use a pneumatic pin nailer and do not find depth control, PSI adjustment is the way you should go then.
Safety Concerns
Manufacturers who put external safety features are more likely to install safer and stouter mechanisms inside. Dual trigger firing is one of such features. This reduces accidental firing manifold. The inclusion of a reversible or rotating belt hook is another step towards the best pin nailer in the competition.
Frequently Asked Questions
Q: Between brad and pin nailers which one should I buy for better finish results?
Ans: Newbies may feel keeping both pin and brad nailers in the workspace is redundant. If you're a man with the same project round the year, then probably he/she's right. But a generalized approach says: buy both if you can.
Breaking the ice, both are a lot different though both works on trims and molds. Pin nails are usually 23 gauge headless ones that don't produce visible holes that may split the workpiece. Brads are stronger 18 gauge nails that can also be used for base boarding which pins surely fail to do.
So, brad nailers are more versatile but their wider and stronger nails invoke the use of putty. They may even split the material. And pin nailers are the perfect choice for delicate trims but not strong enough for every mold.
Q: Which nail size works best for trims?
Ans: Standard finish nails or pins slightly greater than ½ inch i.e. 5/8 inch or greater find enough holding of trims. The best way to figure the thing out is to add trim thickness with the thickness of the drywall which is generally 0.5 inch.
Q: Is Metabo 23 gauge pin nailer any good?
Yes. Metabo cordless micro pin nailers or 23 gauge nailers are one of the most efficient and inexpensive solutions for your molding work or anything small. As it uses micro pin nails, they don't make the wood crack where the nails are fired. Another great thing about the Metabo pin nailer is that it can fire up to 3000 nails on one single charge, which is crazy for a cordless nailer. 
Q: Does Dewalt make cordless nailers?
Yes. Dewalt not only make the smallest nailers, but you will also find them in cordless form. The Dewalt cordless 23 gauge pin nailer is one of the ideal nailers for your handy work. And their Atomic Compact series makes it even more comfortable to daily use and handle. They fire 2000 nails on a single charge.
Conclusion
Pin nailers shoot one of the lightest nails on the planet yet some are heavier than other nailers. Some do it due to the addition of fascinating features, while others use cheaper materials.
Grex P635 provides the least weighing pin nailer but with the smallest magazine. Bostitch HP118K has got the greatest capacity magazine (200 pins). It's like a rule of thumb for best pin nailers that lighter ones have greater downtime and vice versa. It is you who are to decide where to cut the cost.