Add the thickness of your drywall to that of your trim board, and you've got the perfect nail size. Though it could've been that easy, there's a lot more to it. Getting your hands on the best nails for trim is no child's play, given there are tons of options.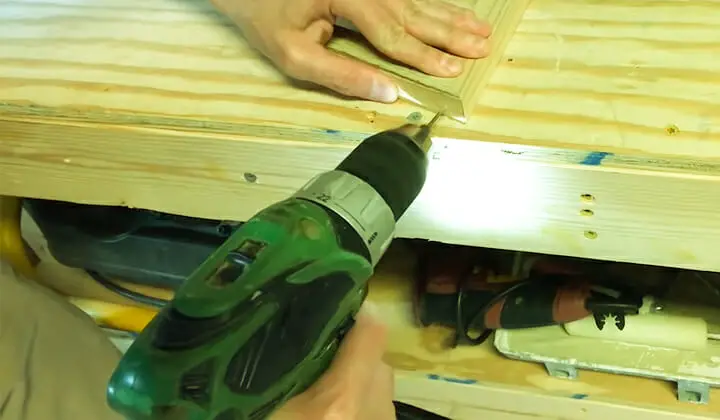 With that said, the Qualihome nail assortment kit can be the ammunition for your project, according to our experts. It offers the utmost versatility with a wide variety of nails. Besides, all the fasteners we've picked have robust nature with no bending whatsoever.
Best Nails for Trim in Town
Editors Choice
Best Buy
Nice Pick
Qualihome Hardware Nail Assortment Kit, Includes Finish, Wire, Common, Brad and Picture Hanging Nails
Hillman 592301 Polished Finishing Nails (6D x 2") - 60 Pieces, Silver
AMERIMAX HOME PRODUCTS 7709019 1-1/4-Inch Trim Nails, Brown
Editors Choice
Qualihome Hardware Nail Assortment Kit, Includes Finish, Wire, Common, Brad and Picture Hanging Nails
Best Buy
Hillman 592301 Polished Finishing Nails (6D x 2") - 60 Pieces, Silver
Nice Pick
AMERIMAX HOME PRODUCTS 7709019 1-1/4-Inch Trim Nails, Brown
The plethora of products in the market won't cause you headaches anymore. Have a glance at these top-tier nail sets money can buy, and you won't have to look elsewhere.
1. Qualihome Hardware Nail Assortment Kit, Includes Finish, Wire, Common, Brad, and Picture Hanging Nails – Best Overall Value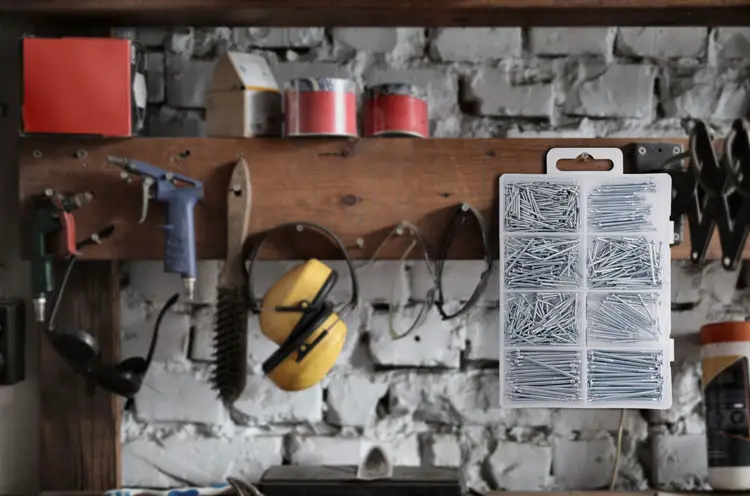 Qualihome nail assortment kit brings a touch of versatility to your workshop, given the variety of nails it comprises. You get a total of 550 nails, including brad, finish, and common flat head ones. So, whether you're up for a quick trim or week-long woodworking projects, this kit has got your back.
Plus, you get to choose from eight different sizes, among which three are brad and finishing nails. Hence, the variety is there. And all that also comes paired with convenient packaging. There's this handy plastic box that doubles as an organizer and helps you choose the perfect size within the shortest of time.
Other than that, none of the nails will drop a sweat when you hammer them in. They are robust, so there's no such issue of unnecessary bending. Moreover, their shanks are as sharp and straight as it gets to help you work seamlessly.
One shortcoming of this kit is the abundance of common nails. Though common nails are helpful in every aspect, they are not the primary requirement here. So, it is better to know beforehand what you're getting yourself into.
Pros
Wide variety of nail sizes. 
The kit comes with a clear, rugged plastic organizer. 
Nails have a sturdy build. 
Sharp edges and straight shank for effortless hammering
Cons
Too many flat-head nails.
2. Hillman 592301 Polished Finishing Nails (6d X 2″) – 60 Pieces, Silver – Best Dedicated Set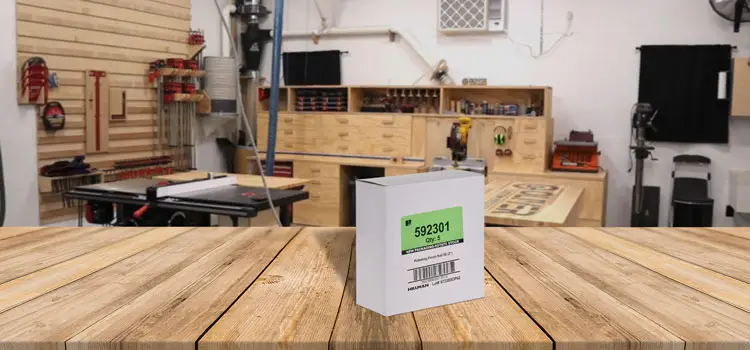 Unlike the previous one from Qualihome, Hillman 592301 has only finishing nails onboard. Therefore, it is more of a dedicated nail set towards interior applications like trim. And their 2-inch form factor is also a sweet spot, being neither too long nor too short.
Inside the pack, you get 60 pieces of polished finishing nails. It is the bare minimum, but still a better bang for bucks since it ditches unnecessary fasteners. Besides, these nails are pretty sturdy and won't get bent so soon.
For applicability, these nails have a small countersunk head design. What this design aims towards is making the surface look as presentable as possible. Furthermore, a polished finish adds up to the overall decorative appearance.
Though things seem pretty promising as of now, Hillman 592301 is somewhat a mixed bag. Downsides include uselessness in treated lumber and lack of a plastic organizer. So, you're on your own to find a safe place where they won't rust.
Pros
The package includes only finishing nails and thus is better for trim. 
Countersunk head design for an appealing finish
Silver plating offers above-average corrosion protection. 
Nails are durable for the most part.
Cons
Unusable in treated lumber.
No inclusive plastic container.
3. Amerimax Home Products 7709019 1-1/4-Inch Trim Nails, Brown – Best For Gutter and Siding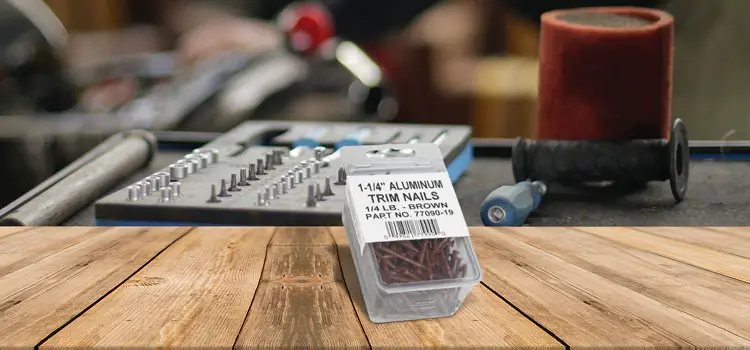 AMERIMAX HOME PRODUCTS 7709019 is another dedicated set for trim-only purposes. This pack of 320 consists of 1-¼ inch bran trim nails designed to give you an edge with soffit panels.
As far as build quality is concerned, these nails fall into the durable category. The credit goes to a unique but effective use of refurbished aluminum. This material is by no means less durable than steel. It, in fact, is better if you can look into how refurbishment helps the environment.
For the visuals, these nails have a brown finish. It gives them a hand to blend better into gutter or siding. And since their form factor is so precise, you'll need virtually zero efforts to drive them in. This kit also comes with a plastic container, which does deserve applause.
On the contrary, there is no mention of rust or corrosion prevention whatsoever. We scanned through every source but failed to find one. Though it isn't that big of a deal, it might bother people who live near the coast.
Pros
Dedicated set for trim purposes. 
The relevant form factor allows easy hammering. 
Blends into gutter or siding for a neat appearance. 
Refurbished aluminum allows for better strength.
Cons
Nails are prone to corrosion.
4. Hillman Fasteners 461819 White Painted Stainless Steel Trim Nails, 6 Oz/1.25 X 15, Silver – Best In Corrosion Prevention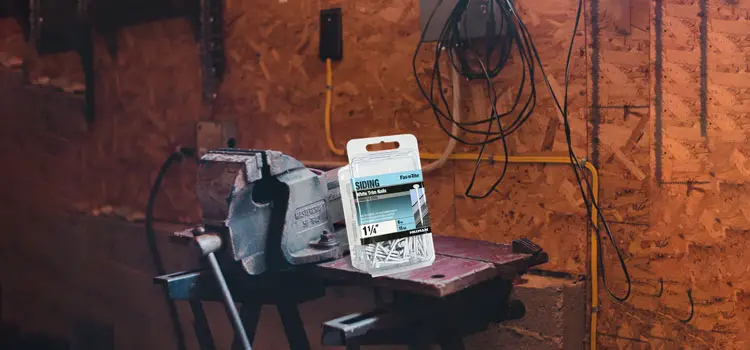 While the rest of the kits on this list fall short on the matter of corrosion protection, HILLMAN FASTENERS 461819 strikes. It features a high and mighty stainless-steel construction for all the nails. Therefore, their corrosion resistance is simply out of this world.
Aside from that, the nails have got a suitable form factor of 1-¼ inches. It makes sure the heads of the nails don't stick out but at the same time helps them stay put. A smooth shank arrangement enhances the holding power even further.
Moreover, their usability for trim purposes gets a boost as they have a somewhat sleek appearance. A white painted surface is what makes them the perfect fit for your minimalist style painted trim. Most amazingly, you get support for use in treated lumber as well.
Anyhow, there are a few drawbacks too. These nails feature checkered flat heads instead of the standard countersunk design. Though the checkered pattern goes well with wood grain, it is not as eye-pleasing as others. Besides, the lack of a proper plastic container makes it hard to store these nails in an organized manner.
Pros
Superior corrosion resistance from stainless steel construction
Good enough holding power.
Nails give an elegant look to the surface.
Usable in treated lumber.
Cons
It has checkered flat heads.
No plastic organizer.
Route to Best Nails for Trim
It can sometimes be daunting to look at specifications and wonder where they fit in. To help you out, here's a quick yet comprehensive list of factors that our experts have prepared.
Nails Heads
You'll find three basic variations in nail heads.
Flat Round Heads
Nails with flat round heads are better for such applications where the look of a surface is a minor concern. That is because these heads cannot sink deep inside and so stay visible no matter what. So, skip them for trim. These are, however, the best nails for fencing.
Checkered Flat Heads
A checkered flat head is a modified form of a flat round head with a pattern that looks like a grid. The purpose of this pattern is to reduce slippage while striking the hammer from various angles. Checkered flat heads might be the best nails for a cedar fence, but don't do that great for trim.
Countersunk Heads
You'll see countersunk heads on mostly finishing nails. They provide a neat look to the nailed surface thanks to their conical design. You can push the countersunk headway below the surface to give it an appealing look. Therefore, go for these instead of flatheads.
Nail Shanks
There are four main types of nail shanks in the market, smooth shank, ring shank, annular thread shank, and screw shank. Although smooth shanks will lose the competition in holding power, the latter three are pretty expensive. Given the fact that trim needs a moderate grip, plain shank nails are a good investment.
Nail Types
Your task at hand and the ultimate goal will dictate the type of nail.
Common Nails
Common nails are ordinary round head nails with smooth shanks and pointed edges. They can prove to be the best nails for hanging pictures, joining timber, fencing, and other tasks. However, they are not suitable for trim, considering they don't provide a good finish.
Finishing Nails
Finishing nails have one thing in common with ordinary nails, the smooth shanks. But their heads are way different, with a small and conical form factor. Such design allows for a more decorative appearance while using for trim purposes.
Brad Nails
Brads are the thinner and shredded version of finishing nails, for they are a bit on the narrow side. They also offer a neat finish like their elder brother. However, you have to use compatible nail guns to get the most out of them.
Box Nails
Box nails are more like common nails but thin and lightweight. They are not capable of withstanding much pressure. So, avoid them for trim purposes, for they might get bent through the driving process.
Durability and Longevity
Trims will last until the nails fall apart. So consider the coating and material used according to the house environment.
Material
For the material, either type 304 or 316 stainless steel should be on top of the priority list. That is because the durability and corrosion protection these materials offer is the absolute best. However, you can go for refurbished aluminum in case stainless steel is not available.
Coating
If you can get your hands on stainless-steel fasteners, you won't have to rely on any coating. Otherwise, make sure the nails have at least Electro Galvanization or Hot Dipped Galvanization onboard.  
Packaging
Always keep an eye out for packaging that doubles as a full-fledged plastic organizer. It will have all the nails organized according to specific sizes. Hence, give you an edge in terms of work pace. The nails will also stay protected from rust and corrosion.
Frequently Asked Questions (FAQ)
1. Which gauge nailer is best for a trim? 
A 16-gauge finish nailer will be a perfect choice for trim. It is compact, lightweight, and can shoot nails as far as 2-½ inches. Therefore, it even matches the requirements for thick trim.
2. Is it okay to use brad nails for a trim? 
It is okay if you use brad nails for decorative trim or narrow trim around windows or doors. However, for thick trim, it will be wise to skip them.
Verdict
The best nails for the trim can effortlessly drive into studs that are 1 ½ inch thick. However, if you drive the nail into the edge of a stud, the attachment won't be as strong. Try to find the center of the stud so that it can stay put. For drywalls, you can use a stud sensor instead of only wrapping along the wall.