Fiber cement panels first came out at the dawn of the 20th century. Oddly enough, they got the name "Eternit." It comes from the Latin "Aeternitas," which means everlasting. Everlasting or not, we still use the material in modern siding boards due to its non-combustible nature.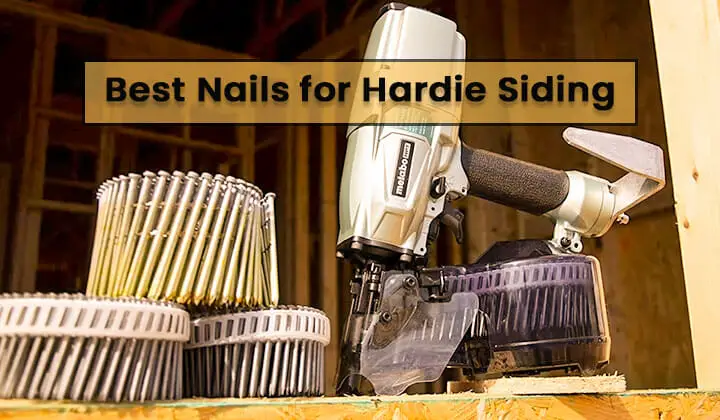 Enough history we learned. It's time to find the best nails for Hardie siding. We picked some of the best, among which Prime Guard MAXC62820 and Hitachi 13363 are the ones to fall for. Find out why so, with a few other reviews on the way.
Best Nails for Hardie Siding Worth Considering
Editors Choice
Best Buy
Nice Pick
Metabo HPT Siding Nails | 2-1/2 In. x 0.092 In. | Collated Wire Coil | Full Round-Head | Ring Shank | Hot-Dipped Galvanized | 3600 Count | 13369HPT
Hitachi 13363 1-3/4-Inch x 0.092-Inch Full Round-Head Ring Shank Hot-Dipped Galvanized Wire Coil Siding Nails, 3600-Pack
BOSTITCH Nail,COL,090,RNG,1-3
Editors Choice
Metabo HPT Siding Nails | 2-1/2 In. x 0.092 In. | Collated Wire Coil | Full Round-Head | Ring Shank | Hot-Dipped Galvanized | 3600 Count | 13369HPT
Best Buy
Hitachi 13363 1-3/4-Inch x 0.092-Inch Full Round-Head Ring Shank Hot-Dipped Galvanized Wire Coil Siding Nails, 3600-Pack
Nice Pick
BOSTITCH Nail,COL,090,RNG,1-3
Below are four of the best siding nail sets in the market. Our team performed thorough testing, and here's what they found out.
1. Metabo Hpt 13369hpt 2-1/2-Inch X 0.092-Inch Collated Wire Coil Siding Nails | Full Round-Head | Ring Shank | Hot-Dipped Galvanized | 3600 Count – Best For Metabo Nailers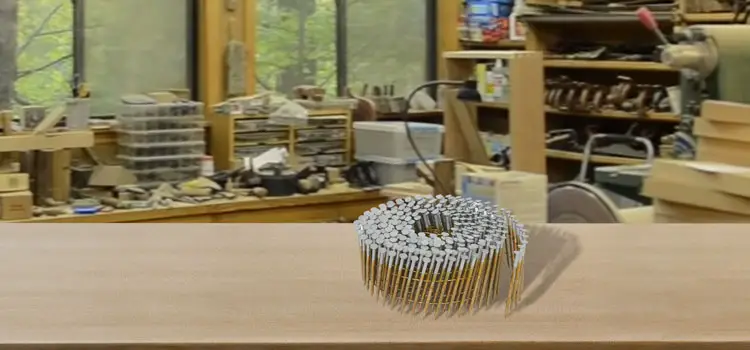 Metabo HPT 13369HPT siding nails are dedicated fasteners for use in Hardie siding. The sizing of these nails is perfect for the fiber cement thickness that varies within 4.5 to 18mm. 
Other than that, they come with a superior Hot Dipped Galvanized (HDG) finish. It is a layer of Zinc coating on the surfaces. What this finish does is provide excellent protection against rust and corrosion, a must-have quality for siding.
For holding power, these have ring shanks. Unlike smooth shank nails, they perform better when it comes to siding. Besides, their full round heads will offer more holding power for the sheets and a wider striking surface.
Furthermore, a superior wire weld collation makes using them with nail guns look as effortless as it gets. Such a collation also holds up better in long-term storage as compared to plastic strips. Hence, this nail set is a bang for your bucks.
Nevertheless, Metabo HPT 13369HPT is not void of downsides. For example, they offer somewhat poor compatibility with nail guns from other brands. If you don't own Metabo HPT NV65AH2 or similar, you'll have a hard time finding something compatible.
Pros
Hot Dipped Galvanized for excellent rust prevention.
Wire weld collation.
Best in class holding power.
More striking surface with full round heads
Perfect sizing.
Cons
Incompatible with many nail guns.
2. Hitachi 13363 1-3/4-Inch X 0.092-Inch Full Round-Head Ring Shank Hot-Dipped Galvanized Wire Coil Siding Nails, 3600-Pack – Best Pick Overall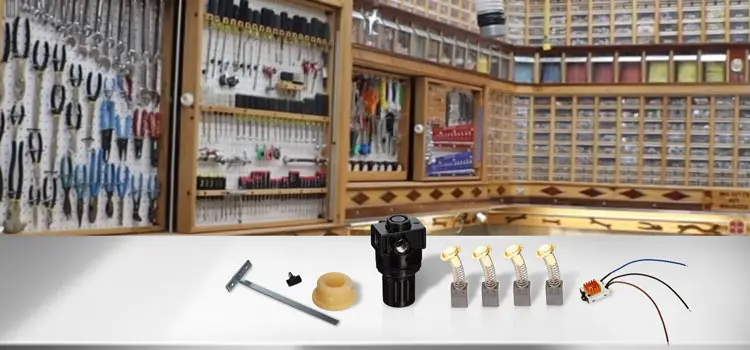 Hitachi 13363 is yet another set of Hot Dipped Galvanized nails, and thus, an excellent choice for Hardie Siding. The HDG protects these nails against rust and corrosion no matter the environment. Therefore, you won't regret using them for exterior use like siding even near the coast.
Like the Metabo HPT, these nails have ring shanks too. Since fiber cement has no such issue as splitting, it is the best shank style to use. Paired with full round heads, you can expect them to hold the siding boards through the lifetime of your building.  
On top of that, they perform well in rough nailing thanks to wire weld collation. Besides, they are better than Metabo HPT in terms of compatibility. We say so because they work fine with nail guns such as Hitachi NV65AH and NV75AG.
However, being more compatible than a particular opponent does not make this set the best for compatibility. It still lacks some points since the nails don't comply with Makita and Dewalt nailers, the more popular ones.
Pros
Rustproof for the most part. 
Exceptional holding power. 
Wide striking surface. 
Wire weld collation. 
Last longer than nails with a bright finish.
Cons
Not compatible with Makita and Dewalt nail guns.
3. Bostitch c5r90bdss 1-3/4-in 15 Degree Stainless Steel Coil Siding Nails (3,600 PK) – Best For Humid Weather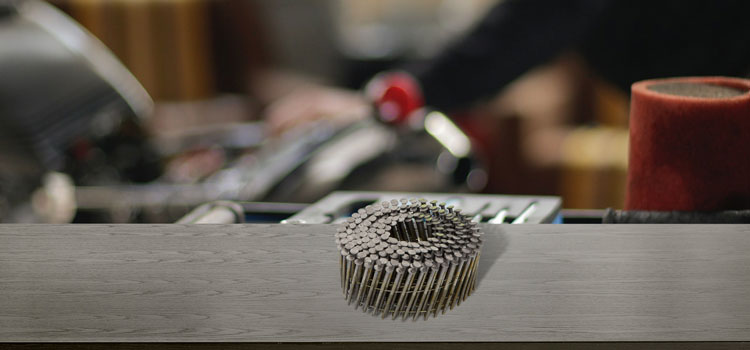 What sets apart Bostitch C5R90BDSS from its counterparts is a superior stainless-steel construction. Bostitch has opted for type 304 stainless steel, which means you're getting the best rust protection available. Again, the material even meets ASTM F1667 requirements. So, rest assured of the quality.
Aside from that, this set comes collated with a wire weld. It not only offers ease of use with nailers but also gives rough nailing capabilities. Moreover, wire collated nails can withstand cold and humid weather better than those with plastic strips.
In addition to durability, these nails have above-average holding power. That is because a good portion of its surface has raised rings that provide more grip. Plus, the grip becomes even firmer due to their flat round heads. Therefore, you won't have to worry about the siding boards backing out.
One thing worth mentioning is the nails being a bit blunt. Such edges take more effort to drive in and might damage siding boards as well. Since these are 15-degree nails, sharper edges would make things a lot more convenient.   
Pros
Superior 304 stainless steel construction.
Splendid rust protection.
Wire weld collation.
Moderate holding power.
Cons
4. Grip Rite Prime Guard maxc62820 15d 2″ Ss Siding Nail – Most Compatible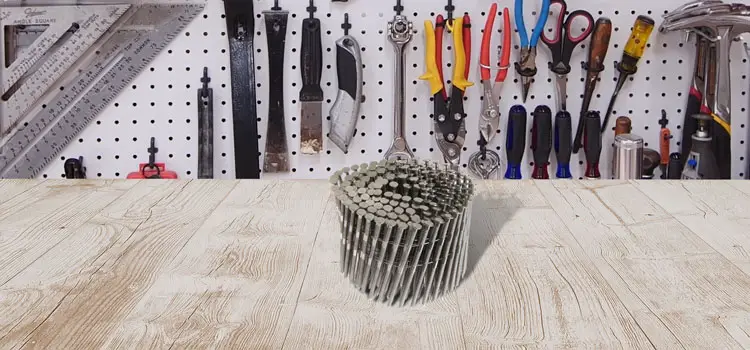 In terms of holding power, Prime Guard MAXC62820 from Grip-Rite scores higher than the previous three. Almost the entire shanks of these nails comprise rings with a diameter of 0.09 inches. And so, the grip they provide is unparalleled.
Likewise, these nails give tough competition to others when it comes to durability. The credit goes to a 304 stainless steel build that helps them withstand humidity to a severe extent. So, your siding job will be less prone to damage as well.
 It's the compatibility that draws the line, as this set is compatible with most 15-degree siding nailers. Whether yours is a Bostitch, Hitachi, Makita, Porter-Cable, or Senco, you won't face any issues regarding the fitment. With that said, this set of nails is a cut above the rest. 
Now, the wire weld collation on these nails is a bit fragile. The wire used here somehow gets bent during use, resulting in misaligned pins. It can also jam the nailer from time to time. If not for this, the Prime Guard MAXC62820 could have been the best nail set to purchase.
Pros
Unparalleled gripping power.
Stainless steel construction for superb durability
Widely compatible with nail guns.
Flat round heads.
Cons
Frequently Asked Questions (FAQ)
1. Can I use bright finish nails for Hardie siding? 
We strictly recommend skipping out fasteners with a bright finish. Galvanized or stainless steel, the material choice should be either of these. And by the term galvanized, we don't mean Electro galvanized, for it may show signs of premature corrosion. Go for Hot Dipped Galvanized nails instead.
2. How far should I drive the nails? 
Try to drive the nails through the sheathing and more or less 1-inch into the studs.
3. Do I need a pneumatic nailer for Hardie siding? 
It's not like you can't do without a pneumatic nailer, but using one can save you some elbow grease. Nevertheless, you can opt for hammering if you have spare time and a budget shortage.
Bottom Line
Bagging the best nails for Hardie siding can be daunting unless you know where to look. We're happy to help eliminate that hassle. If you haven't made up your mind already, we would recommend Hitachi 13363 for the HDG. And if you can overlook the collation issue, Prime Guard MAXC6282 is a worthy pick as well.