Many say that a house's beams are what hold it straight. However, they often tend to overlook what keeps them together, the framing nails. Years of effort in structural design can collapse if you cut corners while choosing fasteners.
How large should the nails be for framing? Why not frame your picture using the right size nails using a nail gun?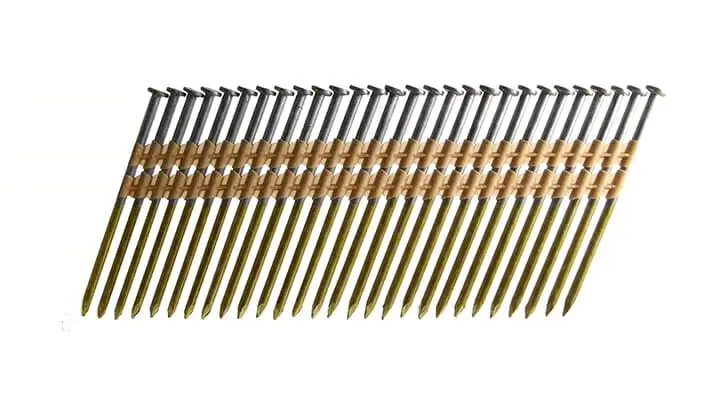 So, picking the correct type of wood is only half of the equation. You need the best framing nails to keep things tight. We would love to see you bagging either BOSTITCH framing nails or B&C Eagle A3X131/22. While the first one is highly compatible, the latter is a steady performer. Here's a bunch more on that note.
Expert Recommended Best Nails for Framing.
Editors Choice
Best Buy
Nice Pick
B&C Eagle A3X131/22 Round Head 3-Inch x .131 x 22 Degree Bright Smooth Shank Plastic Collated Framing Nails (500 per box)
Mayfair Grip Rite Prime Guard GR408HG1M 21 Degree Plastic Strip Round Head Exterior Galvanized Collated Framing Nails, 3" x 0.120"
BOSTITCH Framing Nails, 28 Degree, Wire Weld,, 3-Inch x .120-Inch, 2000-Pack (S10D-FH)
Editors Choice
B&C Eagle A3X131/22 Round Head 3-Inch x .131 x 22 Degree Bright Smooth Shank Plastic Collated Framing Nails (500 per box)
Best Buy
Mayfair Grip Rite Prime Guard GR408HG1M 21 Degree Plastic Strip Round Head Exterior Galvanized Collated Framing Nails, 3" x 0.120"
Nice Pick
BOSTITCH Framing Nails, 28 Degree, Wire Weld,, 3-Inch x .120-Inch, 2000-Pack (S10D-FH)
Our experts have assessed over a hundred similar products on amazon. However, they found these five framing nail sets that provide actual value.
1. B&C Eagle a3x131/22 Round Head 3-Inch X .131 X 22 Degree Bright Smooth Shank Plastic Collated Framing Nails (500 per Box) – Most Compatible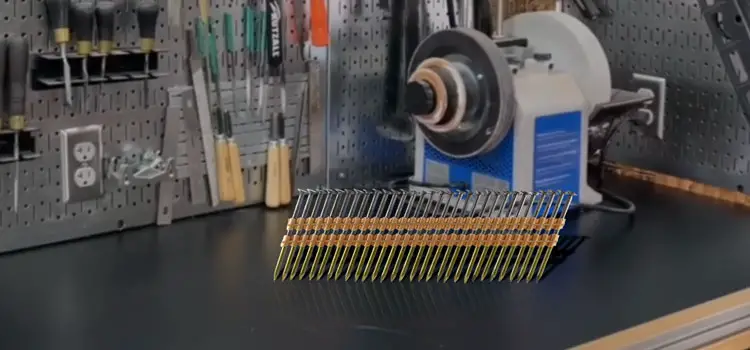 B&C Eagle A3X131/22 is an ideal choice for framing, as it is compatible with most 20-to-22-degree framing nailers. Be it Bosch, B&C, Hitachi, Bostitch, DeWalt, or any other brand for that matter, rest assured of its compatibility.
In terms of holding power, these nails will get a modest score. They have a smooth shank, which is not the best you can get but does fine for framing. Besides, they have full round heads to complement their grip and provide a broad striking surface.
Furthermore, each of the nails has got a bright finish with little or no protection against corrosion. With that being said, you don't need any coatings for interior uses like framing. So, the bright finish is a highlight of these nails since it keeps the price low.
However, they did cut some corners to reach an appealing price tag. Instead of wire collation or similar, you get an inferior plastic strip collation. We call them so because plastic strips tend to make the workplace messy. Plus, they can become a bit brittle when there's a nip in the air.
Pros
Highly compatible with popular 22-degree nail guns.
Good enough holding power.
Wide striking surface.
Bright finish suitable for non-treated lumber.
Cons
Leaves plastic pieces around.
Plastic collation becomes fragile at low temperatures.
2. Mayfair Grip Rite Prime Guard gr408hg1m 21 Degree Plastic Strip Round Head Exterior Galvanized Collated Framing Nails, 3″ X 0.120″ – Best For Treated Lumber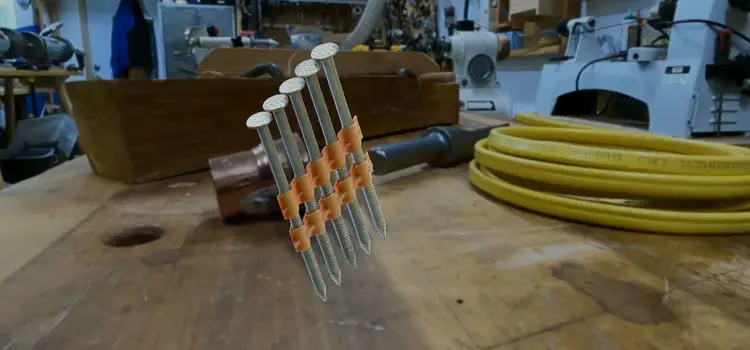 Mayfair GR408HG1M is yet another set of highly compatible nails. Though B&C Eagle A3X131/22 surpasses it with a higher number of compatible nail gun models, it is not far behind. This set complies with 21-degree framing nailers from most brands, including Bostitch, Hitachi, Makita, Ridgid, Senco, and more.
An advantage Mayfair GR408HG1M brings over its competitors is a superior form of protection. We're talking about a proprietary polymer coating, which is almost on par with galvanization. Thus, you can use these nails even with treated lumber.
Moreover, the nails come with smooth shanks, the suitable form factor for framing. They do have the adequate power to hold the frames together. And their round heads act as the perfect catalyst to give the holding power a slight boost. Therefore, you can rely on the framing for a lifetime.
As it was with B&C Eagle, these 21-degree nails also come with plastic strip collation. It is a bit of a downside, as you'll have to deal with scattered plastic pieces after using a nail gun.
Pros
Scores high enough in terms of compatibility. 
Polymer coating for rust and corrosion prevention
Supports use with treated lumber. 
Good enough holding power.
Cons
Lack of wire weld collation. 
The plastic strip makes the workplace messy.
3. Bostitch Framing Nails, 28 Degree, Wire Weld, 3-Inch X .120-Inch, 2000-Pack (s10d-Fh) – Best In Convenience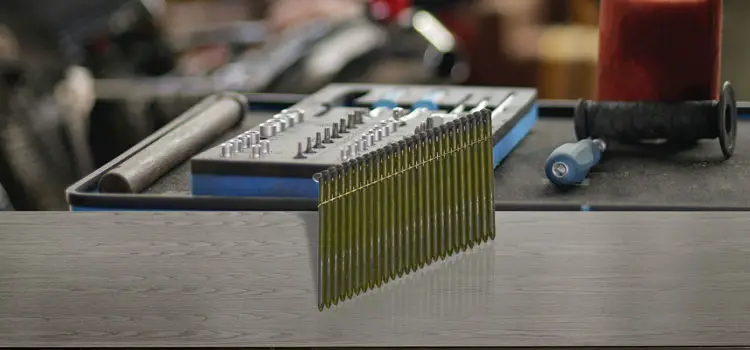 With up to 2000 pieces per box, the BOSTITCH framing nail set is a bang for your bucks. And since all the nails come with a coated finish, the value increases even higher. Thanks to the coating, these nails face little or no resistance whatsoever, and so you can drive them in with minimal effort.
Oddly though, their holding power is on the higher side despite having smooth shanks. And with full round heads, they show zero signs of backing out soon. So, they can easily replace ring or screw shank nails. Besides, you won't need that much elbow grease regarding their withdrawal.
The biggest highlight of this set is a first-rate wire weld collation. Unlike plastic strip collation, it is less susceptible to water or humid environment. Other than that, it suits best for rough nailing jobs.
However, compatibility is by no means the same as industry leaders. The 28-degree form factor of these nails makes them incompatible with most of the popular nail guns. It turns out they are only compatible with only a handful of nail guns from their parent company.
Pros
High nail count. 
Requires less effort to penetrate. 
Above-average holding power. 
Easy to withdraw. 
Wire weld collation.
Cons
Has compatibility issues with many nail guns
4. Dewalt Framing Nails, Paper Tape, 30-Degree, Smooth Shank, Bright Finish, off-Set Round Head, 3 1/2-Inch X .131-Inch, 2000-Pack (DPT-16d131fh) – Best For Neat Workplace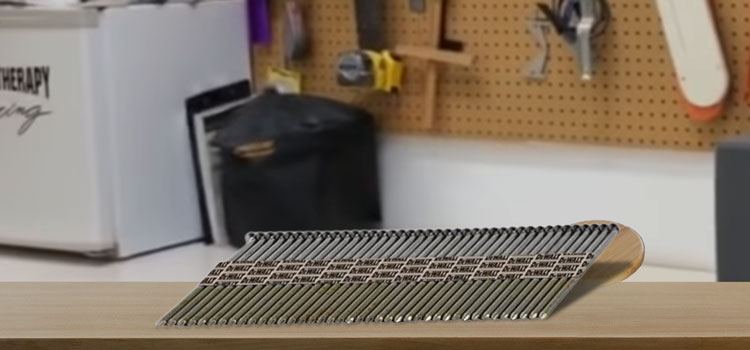 DEWALT is one of the leading manufacturers in the sector, and their 30-degree framing nail set does live up to that. This set contains a total of 2000 smooth shank nails, all with sufficient holding power. Hence, you can use them in tasks like framing, where moderate holding power is more than enough.
On top of that, all the nails come with a bright finish and no coating against rust or corrosion. Although they are shy of humidity, they won't break a sweat in interior applications like framing.
One thing that sets DEWALT framing nails apart is the paper tape collation. What paper tape offers is a much cleaner job site with no plastic or wire pieces. Although it is prone to damage from wet weather, there is no risk of getting material stuck under the nail head.
Unfortunately, these nails fall short of upsides when it comes to compatibility. The 30-degree form factor restricts them from complying with many nail guns out there. Unless you own specific DEWALT guns, you're probably out of luck.
Pros
Adequate holding power for framing.
Off-set round heads satisfy the building code.
Best for interior use.
Paper tape collation allows for a neat workplace.
Cons
Compatibility is below average.
5. Grip Rite Prime Guard gr034hg1m 21 Degree Plastic Strip Round Head Exterior Galvanized Collated Framing Nails, 3-1/4″ X 0.131″ – Lasts the Longest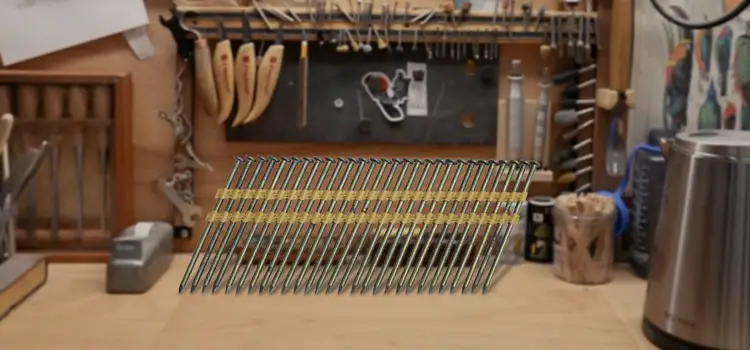 GR034HG1M is quite the underrated set, given its feature-packed nature. Unlike most on this list, it offers a proprietary polymer coating on each of the nails. This coating is nothing short of a galvanized finish in terms of protection. Thus, it gives the privilege of using in most exterior applications alongside treated lumber.
Aside from excellent durability and longevity, these nails provide a good enough grip. The credit goes to their smooth shank design and full round heads. Even withdrawing them is a child's play, thanks to this form factor.
As far as compatibility is concerned, it is pretty smooth sailing with these nails. They are compatible with nail guns from jillions of brands, including Duo-Fast, Bostitch, Hitachi, Makita, Ridgid, and Senco. So, you won't have to knock neighbors for a hand with nail guns.
On to pitfalls, the same dilemma with plastic strip collation applies to these nails as well. You get neither wire weld nor paper tape with these. As a result, you are likely to get a messy workplace after using them. Not to mention how fragile the plastic strip becomes during stone-cold days.
Pros
Rust-free for the most part. 
Proprietary polymer coating allows use in treated lumber. 
An acceptable amount of grip. 
Compatible with a wide range of nail guns.
Cons
Route to Best Nails for Framing
You have to pay more attention to the nail size when framing interior walls. It is difficult to drive longer or fatter nails that can split wood, while short or thin nails are ineffective. Nails with a length of 3 1/2 inches are best for framing. Interestingly, the letter "d," which stands for the penny, is still used to indicate nail length.
There's a lot more to purchasing common nails than just amazon ratings. Here's a brief overview of what works best regardless of weather, work hour, and so forth.
Nail Heads
Hammer thrust gets manipulated to some extent. And it's the head of the pins that play quite a significant role. 
Full Round Heads
Nails with full round heads are the most common among fasteners. They are the best nails for fencing and framing due to their exceptional holding power. No matter the shank type, full round heads offer better grip and a wider striking surface. Notably, 16d, 10d, 8d, and 6d are the most common nail sizes or nail lengths.
Checkered Flat Heads
A checkered flat head is a modified version of a round head with grid-like textures. This textured head offers ease of hammering from divergent angles. It does so by eliminating any slippage whatsoever.
Countersunk Heads
These focus more on finishing jobs, where you need to make the surface look as presentable as possible. Although framing doesn't quite fit that criterion, you can still use these without hesitance.
Nail Shanks
Popular nail shanks include smooth shank, screw shank, ring shank, and annular thread shank. Though the latter three offer better holding power, they are the best nails for Hardie siding or fencing. And smooth shank nails offer a moderate holding power but provide the best value for framing jobs.
Protection
The coating keeps your nails in hold healthy shape for a long. The market provides ample to choose from.
Bright Finish
Fasteners with a bright finish are best for interior applications or places where humidity is not an issue. That is because the surface of these nails has no form of coating against rust and corrosion. However, you won't need such protection for framing either. So, a bright fastener is a good option if you're tight on budget.
Electro-Galvanized
A thin layer of Zinc coating makes these nails a go-to solution for exterior applications like roofing and fencing. If a set of galvanized nails is offering such coating within your budget, we recommend going for it. Anyhow, the corrosion prevention is good enough but below the level of hot-dipped galvanization.
Hot Dipped Galvanized (HDG)
HDG is one of the best coatings to get your hands on. It is a layer of thick Zinc coating that helps the nails overcome threats from humid weather. Thus, they are among the best nails for Hardie siding. Anyways, if you live near the coast, it will be rather wise to purchase these.
Stainless Steel
Stainless steel fasteners provide top-of-the-line protection against corrosion. That makes them a worthy pick for outdoor applications like roofing, fencing, etc. Such die-hard protection is unnecessary for framing, however. If you get a good deal on such nails, make sure it is either 304 or 316 stainless steel.
Form Factor 
The form factor is crucial since it has to comply with the nail gun you've got. That is because nail guns have their magazines at a fixed angle which doesn't accept nails that don't match. For example, you can't use anything but a 21-degree nail clip if yours is a 21-degree nailer. 
Framing nails will range from 21 to 34 degrees, with 28 and 30 degrees in the middle. Joining a couple of 2x4s is not all that framing entails. In general, you don't need large nails to attach furring strips, sheathing, subfloors, and other materials. Different angles also mean different lengths, gauges, and collations, which also have their pros and cons.
Types of Collation
Cleanliness may determine the collation type of the nails you're going to choose.
Paper Tape
You'll find paper tape collation on framing nails that range from 30 to 34 degrees. It is a strip of paper that holds the fasteners together with the help of glue. Paper tape removes the risk of having material stuck under the head of the nails. Besides, it allows for a neater job site since there is no plastic or metal wire involved.
Plastic Strip
Plastic strip collation is typical among inexpensive framing nails with a 20 to 22-degree form factor. This collation holds the fasteners and breaks when you fire with a nail gun. Though it helps you save a few bucks, you're likely to have a messy workplace filled with plastic pieces.
Wire Weld
If you're up for some rough nailing job, nails with wire weld collation should be on your list. Such collation holds itself even in the cold to go in a humid environment. However, for wire weld collation, you'll have to settle with 28-degree nails that score low at compatibility.
Frequently Asked Questions
1. Can I use screws instead of nails for framing? 
We don't recommend using screws for applications like structural joining or framing. That is because screws might snap under a high amount of pressure. On the other hand, nails show more flexibility and can withstand a hefty amount of stress.
2. Is it okay to use 10d nails for framing?
If you plan to use them in framing studs or for framing roof trusses, then definitely go for it. Otherwise, first, make sure the application area is not less than three times the nail diameter.
Verdict
Whether you're a millennial or a young enthusiast builder, you can't do without the best nails for framing. Unfortunately, it is not as easy as it sounds, given the abundance of inexpensive alternatives. Keep an eye on the protection, form factor, and head type to going to match them up to your job.