Other than keeping intruders away, a cedar fence does a damn good job of improving the aesthetics of your home. But without the best nails for a cedar fence, there's no point in breaking the bank for expensive cedar. A good set of nails will refrain from bleeding and thus keep things neat and grippy for a lifetime.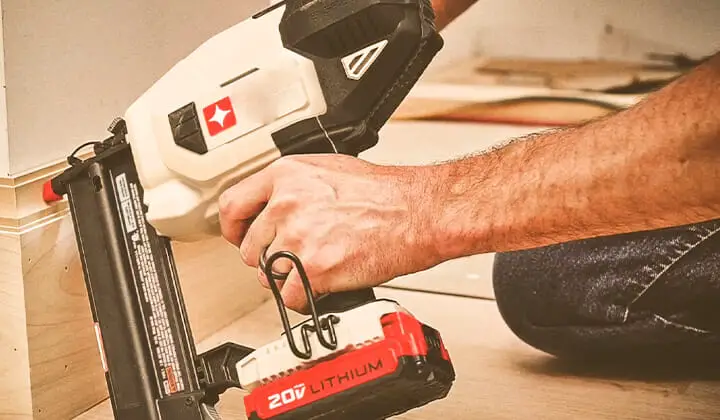 Speaking of that, we think Grip Rite Prime Guard MAXC62878 has got all the bells and whistles you can ask for. Find more on that note, plus a few more cool recommendations in our detailed review section.
Best Nails for Cedar Fence to Get Your Hands-On
Editors Choice
Best Buy
Nice Pick
Grip Rite Prime Guard Max MAXC62878 2-Inch by .113-Inch 21-Degree Plastic Strip 304 Ring Shank, Stainless Steel, 1000-Pack
Simpson Strong Tie S4SND1 4d Cedar and Redwood Siding Nails 1-1/2-Inch 14 Gauge 304 1-Pound Stainless Steel, White
Hitachi 2 in. x 0.113-Gauge Plastic 1M Galvanized Ring Shank Nails
Editors Choice
Grip Rite Prime Guard Max MAXC62878 2-Inch by .113-Inch 21-Degree Plastic Strip 304 Ring Shank, Stainless Steel, 1000-Pack
Best Buy
Simpson Strong Tie S4SND1 4d Cedar and Redwood Siding Nails 1-1/2-Inch 14 Gauge 304 1-Pound Stainless Steel, White
Nice Pick
Hitachi 2 in. x 0.113-Gauge Plastic 1M Galvanized Ring Shank Nails
We tested an awful number of top-rated products from amazon only to see what works and what doesn't. And we found only four of them to be worth your money. Here's a quick walkthrough of what they bring to the table.
1. Grip Rite Prime Guard Max maxc62878 2-Inch by .113-Inch 21-Degree Plastic Strip 304 Ring Shank, Stainless Steel, 1000-Pack – Best For Humid Environments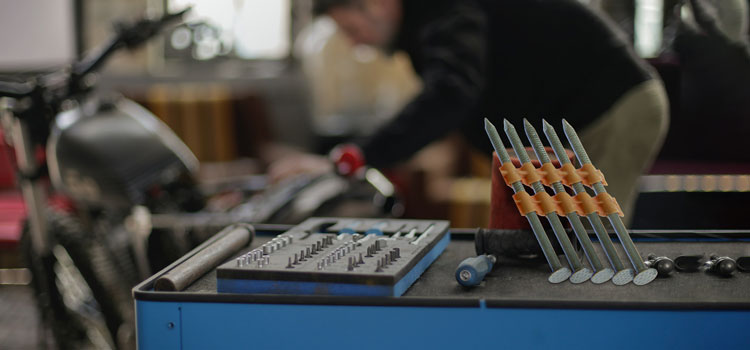 Prime Guard MAXC62878 from Grip-Rite is an ideal pick for a cedar fence. That is because it has the best available corrosion protection onboard. We're talking about a superior 304 stainless-steel construction that allows for excellent protection no matter the weather.
In terms of holding power, these nails score higher than typical smooth shank nails. The credit goes to a ring shank arrangement that can grip the wood in between crevasses. Thus, they provide exceptional holding power and are the best nails for cedar fences.   
Furthermore, its 21-degree clip is a suitable form factor for most fencing nailers. Hence, you can rest assured of its compatibility no matter the brand of your nail gun. These nails even have checkered flat heads that match with a wooden surface and enable easy hammering.  
On the flip side, they come collated with an inferior plastic strip. Though such collation is standard for 21-degree nails, it's hard to overlook the cons. Your job site might end up messy and filled with plastic pieces. Besides, the strip can become fragile on stone-cold days.
Pros
Superior 304 stainless steel for rust prevention. 
A suitable amount of grip. 
Compatible with most 21-degree nail guns. 
Checkered flat heads allow hammering from different angles.
Cons
The plastic strip makes your workplace messy. 
Collation becomes weak in low temperatures.
2. Simpson Strong-Tie s4snd1 4d Cedar and Redwood Siding Nails 1-1/2-Inch 14 Gauge 304 1-Pound Stainless Steel – Best For Holding Power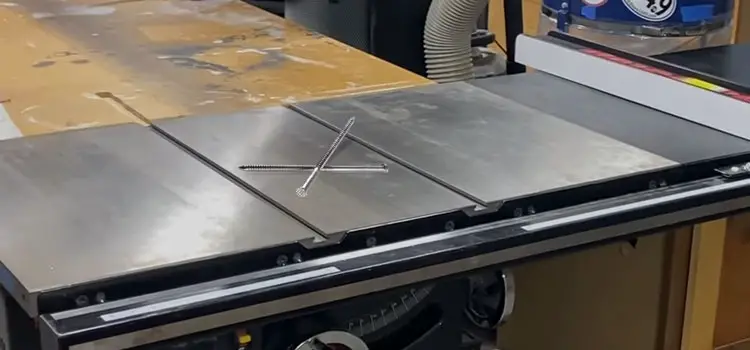 What sets Simpson Strong-Tie S4SND1 apart from the rest on this list is its annular thread shank arrangement. Though it is pretty similar to the ring shank, there are some added benefits for holding power. One such is the externally beveled rings that make sure the nails don't back out soon.
One big highlight is their build material. The stainless steel these nails comprise is not shy of humid weather and fights corrosion like a champ. Hence, an exterior application like a cedar fence is no big deal.
Other than that, each nail has a diamond point sharp edge. As a result, driving them into treated or non-treated lumber is quite the child's play. Plus, compatibility with nail guns won't disappoint you either. Another thing worth mentioning is their checkered heads that blend superbly with wood grain.
However, Simpson Strong-Tie S4SND1 nails are not void of negatives. For example, the last two or three nails tend to get stuck in the nail gun for some reason. So, your workflow might lag while you deal with the jammed nail gun.
Pros
Annular thread shank for superior holding power.
Long lifespan thanks to stainless steel.
Driving into wood is easy.
Moderate compatibility.
Checkered heads offer hammering from different angles.
Cons
Tends to jam nail guns right before a clip end.
3. Hitachi 2 In. X 0.113-Gauge Plastic 1m Galvanized Ring Shank Nails – 20171s – Best Price to Performance Ratio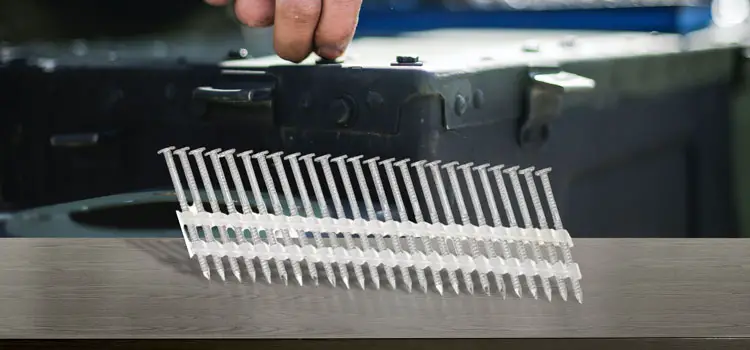 While the rest of the nail sets on our listing have stainless steel, this one from Hitachi took a different approach. It offers a galvanized finish, a layer of thick Zinc coating. Though it is not on par with stainless steel, it makes them the best nails for Hardie siding. 
On top of that, these nails have got rings throughout their shank, making them suitable for cedar fences. That is because ring shank nails like these deliver more holding power than typical smooth shank ones.
Though these nails are not the greatest in terms of compatibility, a number of nail guns do accept them. For instance, nail guns from their parent company Hitachi, as well as Metabo, will comply.
Anyhow, problems start to arise as soon as you have a glance at their coil size. It's so short that professional builders will have to reload nail guns every 30 seconds or so. Besides, they also have plastic strips as collation. Thus, you'll have to deal with a messy workplace, weather-caused damage, and whatnot.
Pros
Nails have galvanized finish for good rust protection. 
Ring shank nails provide enough gripping power for a cedar fence. 
Moderate compatibility score. 
Flat round heads for additional holding capacity.
Cons
Plastic strip collation.
Small coil size.
4. Nailpro 2 Inch by 0.113-1000 Pcs. Per Carton – 21 Degree (Fits 20-22 Degree Nailers) Plastic Strip – Ring Shank – Full Head Nails – Most Durable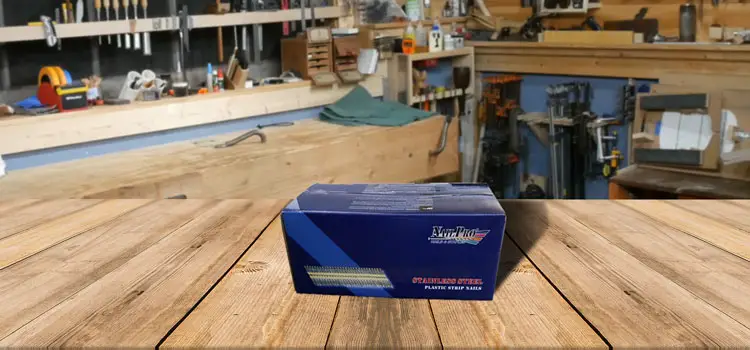 Nailprohas made this set of 21-degree nails so strong that it can build you a virtually indestructible fence. We say so since all the nails can stay safe from rust and corrosion, the secret to which is 304 stainless steel. This material is industry-leading when it comes to durability and rust protection.
Moreover, they provide above-average holding power. It's the ring shanks that do the trick, especially in softwood with no splitting issues. Besides, they comprise full round heads to strengthen the grip even further. So, you can expect your cedar fence to stay put for a lifetime.
Then comes their compatibility, which is also, in short, unparalleled. You'll barely find any 20 to 22-degree nailer that doesn't accept them. Hence, you won't ever have to pick your hammer to drive them in.
Unfortunately, they also feature plastic strip collation. Apart from cluttering your place, the plastic tends to jam the nail gun. It happens with two or three nails left in a clip. Though you can raise the psi to solve this, the nails might travel too far into the wood.
Pros
Guaranteed longevity with 304 stainless steel. 
Ring shank delivers enough holding power. 
Compatible with a wide range of nail guns.
Full round heads provide a wider striking surface.
Cons
Plastic strips can jam nail guns.
Frequently Asked Questions (FAQ)
1. Which nail size should I use for a cedar fence? 
According to the Western Red Cedar Association (WRCA), use nails that are at least 1 1/4 inches longer than the cedar's thickness.  
2. Nails of which materials are best for cedar fences? 
Since your fence will go through extreme weather, stainless steel nails are the best. Be sure to look for either 304 or 316 stainless steel, for that matter. However, if you fail to get your hands on either of these, go for aluminum hot-dipped galvanized nails.
Bottom Line
There you go. We've covered almost every aspect regarding the best nails for cedar fences. One last pro-tip before we depart, use some external oil-based latex paint to extend the lifespan of the cedarwood. Doing so will seal out moisture, prevent rotting, and fight extreme weather.