When it comes to trims, proportions, and details are just about everything. Inferior nail injection of nails will produce poor finishing results. For this reason, you need the best nail gun for trim that can offer optimum pressure and performance with the right features included.
If you are working on thick trims, you will need more power, and you might want to try out NuMax 16 gauge finish nailer. In thin and delicate trims, WEN 61721 and BOSTITCH 18 gauge brad nailer are also great options. Again, if you prefer a cordless option, you can go for NEU MASTER cordless brad nailer.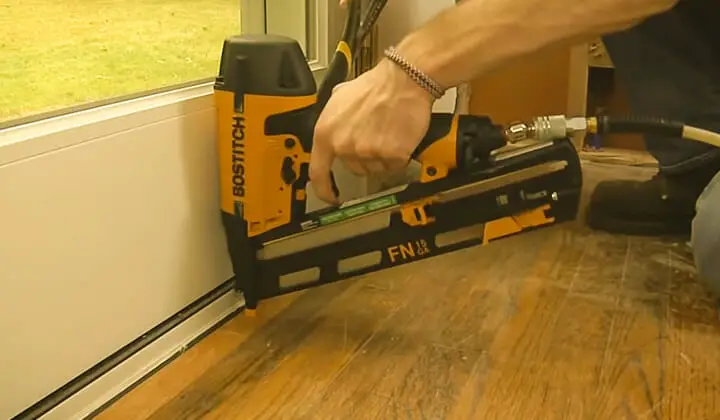 Road to the Best Nail Gun for Trim
Trim work needs extra care, and it requires unique nail guns for the perfect finish. If you want the best nail gun for this job, you have to dig into the basics. This section will have you covered.
Editors Choice
Best Buy
Nice Pick
WEN 61721 18-Gauge 3/8-Inch to 2-Inch Pneumatic Brad Nailer
BOSTITCH Nail Gun, Brad Nailer, 18GA (BT1855K) , Black
NuMax SFN64 Pneumatic 16-Gauge 2-1/2" Straight Finish Nailer
Editors Choice
WEN 61721 18-Gauge 3/8-Inch to 2-Inch Pneumatic Brad Nailer
Best Buy
BOSTITCH Nail Gun, Brad Nailer, 18GA (BT1855K) , Black
Nice Pick
NuMax SFN64 Pneumatic 16-Gauge 2-1/2" Straight Finish Nailer
Nail Gauge Size
Whether it is a framing nailer, finishing nailer, or a brad nailer, the size of the nail gauge is different for each one of them. The finish nailers typically use 15 to 16 gauge nails the most. The 15 gauge nails are thicker and longer and best suited for more dense and heavier woods. 
On the other hand, the 16 gauge nails are thin and small and perfect for light woods and trims. The 18 gauge nails are called brad nails. They are used in situations like delicate trim tasks where you need a smooth finish.
Nail Gun Power Source
The power source of a nail gun determines how it works and the type of work it can handle. A pneumatic gun uses pressurized air from a compressor and drives nails. They are powerful yet lightweight. And hence they are most used in trims and related finishing projects. However, mobility is an issue with this type of nailer owing to the air hose and compressor.
Another type of nail gun is the cordless ones. They are battery-powered and do not require any hose or compressor. As a result, they cost much less and offer excellent mobility. However, they do not have as much driving power as the pneumatic ones.
Trigger Type
Nailers utilize several types of triggers. One of them is called contact firing or bump firing. In this case, you have to press the gun' against the work surface and pull the trigger. It will fire multiple nails in a single press. 
However, you will need to move your nailer fast for contact firing. Otherwise, it may double fire and create a hazardous situation. Therefore, it is not suitable for trims.
Another type is sequential firing which is much safer. This is because you have to press the safety tip against the work surface each time you pull the trigger. Therefore, it is perfect for handling delicate trim tasks.
Nailer Angle
Nailer angle means the angle of the nail magazine. Nail magazines can be angled at 15 degrees, 20 degrees, or 30 degrees. Many models have angles in between as well.
A higher angle offers more space to work with. It is better to find an angled nailer for trims. However, you have to find the supported nails to use a specific angled nail magazine, which is often complicated.
Size and Weight
Nailers are essentially handheld tools as trims need more care than conventional projects. So you would expect the nailers to be more lightweight and compact. Generally, nailers used for trim weigh around 2 pounds to 4 pounds. 
Also, you can use a lightweight nailer for an extended period without straining your hands. Therefore, it is recommended that you check the size and weight of the nailer before buying.
Features
Regardless of the type of your nailer, it must have the option to adjust the depth at which you will be driving the nails. Besides the depth adjustment wheel, the nail gun for trim must also include other necessary features such as jam clearing latch, dry-fire lockout, rotatable exhaust, etc.
Best Nail Gun for Trim for you
The best nail gun for trim is the one that fulfills your requirements while producing the best result. There are many types and brands of nail guns available in the market. In this section, we are going to put light on some of the best ones.
1. WEN 61721 18-Gauge 3/8-Inch to 2-Inch Pneumatic Brad Nailer with 2000 Nails | Best for the Price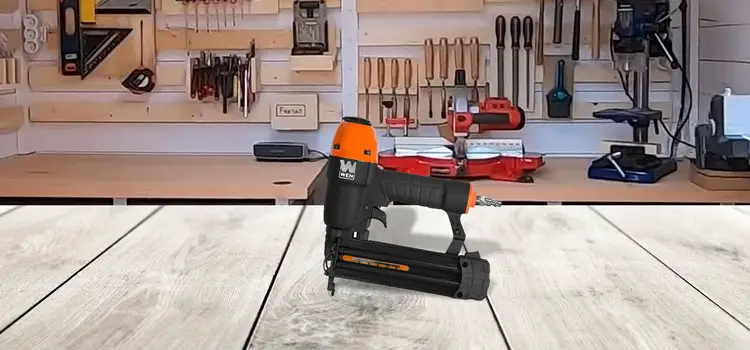 The WEN 61721 18 gauge pneumatic brad nailer will not let you down in terms of reliability and performance. Be it any kind of trim or delicate finish project. This tool will get you covered. Besides, the inclusion of various features makes it one of the most valuable 18 gauge brad nailers out there.
Regardless of how frequently you have to move around, the WEN 61721 brad nailer is perfectly portable. The tool has a lightweight aluminum construction weighing only 2.08 pounds. Clearly, it is lighter than WEN 61720 and 61718.
As it is a pneumatic gun, you can operate your WEN 18 gauge brad nailer anywhere from 60 PSI to 115 PSI. The pressure is enough to get you through to any trim work. If you are worried about jam issues, you will be relieved to know that the hassle-free nose latch efficiently clears jams.
Furthermore, the features include a unique adjustable exhaust port and a depth adjustment wheel for correct feed. Again, its powder-coated body prevents any wear and tear. Overall, this is a great inexpensive pneumatic gun for delicate trims and other finishing projects that require serious attention.
However, they have not included any case with this pneumatic nail gun. You may also occasionally face some jamming issues.
Pros
Lightweight construction.
Depth adjustment wheel.
Cons
The tool does not come with any case.
2. BOSTITCH Nail Gun, Brad Nailer, 18GA (BT1855K) | Best for Performance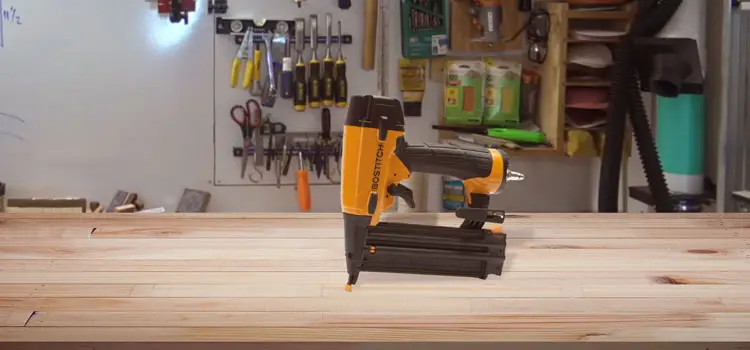 The 18GA brad nailer from BOSTITCH is an excellent tool for DIY or professional use. Regardless of whether you are a beginner or pro, this nailer will come in handy if you look for hassle-free operation. This is because, as a pneumatic brad nailer, this tool has it all.
The most captivating fact about this brad nailer is that it has an oil-free engine. Therefore, it requires no regular maintenance and eliminates the risk resulting from oil stains. Compared to the contemporary products where you continuously have to deal with grease, the BOSTITCH 18GA is indeed a handy tool you can have.
Moreover, the jam release mechanism of this pneumatic gun is entirely tool-free. The same goes for the Dial-A-Depth control, as you can execute precise countersinking of nails. Not to mention, the reversible belt hook and low nail lockout system are there for your ultimate convenience.
Again, this pneumatic gun adds to its features to make your projects easier to deal with. You get a selectable trigger that allows you to go for either selective or contact actuation. Overall, this tool delivers first-rate performance within a very affordable price range.
On the downside, this tool does not have a dry-fire lockdown feature that most users may find annoying.
Pros
Oil-free engine.
Jam release mechanism.
Cons
No dry-fire lockout system.
3. NuMax SFN64 Pneumatic 16-Gauge 2-1/2″ Straight Finish Nailer | Best for Thick Trims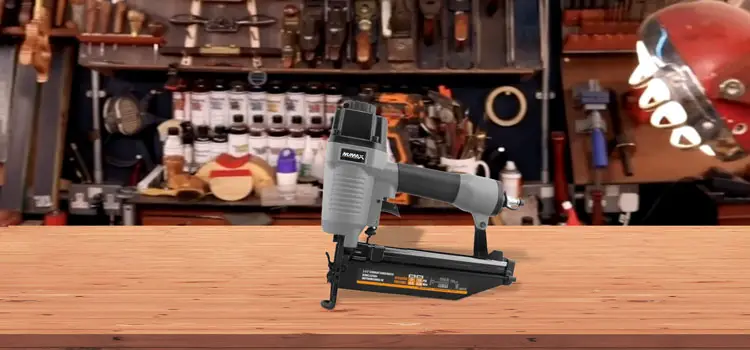 The NuMax SFN64 Pneumatic 16 Gauge Finish Nailer gives that artistic touch that your trim projects need. This exceptional tool has the most durable materials and was put against strict guidelines to ensure maximum quality. For professionals or DIY enthusiasts, this pneumatic gun makes the project a joy to complete.
As a pneumatic gun, this finish nailer from NuMax offers you sublime durability and a lightweight design thanks to its aluminum body. Whether it's your home or workstation, you can carry it with you anywhere. Additionally, the ergonomic grip handle adds to your comfort.
Moreover, the features include a no-mar tip, which helps you avoid dents and dings. Besides, this sublime pneumatic finish nailer also addresses the issue of nail jamming, which is the cause of headaches for many. The quick jam release of this tool eliminates any possibility of nail jamming.
Besides, the nailer has a variety of usages, such as interior or exterior finish and trim. Compared to other popular brands such as Makita, Senco, Hitachi, etc., this nailer is just as efficient given its price. It has an outstanding value coupled with top-tier customer service, making it a popular choice among many.
However, there is no low-nail indicator in this tool. This often causes misfiring issues. Also, this pneumatic gun is not suitable for professional applications as advertised.
Pros
Great value for money.
Aluminum build.
Easy to use.
Cons
4. Metabo HPT NT50AE2 Pneumatic Brad Nailer Kit, 18 Gauge, 5/8-Inch up to 2-Inch Brad Nails | Best for Professional Use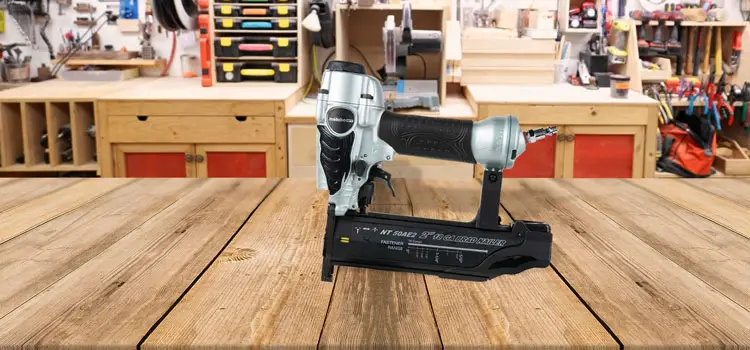 The Metabo HPT 18 Gauge Brad Nailer is an excellent tool for professional trim works. As trims require a clear finish with no backlash, you are bound to live with this pneumatic gun. The value and quality combined make this product worthy.
This brad nailer lets you go for either bump fire or sequential fire mode. It also offers a tool-free depth of drive adjustment that helps you do the job like a pro. You can efficiently address the issue of nail jamming by quickly clearing the nose and extracting the nails. 
Furthermore, the NT50AE2 only weighs 2.2 pounds, eliminating the chances of fatigue from prolonged use. Hence, this gun is useful in continuous and delicate tasks where you need a clean finish. Moreover, the elastomer grips are there for added comfort.
Not to mention, you can countersink nails like a pro, thanks to the tool-free depth adjustment. The 360° exhaust port is also there to keep the finished project clean. Compared to the Metabo HPT brad nailer kit and Bostitch brad nailer kit, this one is more lightweight and costs less. 
On the downside, this brad nailer sometimes leaves marks larger than the trim nail. This becomes problematic where you need a detailed and smooth finish.
Pros
Dual trigger options.
High capacity magazine.
Cons
5. NEU MASTER NTC0023 Cordless Brad Nailer, Rechargeable Nail Gun/Staple Gun Including Charger | Best for Upholstery, Carpentry, and Woodworking Projects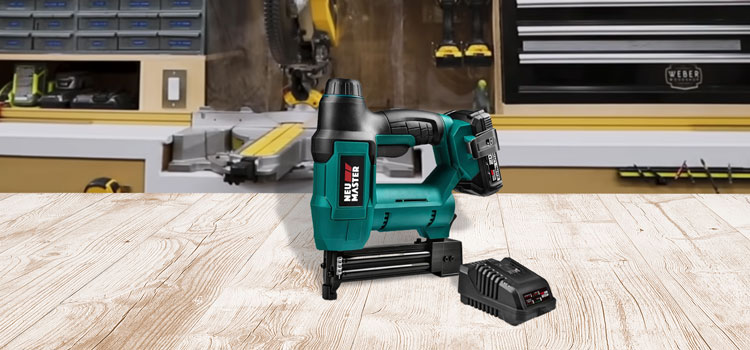 This unique cordless brad nailer from NEU MASTER is a battery-powered electric nailer. This leads to the elimination of costly gas cartridges and air compressors. Therefore, if you are a dedicated crafter or DIYer, this electric brad nailer is perfect for you.
The most intriguing aspect of this brad nailer is its spiral-drive technology. It allows the nailer to deliver full power shots while maximizing runtime and durability. As a result, you are excused from using a cord, gas, and compressor.
In addition, this one is actually a 2-in-1 nailer that can act as a staple gun as well. The variety of staples and brad nails this nail gun works with makes it ideal for fastening lightweight decoration trim. The rechargeable lithium battery makes sure you don't run out of power efficiently.
Besides, the build of the NEU MASTER brad nailer is excellent. It has a non-marring rubber nose that produces a clear finish. Also, the ergonomic handle is there for you to combat fatigue from continuous use.
However, the 3/8" staples do not countersink, nor do they sink evenly. This causes problems when you need a clean finish on your project.
Pros
Spiral-drive technology.
Powerful battery.
Cons
Depth adjustment may not work for staples.
Frequently Asked Questions
What kind of nail gun should I get for a trim?
The 16 gauge nailer the most versatile option for any situation. If you are working on thick trims, you may also consider 15 gauge nailers. The 18 gauge brad nailers are perfect for thin and delicate trims. Here are some best nails for trim work.
How long do cordless finish nailers last?
Typical cordless finish nailers last as long as their batteries last. Approximately the battery lasts up to three years or 1,000 charge cycles.
Conclusion
As mentioned before, trims won't do with just any kind of nail gun. The perfect nail gun for trim will not just give you the perfect finish, it should also be cost-effective and durable. Power, operability, versatility, and features altogether make the best nail gun for trim.