Jeff Bezos once said, "We change our tools, and then our tools change us." Fencing requires a lot of your time, measurements & human resources. It is a no-brainer, in order to construct or repair a wooden fence, you will need the appropriate nails and the fencing nail gun. 
Considering the best nail gun for fencing in heavy-duty projects, the Freeman PCN65 is one of the best tools to use. It has a larger magazine size with the capability of producing enough power for larger nails.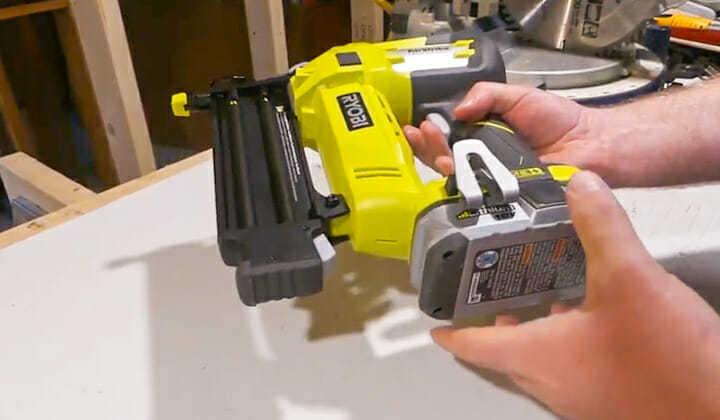 Fencing nailers can speed up the process by a lot. The Porter-Cable is perfect for more flexible jobs where you need mobility. It's a buddy that can shape up the whole fence if you work hand in hand with it. DEWALT is also good if you are questioning which gun do I need for durability. 
Top Nail Gun for Fencing in the Market
NuMax SFR2190 Pneumatic 21 Degree 3-1/2" Framing Nailer
Freeman P4FRFNCB Pneumatic Framing And Finishing Nailer And Stapler Kit With Bag (4-Piece)
BOSTITCH Coil Siding Nailer, 1-1-1/4-Inch to 2-1/2-Inch (N66C)
NuMax SFR2190 Pneumatic 21 Degree 3-1/2" Framing Nailer
Freeman P4FRFNCB Pneumatic Framing And Finishing Nailer And Stapler Kit With Bag (4-Piece)
BOSTITCH Coil Siding Nailer, 1-1-1/4-Inch to 2-1/2-Inch (N66C)
Choosing the best nail guns to compare is like comparing apples & oranges. Every tool is excellent, but you need to select the right one for your job. Let's get a deeper look at all the features & downsides of some top nail guns. 
1. NuMax SFR2190  Pneumatic – Best for Heavy Duty Amateur Jobs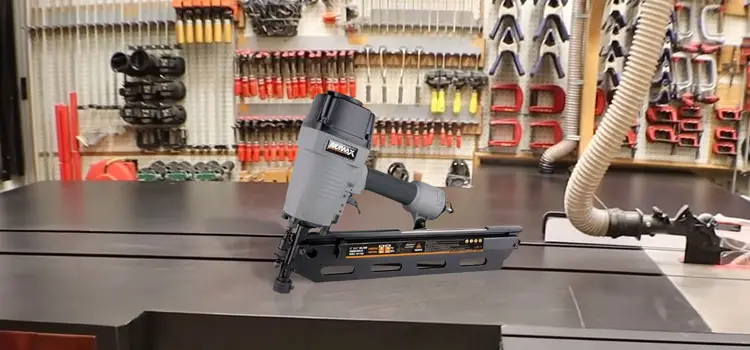 NuMax is a 21-degree pneumatic framing gun. The magnesium body reflects a durable look to the user. Whether you are a professional or an amateur, it's going to be handy for you. The single-action nail gun is ideal for all sorts of construction & DIY projects. 
The ergonomic grip provides anti-vibration comfort for better handling. With a no-mar tip, it is adaptable for all sorts of surfaces. It is perfect for our primary focus, fencing. Installing subfloors, decking roofs, wood fencing, and sheathing are some of the other tasks you'll manage with this. 
Single fire trigger action makes it the best choice for accurate nail placement. There is also a bump fire mode for quick nailing. You can adjust the firing depth for any project you want. There is also an air exhaust to blow the debris away from the workspace. 
One of the main drawbacks of the nail gun would be the smaller capacity of 55 for holding nails. But you can make it an advantage as it lightens the weight. For larger projects, you would want more power of 100 or more pins. You also can't use wire tools, paper tape, or any other row of nails with it. 
Pros 
Durable body. 
Adaptable for all surfaces.
Accurate nail placings with single fire mode 
Ergonomic grip. 
1-year warranty.
Cons
It can only hold plastic collated nails. 
Capacity lower than other professional tools. 
2. PORTER-CABLE PCC790LA Cordless – Best for Flexible Outdoor Jobs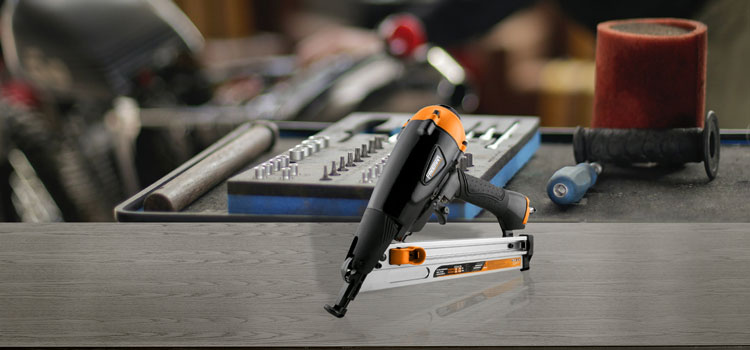 You would find the design of the Porter bulkier than the NuMax nail gun we covered before. Yet, the lightweight body is comfortable to work from many positions. The ergonomic grip makes it comfortable to hold. There are even dual LEDs to illuminate the workspace. 
This is a 100% battery-powered nail gun from Porter. It eliminates the need for any compressor, hose, or costly gas cartridges. A 20V Lithium-ion battery serves excellent for more than 1300 nails. It takes 60 to 200 mins for a full charge with a 1.5 Ah battery & charger. The depth can is adjustable to work more for different needs.
You will be able to shoot ⅝ inch to 2 inch long brads. The magazine can hold up to 100 fasteners. It's even more than the NuMax magazine size of 65. User-friendliness is an excellent feature while working with the porter nail gun. 
There is a drawback to the depth property. If you don't adjust the depth property before starting your work, it may misfire after a few hours. The tool is also somewhat heavy, so your hands might strain after working all day long. 
Pros
Long working hours with 20V battery
Larger Magazine size. 
Adjustable depth property. 
Dual LED lights. 
Cons
Some might find it a bit heavy. 
Misfire incidents if the depth is not set at the start. 
3. Freeman PCN65 Pneumatic- Best Heavy Duty Professional Tool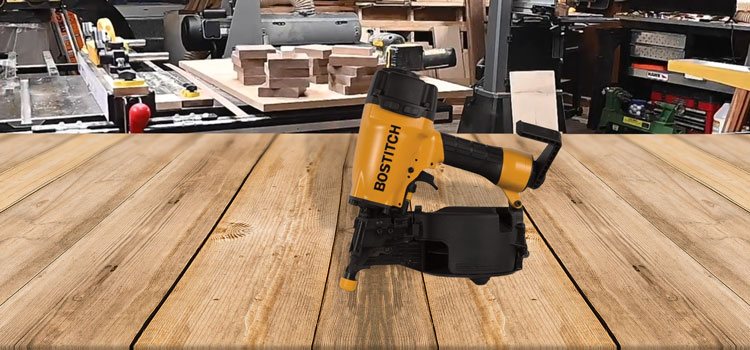 This is a pneumatic coil siding fencing nailer from Freeman Store. It has a lightweight magnesium body. The ergonomic grip helps users get a firm handle on the fencer. The transparent load magazine holds up to 400 wire or plastic coated nails.
Among the many advantages of this nail fencer is the magazine size. It is almost thrice the size of Porter & NuMax nailers. Heat-treated steel parts say a lot about the durability of the machine. Cement siding, sheathing, fencing are among some of the many applications of this nail gun.
There is no MAR tip, so it is usable for all sorts of surfaces. The adjustable air exhaust will blow all the debris away from your workspace. To ensure consistent driving depth, you can customize the firing depth. 
Some of the drawbacks are in the misfiring issue. If the coil runs very low, it would be misfeed. It doesn't drive the nail consistently, so this causes double fires and jams the barrel. Some air pressure issues are also present. 
Pros
Magnesium with heat-treated steel parts. 
Excellent ergonomic grip. 
No-mar tip. 
One year guarantee 
Cons
Jams the barrel if double fires. 
Air pressure issues. 
4. BOSTITCH Coil Siding Nailer – Best for Small/Medium level Task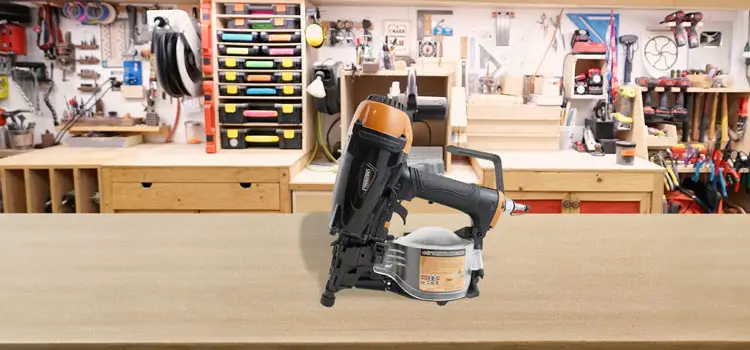 BOSTITCH has become a household name with regards to construction tools. Lightweight aluminum makes it the perfect contender to use as a convenient tool all day long. This 15-degree coil nail gun is compatible with wire and plastic inserted coil nails. 
4.9 pounds weight makes it one of the most lightweight tools we have gone through. It has a durable design to make it withstand all wear & tear at the construction site. The operating range for the nailer is 70 to 120 PSI. You can set the proper depth for the job. 
You can set for 1-1/4-inch to 2-1/2- inch nails.  The total magazine size for the machine is around 350 nails. It might exceed all others, but it can't exceed Freeman PCN65. Moreover, there is a seven-year limited warranty on the nailer. 
Quality always comes at a price. This is where the tool goes out of hand due to being expensive. Few people have found problems with nails jamming & not firing accurately. This would be the best all-around nail for an amateur.
Pros
Lightweight design. 
Adjustable depth. 
350 nails per magazine
Seven-year warranty 
Cons
More expensive.
Jamming issues sometimes. 
5. Metabo HPT Coil Siding Nailer- Best Entry-level Tool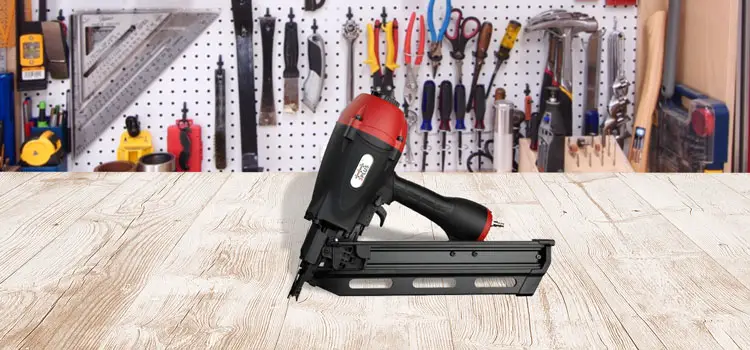 The aluminum build gives the Metabo HPT a considerable advantage. It makes it much more durable with a lightweight design. It weighs almost 4.8 lbs. This makes it lighter than the BOSTITCH nailer we discussed before. 
It can accept both wire collated & plastic collated nails from 1-½ " – 2-½ " & 1-½ " – 2-¼ ". It has an easy reload that is much like the  Freeman PCN65. Both of them have a transparent side load magazine. No-mar nose cap helps protect the material from accidental scratches. 
Tool-less depth of drive adjustment makes it easy to customize the depth. There are three working modes, sequential, bounce, and lock. You can choose any one of them according to your preference. Plastic shield wire collation makes it safer to use. 
This is not a tool for any amateur. Even if you are a professional, you have to use the tool to handle it better. If you are new to the machine, then you might face chronic misfire & jamming. It is recommended for professionals only.
Pros
Lightweight design. 
Accepts both 16º & 15º nails
It has three different modes to work with. 
Five-year company warranty.
Cons 
It takes time to get used to it. 
For professional use
6. DEWALT DW66C – Best Durable Tool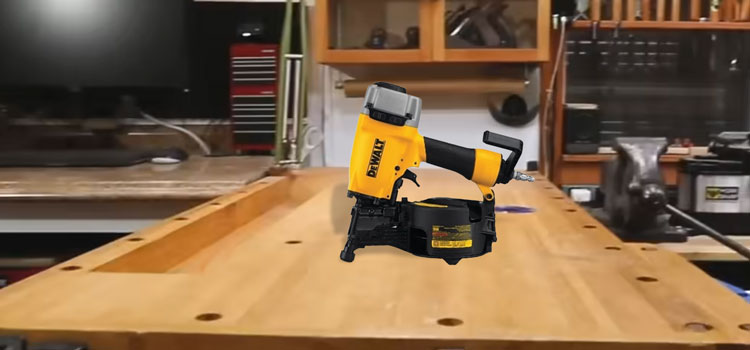 If you are looking for something that will give you service for a long time, DEWALT DW66C is your 1st choice. Durable aluminum built makes it lightweight. It has a weight like the BOSTITCH with 4.9lbs. 
The operational pressure for the tool is 70 to 120 PSI. It has a tool-free depth of adjustment for precise nailing. The nailer has an adjustable exhaust port allowing the dust to fade away. This keeps you safe from harmful substances. 
The magazine size for the tool is 300 nails. It's pretty decent but not close to Freeman PCN65 magazine size of 400. It is capable of driving both wire & plastic coil nails. A robust structure makes sure it will stick with you for a long time. 
DEWALT has an excellent reputation when it comes to tools. Although they have constructed a lightweight design, the device does seem bulky. It also doesn't have any air filters. 
Pros
Lightweight construction. 
They are built to handle your whole project effectively for longevity. 
Adjustable depth. 
Adjustable air exhaust. 
Cons
No air filters. 
Bulky-looking design.  
Overview:
| | | | | | | |
| --- | --- | --- | --- | --- | --- | --- |
| Attribute | NuMax | PORTER-CABLE | Freeman PCN65 | BOSTITCH | Metabo HPT | DEWALT DW66C |
| Type | Pneumatic  | Cordless | Pneumatic | Pneumatic | Electrical | Electrical |
| Weight (lbs) | 8.5  | 5.9 | 5.5 | 4.9 | 4.8 | 4.9 |
| Magazine  | 55 | 65 | 400 | 350 | 250 | 300 |
| FunctionalModes | 2 | 1 | 2 | 2 | 3 | 2 |
| Warranty | 1 | 3 | 7 | 1 | 5 | 3 |
What is a Nail Gun?
A nail gun is a tool that is capable of driving nails into wood or any other surface. You will be able to drive nails into surfaces more consistently & quickly. It replaces hammers and nails, saves a lot of time for every professional out there. 
The primary built to mechanism is that you have to push the nails inside the magazine. When you press the trigger, the valve opens. It then creates pressure to hammer the nail into the surface. Different nail guns work in various techniques. 
Essential Aspects for Best Nail Gun for Fencing
Source of Power 
Power source plays a vital role in the type of job you are performing. Every style is suitable for a specific scenario. There are three types of power sources available throughout our  6 tools. 
Pneumatic 
Pneumatic nail guns use an air compressor to drive nails. These guns can provide the necessary power to handle heavy-duty tasks. They can also weigh a decent amount, making it harder on your arm. But using a pneumatic fence stapler sacrifices mobility & storage. 
Cordless
A cordless nail gun is battery-operated & needs to get charge after a certain amount of time. You can understand that a cordless nailer will not provide the same level of power as a pneumatic nailer. But these guns give mobility to your job. However, you will have to sit idle while the gun charges.  
Electrical 
There is another type of nail gun. These are the traditional electrical-powered nail guns. While these guns are corded, they don't produce the level of power the pneumatic ones do. 
Size
For example, you can carry a palm nailer in the palm of your hand, which is a miniature framing nail gun. Nails that may be shot with palm nailers are comparable to those that may be shot with framing nail guns.
It is important to choose your fencing nail guns carefully because some of them are designed to handle small fasteners, such as brads and screws, while others are designed to handle nails bigger than average.
Build
There's only one thing you should always keep in mind about tools. The less plastic, the more durable the tools are.  Let's get a closer look.
Aluminum 
Manufacturers often use aluminum due to its lightweight property. Nail guns are in hand for a long time. So having a lightweight tool would reduce the strain from the hand. It would also make the device much more durable & sturdy too. 
Magnesium Steel 
Some nail guns are to be sturdy & robust.  There are a lot of tears & wear at project sites. Often it has to face harsh situations. So having a sturdy magnesium steel body would make it indestructible. But the lightweight property would be sacrificed. 
Compatibility
A good craftsman always knows his tools. If you are fencing, you should be aware of what nails you are using. Your nail gun must be usable with the nail size. Make sure the nail gun is compatible with both wire weld and plastic inserted coil nails. 
For example, In addition to framing, a framing nailer is also useful for fencing. Depending on the type of wood used for the fence, the best nail gun is one that delivers the right size and type of nail. Additionally, the nail gun should be lightweight, ergonomic, and powerful enough to drive the nail into the wood quickly, so that you can move from picket to picket or paling to paling.
Fire Method 
There are different firing methods for other guns. You need to be aware of what type of method you are using. Look for a gun that has many ways to choose from. 
Bump Fire
This method lets you fire rapid nails in quick succession. While holding down the trigger, every bump against the tip will fire a nail. It's suitable for fencing but difficult to control the speed. Professionally, users go for this method as they have more experience. 
Single Action 
This method is for those who are amateur would sacrifice the lightweight property. The single-action firing method allows you to operate the trigger with more control. You can keep the tip pressed, but when you reactivate the trigger, it will fire. 
Magazine size 
Loading a magazine can take a lot of your time. So you would want a nail gun that can work with a lot of nails at a time. This would increase your efficiency a lot. Fencing requires a significant amount of time. 
So look for a magazine size that is around 300 if you are a professional. 
Nail Size for Fence
As with the thickness and type of wood for fence pickets as well as palings, the nail size may vary. First of all, how do picket fences and palings differ? Palings are flat sheets that we mount on the cross rails or stringer, and pickets are 1/12″ poles with rounded or pointed tops. Today, however, people often refer to fence pickets as flat boards.
Ergonomic Handle
You need a secure grip for such a hefty tool. A minor slip-up can cause dangerous accidents. So having an ergonomic grip with a good pattern is essential for any user.
Frequently Asked Questions
What kind of nail gun should I go for If I use large nails?
The larger nails are typically used for the hardest of materials. So you are going to need a lot of power to drive those nails. That's why you have to use a pneumatic nail gun. They use air compressors to generate colossal strength for the larger mails. 
What nails are better to use for fencing?
If you intend to build a fence, then buying 16° nails would be appropriate. 16° nails are almost 3 inches in length. They are perfect for holding up significant board components together. 
What type of wood is better for fencing?
There are many options around you if you think of fencing. You would see people using Pinewood in the USA, but that's the softest of all the hardwood. The more hardwoods would be Oak & maple. Choose the right nails according to your wood. 
What sort of safety precautions should a user perform?
Working with a nail gun can be very dangerous. Always keep your hands, feet & other body parts away from the firing area. To secure the workpieces, you should use clamps. If the tool becomes jammed, then disconnect the power supply before doing maintenance.
Conclusion
Choosing the best nail gun for fencing is crucial to finish your project perfectly. It makes all the difference to handling your whole project effectively. You need to set your priorities straight as a DIY or as a professional. With all the factors in mind, you won't go wrong.