Crown moldings are becoming more & more. It gives a royal feeling to the room. But you need the right compatriot to help you install those molding at the right place. The best nail gun for crown molding gives you the freedom to do what your mind desires.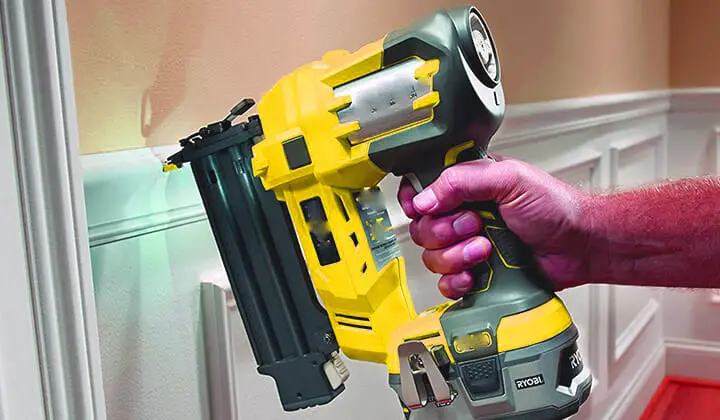 If we are talking about crown moldings in particular, then the BOSTITCH Finish Nailer would be a prime choice. The Makita AF505N is not so far behind as a great choice for delicate work. You can choose the Freeman too, but as this is a molding purpose only, you may not need the other parts. 
Competing Title of Best Nail Gun for Crown Molding
Freeman P4FRFNCB Pneumatic Framing And Finishing Nailer And Stapler Kit With Bag (4-Piece)
Makita AF505N 2" Brad Nailer, 18 Gauge
Senco 4G0001N FinishPro 42XP 15 Gauge 1-1/4" To 2-1/2" Finish Nailer
Freeman P4FRFNCB Pneumatic Framing And Finishing Nailer And Stapler Kit With Bag (4-Piece)
Makita AF505N 2" Brad Nailer, 18 Gauge
Senco 4G0001N FinishPro 42XP 15 Gauge 1-1/4" To 2-1/2" Finish Nailer
Here are some of the top contenders when it comes to crown molding. Study each feature of the guns so that you don't miss a mark. Everyone has their own upsides & downsides. 
1. Freeman P4FRFNCB Pneumatic Nail Gun Set – Best for a Whole Project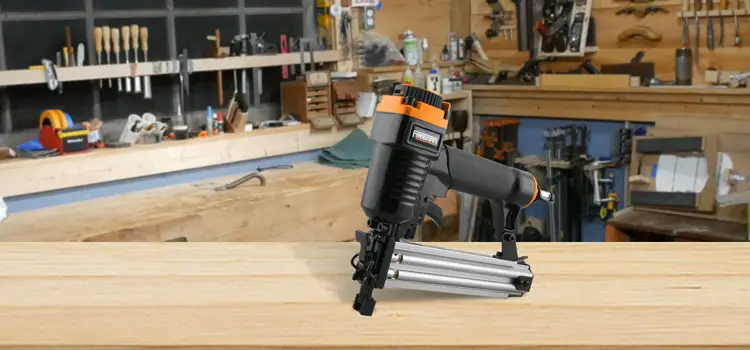 This kit from Freeman features a set of 4 nailers that will cover all your framing & finishing needs. The kit has a framing nailer, a finish nailer, a straight brad nailer & a narrow crown stapler. You will be getting the service of four nail guns in this kit. 
Magnesium construction makes these tools a robust option to have with you. They can withstand all sorts of wear & tear. You can work with 21-degree nails with a limitation of around 3 ½ inches for the framing nailer. The finished nailer works with a 15-Gauge 2-1/2-Inch 34-Degree. 
But, the straight brad nailer & crown stapler works with 18-Gauge 1-1/4-Inch. All the nailers have the adjustable depth for various applications. An anti dust cap keeps the interior free from debris. 360-degree exhaust marks it easier to clean the workspace. 
The no-mar tip is present to keep the working surface damage-free. All the tools together make it a great option to work with. There is also a 7-year warranty on the tool kit. 
The downside to purchasing this tool kit is that you may not need all the tools. So if you don't intend to use all the tools, then it won't be worth your money. 
Pros
4 in 1 tool kit. 
Depth adjustment.
Magnesium coated body. 
Covers all kinds of tasks in one kit. 
Cons
You may not need all the parts. 
2. Makita AF505N Brad Nailer – Best Overall Tool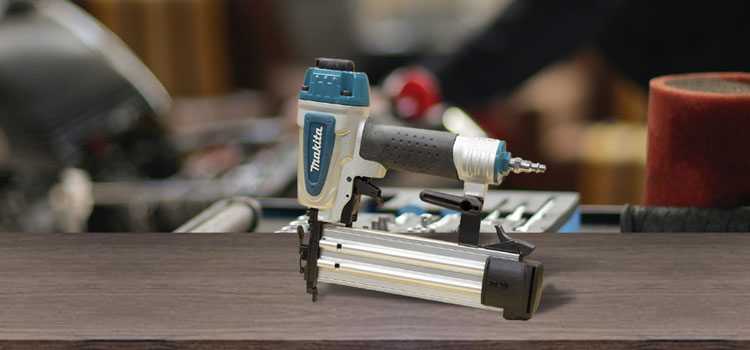 The Makita AF505N Brad Nailer is an excellent choice if you are thinking about crown molding. It has a lightweight aluminum built for durable usage. The aluminum finish on the magazine gives a solid foundation. 
The nailer is capable of driving 18 gauge brad nails. The surface depth is between 5/8″ to 2″ inches inside soft or hardwood. The magazine has a total capacity of up to 100 nails. There is a dual nail indicator present to alert the user from firing blank shots. 
The nose piece is cast & machined for a more precise contact to the surface. Your nails won't miss their target. Non-marring rubber nose & bumper protects the surface from getting scratched or damaged. The depth is adjustable for a larger level of applications.
There is a quick-release feature that clears any jamming of nails to cut downtime.  360-degree exhaust directs air away from the user. The narrow nose will allow you to use the tool for a more confined area. 
The ergonomic design of the handle is perfect to use with small effort. The net weight of the tool is 3 lbs. It's ideal for trim work, crown molding, flooring & woodwork applications. 
There are a few setbacks that users should keep in mind. The tool is not great for toenailing. Even the max depth is sometimes not enough to sink nails in 45 degrees. The nailer also requires the use of oil which can be messy. 
Pros
Durable aluminum finishing. 
Perfect to work in confined spaces.
Adjustable depth.
Ergonomic handle.
No-mar nose protects the surface.
Cons
Use of oil. 
Not good for toenailing. 
The indicator alerts when there are 3 nails left. 
3. Senco FinishPro 42XP Finish Nailer- Best Durable Tool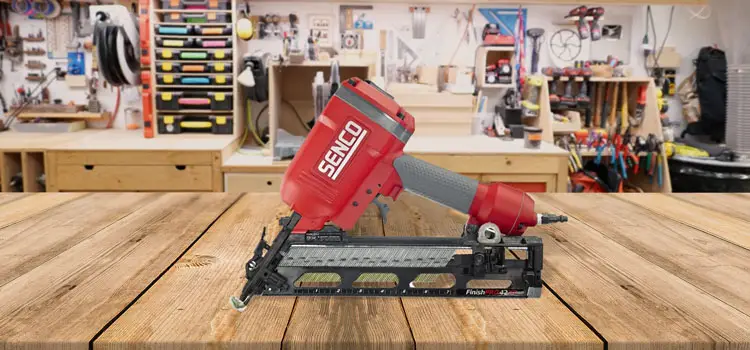 Sceno has designed this nailer with a magnesium-coated finishing. It is heavier than other nailers here. It has a weight of 4.7 lbs. The nailer is well balanced so that you can minimize arm fatigue. 
The nailer is capable of driving galvanized 15 gauge finish nails. The depth range is 1-¼ inches to 2. ½ inches for both soft & hardwood. This includes strong wood such as oak. The design is made to do a heavy-duty job as it can withstand the toughest of wear & tear. 
There is a dial-in-depth gauge present on the side. With only a thumbwheel you can adjust the depth drive at any time. The magazine has a capacity of 104 nails. The nailer prevents any sort of jamming or misfiring or double nailing. 
Premium custom grip & trigger makes it a great tool to work with. The no-mar pad protects the surface from any scratches. The manufacturer provides a 5-year warranty on the nailer. 
The only downside for this tool would be the hose & compressor. You would have to drag these everywhere to use the tool. It's also slightly more expensive than the other tools. 
Pros
Magnesium coated finish.
Powerful motor for 70 to 120 PSI.
No oil needed.
Thumbwheel depth adjustment. 
5-year warranty.
Cons
Dragging Hose & air compressor.
More expensive. 
4. BOSTITCH Finish Nailer- Best Heavy Duty Tool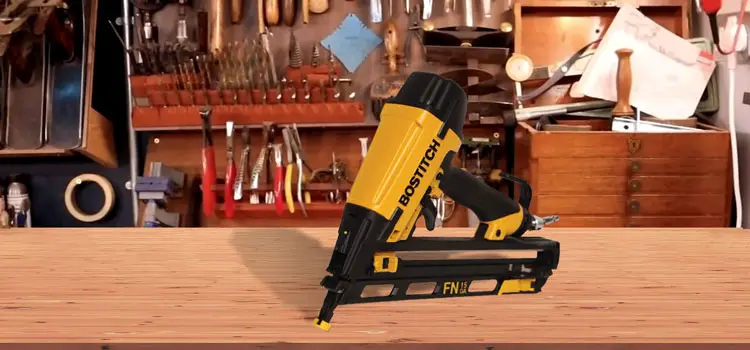 BOSTITCH is a household name when you are thinking about power tools. Lightweight durable magnesium housing makes it a great tool resisting wear & tear. It weighs only 3.8 pounds, which is perfect for overhead jobs such as crown molding. 
This nailer is the world's first 15 gauge tool that comes with an ultra-quiet rear exhaust. This blows any debris that comes into the workspace. The driving range for the tool is 1.25-inches to 2.5-inches in length. It has an adjustable nail depth setting.
The operating range for the pressure is 70 to 120 PSI. You can do your job with a driving force of almost 400 in/lbs. The magazine of the tool is capable of holding 130 nails. If you need to work in dark corners, there are LEDs to help you out. 
The whole kit includes sample finish nails, 2 standard no-mar tips, 4 profile no-mar tips, air fitting, hook, hex wrench & a carrying case. The manufacturer provides a 7-year warranty on the tool. 
There are a few issues we have noticed with this tool. The magazine of plastic, which can sauce an issue for solidness. It also has a hefty price tag to pay. 
Pros
Lightweight durable magnesium body. 
Oil-free operation. 
Quiet exhaust that blows away debris. 
The huge driving force of 400 in/lbs. 
Comes with a lot of accessories. 
Cons
Plastic magazine.
Bit expensive than others. 
| | | | | |
| --- | --- | --- | --- | --- |
| Attribute | Freeman | Makita | Senco | BOSTITCH |
| Weight | Multiple Nailers | 3 | 4.7 | 3.8 |
| Working Pressure | N/A | 60-115 | 70-120 | 70-120 |
| Magazine Size | 100 | 100 | 104 | 130 |
| Warranty | 7 | 3 | 5 | 7 |
Frequently Asked Questions (FAQ)
1. What is crown molding?
Crown molding is a decorative element that works at the intersection of the wall & the ceiling. You need to work in tough corners & spaces for crown molding. You need the perfect nailer to work in those tricky corners. 
2. What type of nailers should I go for crown molding? 
The finish nailer is the best option when you are considering crown molding. It shoots different types of gauge nails in a persistent fashion. The crown molding is thick, so you have the finish nailer to provide the right gauge needed. 
3. Should I go for a 15 gauge or 16 gauge nailer? 
15 gauge nailers are larger & have more driving force. Because it works with bigger-sized nails. But, 16 gauge nailers are smaller. You have to go for the one that best suits your crown molding. 
4. Is weight a concern for a nail gun? 
Of Course, it is. You can't hold a heavy nail gun for too long, can you? You have to choose a nail gun that is lightweight & durable so that you can work all day long. Having arm fatigue in the middle of your work can become stressful. 
Conclusion
Getting a clear idea of characteristics can help your judgment a lot. The bottom line is that you have to sum up what you think matters to you. Summing up your priorities is the best way to choose the best nail gun for crown molding.