On the way to finding the best nail gun for baseboards, there are two options. You either choose a brad nailer and get the cleanest of finishes or settle down with more holding power from a finish nailer. Either way, you have to compromise at least one aspect.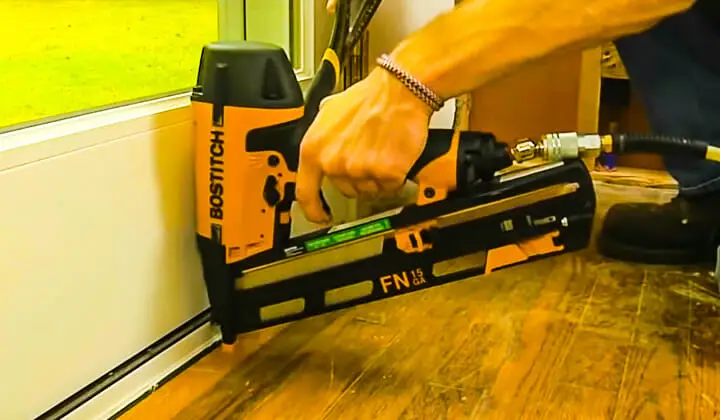 However, not all nail guns are full of compromises. Products like WEN 61721 are pretty much capable of offering you the best of both worlds. 
Best Nail Gun for Baseboards in 2021
Editors Choice
Best Buy
Nice Pick
WEN 61721 18-Gauge 3/8-Inch to 2-Inch Pneumatic Brad Nailer
NuMax SFN64 Pneumatic 16-Gauge 2-1/2" Straight Finish Nailer
DEWALT 20V MAX* Cordless Brad Nailer, 18GA, Tool Only (DCN680B)
Editors Choice
WEN 61721 18-Gauge 3/8-Inch to 2-Inch Pneumatic Brad Nailer
Best Buy
NuMax SFN64 Pneumatic 16-Gauge 2-1/2" Straight Finish Nailer
Nice Pick
DEWALT 20V MAX* Cordless Brad Nailer, 18GA, Tool Only (DCN680B)
Below are four of the best nail guns money can buy. Our expert team reviewed each of them thoroughly to make sure you get all the insights.
1. WEN 61721 18-Gauge 3/8-Inch to 2-Inch Pneumatic Brad Nailer with 2000 Nails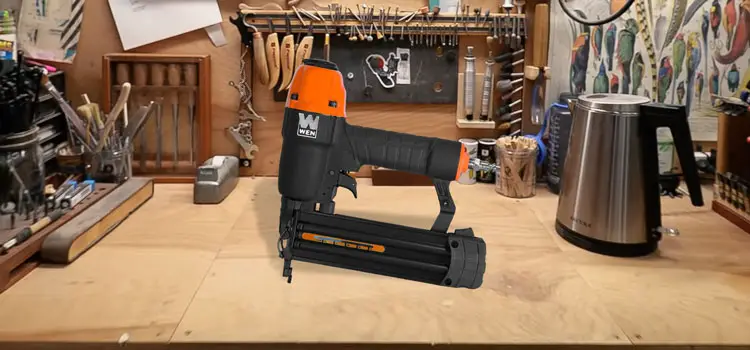 In a world full of bulky pneumatic nailers, WEN 61721 is a breath of fresh air. With a weight of only 2.7lbs and a comfy rubber-grip handle, it barely causes any fatigue while nailing. Despite being so light, it shoots 18-gauge 3/8-2 inches nails like a pro.
While most nailers operate at 70 to 120 PSI, this one requires 60 to 115 PSI for smooth operations. Thus, you get support for a wide range of air compressors, making it easy to work with. 
Best of all, it comprises a tool-free depth adjustment method in the form of an easy-to-turn wheel. Hence, getting the perfect firing depth for your project is only a turn away.  
Plus, you will get the best user experience thanks to adjustable exhaust ports and a spring-loaded magazine. While the ports drive air exhaust away from your body, the spring-loaded system allows for convenient reloads. Lastly, the nose latch comes in handy for clearing jammed nails in a snap. 
Anyhow, it's not always smooth sailing, given it lacks certain portability factors. While nail guns like Dewalt DCN680B are cordless and easy to maneuver, you have to carry bulky air hoses with this one. Also, it only comes with a transparent nail status indicator instead of a nail lockout mechanism.
Pros
2.7lbs weight and rubbery handle offer fatigue-free operations. 
Required operating pressure through ¼-inch NPT air inlet can be as low as 60 PSI, compatible with stationary and portable compressors. 
Adjustable exhaust ports and spring-loaded magazine bring convenience. 
The depth adjustment wheel eliminates the need for extra tools while adjusting the depth of drive. 
Jam release is hassle-free with the nose latch.
Cons
Poor portability as it needs compressor and air hoses. 
No nail lockout mechanism included.
2. Brad Nailer, Air-powered, TACKLIFE 18GA 2-in-1 Nailer, 5/8"-2″, Wider Visual Nail Indicator, 360 Degree Adjustable Exhaust | TK5040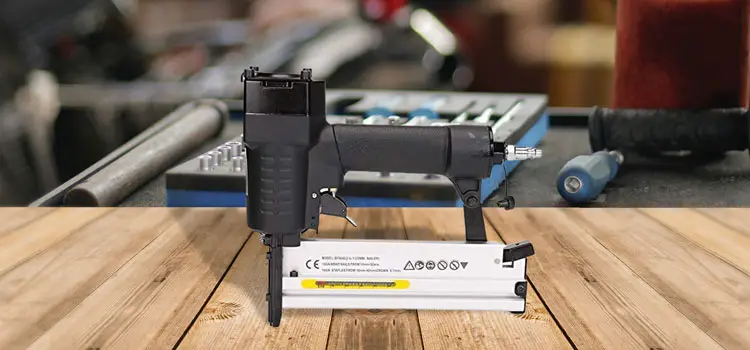 Unlike others on this list, Tacklife TK5040 comes with multi-function capabilities. It has a 2-in-1 magazine that drives not only 18GA brad nails but also crown staples, whereas others stick to brads only. Therefore, TK5040 is more versatile, offering better results on baseboards.
As far as durability is concerned, not even Dewalt DCN680B comes close to TK5040. That is because it features a superior aluminum housing that is less prone to corrosion. Despite such sturdiness, it weighs only 2.4lbs, lighter than the WEN 61721. Hence, carrying it around is pretty refreshing.
Besides, Tacklife has provided an anti-slip rubber grip to make sure you never lose grasp. You don't miss out on things like depth adjustment or jam release as well. Most amazingly, both these processes are entirely tool-free.
For safety, it features 360° adjustable exhaust ports to protect you, not to mention how handy the CE safety glasses are. There is also a low nail indicator to alert you about reloads and keep the internal components damage-free.
Although Tacklife TK5040 ticks most of the right boxes, the fact that it is air-powered is somewhat a downside. No matter how lightweight it is, it eventually boils down to convenience. Unfortunately, it can't operate without bulky air hoses. 
Pros
The 2-in-1 magazine offers versatility with support for both 5/8-2-inch brad nails and 5/8-1-5/8-inch staples. 
Durable aluminum housing increases the lifespan. 
2.4lbs lightweight footprint allows for easy maneuverability. 
Tool-free depth adjustment and jam release mechanism
360° adjustable exhaust port, along with a low nail indicator, keeps the tool and its user safe.
Cons
Low maneuverability due to the air-powered mechanism
3. DEWALT 20V MAX Cordless Brad Nailer, 18GA, Tool Only (DCN680B)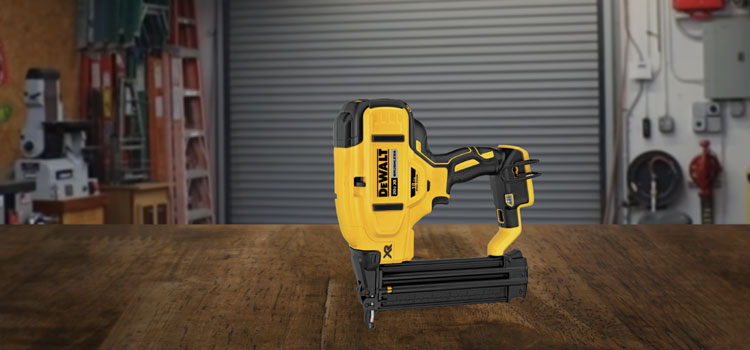 Dewalt DCN680B is the only cordless brad nailer on our list. We picked it because the things it brings to the table are on par with its pneumatic counterparts. It even saves a few dollars by eliminating the need for costly gas cartridges and bulky air hoses.
The typical scenario is that pneumatic nailers outperform battery-powered ones. But the equation is not the same as before with this one. It comes with a superior brushless motor that operates at 20V and has improved runtime. Hence, you won't have much to complain about performance. 
Besides, its depth adjustment process is entirely toolless, offering accurate nail countersinking with minimal effort. Plus, Dewalt has added multi-functional LEDs that illuminate the working area and help diagnose the tool.
Moreover, you can switch back and forth between two trigger modes without any additional tools. While the sequential mode helps beginners work safely, bump firing, aka contact actuation, lets the professionals shoot nails at full pace.
Despite enhanced runtime, one obvious drawback with Dewalt DCN680B is the limited battery backup. You might have to take breaks in the middle of a project to recharge the batteries. Though you can use spare batteries, it will cost you a few extra bucks. Also, the tool is a bit on the heavier side with 5.3lbs.
Pros
No need to spend on expensive gas cartridges, air compressors, or hoses 
Improved runtime and stellar performance through a 20V brushless motor.
Tool-free depth adjustment and jam release mechanism reduce the hassles. 
Easy switching between trigger modes enhances the user experience. 
Micro nose design allows for a better line of sight.
Cons
Battery backup restricts long nailing sessions.
5.3lbs weight feels a bit intimidating in hand.
4. NuMax SFN64 Pneumatic 16-Gauge 2-1/2″ Straight Finish Nailer Ergonomic and Lightweight Nail Gun with Tool-Free Depth Adjust and No-Mar Tip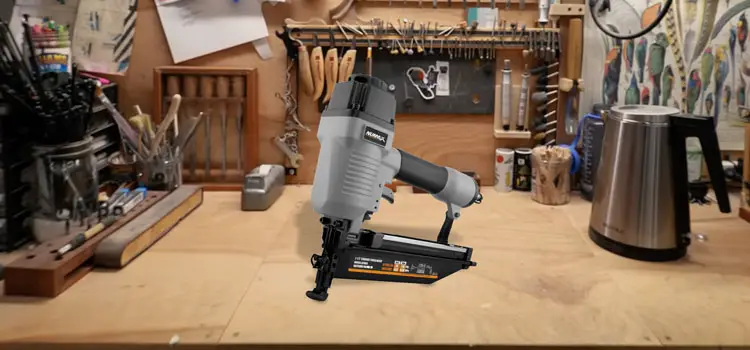 While the rest on our list are 18-gauge brad nailers, NuMax SFN64 is a 16-gauge finish nailer. It targets a slightly different audience who work with thicker baseboards.
Furthermore, it features aluminum construction that helps keep the weight at 4.07lbs. Though it is not nearly as lightweight as Tacklife TK5040, the heft is well below Dewalt DCN680B. So, think of it as a balanced package that neither asks for less elbow grease nor leaves you dog-tired.
For surface care, it comes with no-mar tips that protect the nailing surface from dents and scratches. There is also a 360° surrounded air exhaustion system to keep air exhaust out of your way.
And for ease of use, it features tool-free depth adjustment and jam release method. Thus, you can acquire the required firing depth and clear jams in a breeze.
One shortcoming of the NuMax SFN64 is that it has no support for shooting 18-gauge brad nails. Though 16-gauge fasteners can get the job done, you don't get as much stability or holding strength. Also, it needs quite a bit of lubrication each day to operate smoothly.
Pros
16-gauge nailer offers a better finish in jobs like decorative trim, crown molding, and installing baseboards. 
Ergonomically designed aluminum housing, paired with a comfortable handle, reduces fatigue. 
No-mar tips save the nailing surface from unwanted dents. 
Depth of drive adjustment and jam release processes are tool-free, providing a hassle-free experience.
Cons
It offers less stability and holding power than 18-gauge nailers.
Maintenance is a bit hard due to frequent oiling requirements.
Route to Best Nail Gun for Baseboards
While shopping for a nail gun for baseboards, try to keep the following factors in mind.
Type
There are two basic types of nail guns in the market, regardless of them being a brad, finish, or trim nailer.
Pneumatic
Air-powered nailers, also known as pneumatic nailers, are the most common form of nail guns. These operate on air pressure, usually delivered from air compressors connected through air hoses. In terms of performance, they have a slight edge over cordless ones.  
However, they struggle a bit when it comes to portability since they have strings attached in the form of air hoses. Yet, they weigh much less as compared to cordless guns.
Cordless
Cordless nailers are battery-powered tools that require no additional compressor or hoses to operate. Their rechargeable batteries (usually 15-20V) deliver the power to the motor. Hence, these nailers have to rely on battery backup to continue their applications. They are often on the pricier side with a bit of heft too.
Weight and Maneuverability
The average weight of a nail gun for baseboards fluctuates between 2 to 5 pounds. Anything above the 5lbs mark will result in more fatigue while nailing. So, make sure the unit you pick is not too bulky to carry around. 
As said earlier, cordless nailers weigh more than pneumatic ones since they include batteries. If you want to apply little elbow grease, go for a pneumatic nail gun.
Adjustability
For achieving pinpoint flush and countersinking finish, you need convenient depth of drive adjustment. Since large projects require adjusting the firing depth more often, the adjustment process must be as easy as possible. Look for tool-free methods like depth adjustment wheels to get the most convenient of experiences. 
Besides, if you are a professional, look for dual trigger modes in your unit. Though a contact actuation mode lets you bump-fire nails, a sequential actuation provides a better finish. You might need both of them on a single project and thus check if the nailer offers seamless switching between the modes.
Usability
Though usability boils down to user preferences and use-case scenarios at the users' end, these three factors can help.
Ease of Use
Things like an ergonomic design, a comfortable handle, tool-free depth adjustment, and an easy jam release mechanism make nailing a lot easier. Make sure the unit you get comprises most of them to enjoy a hassle-free experience.
Maintenance
Some nail guns will need frequent oiling to operate smoothly. You can go for them if you can tackle the added hassle. However, oil-free nail guns are a thing, and you should opt for them if possible.
Safety
A safe nailer will come with features like nail lockout or low-nail indicator to keep the tool safe from internal damages. They also help avoid dry fires and thus keep the surface safe. Get a nailer with 360° adjustable exhaust ports to drive the air away from your body.
Frequently Asked Questions
Should I get a 16-gauge or 18-gauge nailer for baseboards? 
Go for an 18-gauge nailer if you value a clean and smooth finish over stability and holding power. 16-gauge nailers can keep ½ to ¾-inch baseboards, whereas an 18-gauge nailer works best for thinner baseboards.
Between brad and finish nailer, which is the best for baseboards? 
It boils down to the thickness of your baseboards. Brad nails usually have lesser strength, and so brad nailers are suitable for thin baseboards. Thus, a finish nailer will provide the best results for thick baseboards.
Bottom Line
The best nail gun for baseboards will only retain its title if you put in the effort. For example, lubricate your nail gun daily to get buttery smooth performance for years. And if it is a cordless one, try to use batteries from the same parent brand. That way, you can increase its lifespan.