Wood flooring requires a lot of hard work, dedication & time. If you are a DIY enthusiast then you have had the thought of doing the floor yourself. Why spend hundreds of dollars on a professional? Even if you are a professional you need the best hardwood floor nailer by your side for the job.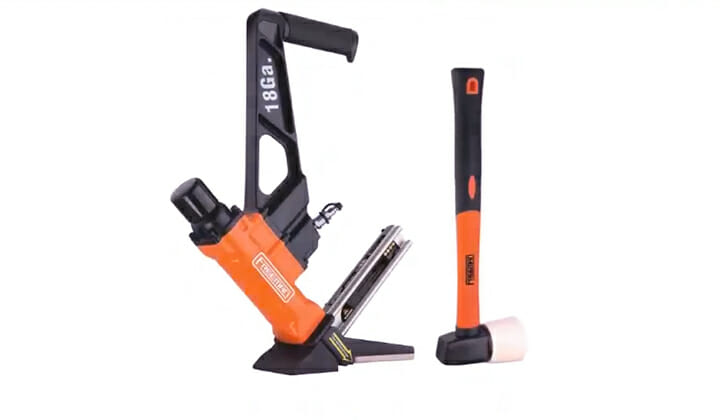 On one hand,when it comes to engineering hardwood, BOSTITCH is an excellent choice. On the other hand, the NuMax & Freeman would be an ideal choice for those who are looking from a professional outlook. These nailers give you the ability to work in a versatile way. 
Top Hardwood Floor Nailers in the market
Editors Choice
Best Buy
Nice Pick
NuMax SFL618 Pneumatic 3-in-1 15.5-Gauge and 16-Gauge 2" Flooring Nailer / Stapler with Flooring Mallet and Interchangeable Base Plates
Freeman PFL618BR Pneumatic 3-in-1 15.5-Gauge and 16-Gauge 2" Flooring Nailer / Stapler with Flooring Mallet, Interchangeable Base Plates, and Case
Bostitch Flooring Stapler for Engineered Hardwood (EHF1838K) , Black
Editors Choice
NuMax SFL618 Pneumatic 3-in-1 15.5-Gauge and 16-Gauge 2" Flooring Nailer / Stapler with Flooring Mallet and Interchangeable Base Plates
Best Buy
Freeman PFL618BR Pneumatic 3-in-1 15.5-Gauge and 16-Gauge 2" Flooring Nailer / Stapler with Flooring Mallet, Interchangeable Base Plates, and Case
Nice Pick
Bostitch Flooring Stapler for Engineered Hardwood (EHF1838K) , Black
No matter what job you are doing with your floor, there's no shortage of flooring nailers in the market. We compare the 5 best hardwood floor nailers in the market with all their upsides & downsides.
1.1. Numax sfl618 Pneumatic nailers 3-in-1 15.5-Gauge and 16-Gauge 2″ Hardwood Flooring Nailer and Stapler, Ergonomic Design – Best Flooring Nailers for Multipurpose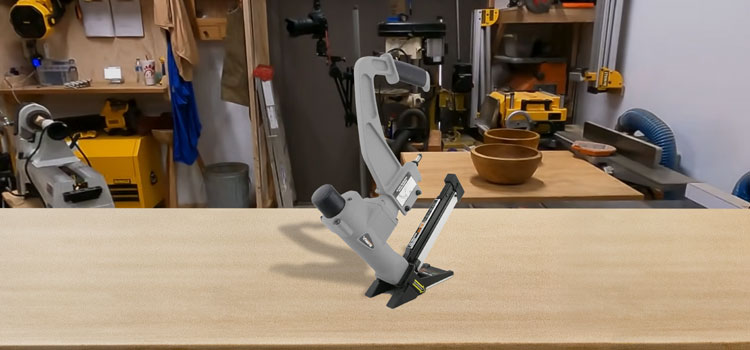 NuMax SFL618 has an aluminum body structure that resonates with the lightweight persona of the floor nailer. It is a flooring nailer with 15.5 gauge & 16 gauge staples with cleats within 1-½ and 2 inches in length. An ergonomic comfort grip allows you to have a firm hand on the tool while you work.
If you are a DIY enthusiast, then you are in luck. Because this nail gun is one of the best multipurpose guns available in the market. You can switch between T-cleats, L-Cleats & staples for more functionality. The magazine can hold up to 120 staples/cleats for more nailing power. 
The nailer allows you to use base plates for all 1/2, ⅝ and 2-inch solid tongue and groove flooring. The extra-long handles prevent those achy backs for you. A 1-year warranty comes with the nailer as well as 30 days replacement for parts. If you are a DIY enthusiast, then this could be the tool for you. 
While the tool does get the job done, it's hard to slide the tool across the floor. The handle adds an extra advantage, but for some people, this has become a necessary evil. Some find it hard to work with a long handle.
Pros
Multipurpose flooring nailer. 
High-capacity magazine.
Interchangeable base blades. 
1-year warranty & 30 days parts replacement. 
Cons
The handle might be a concern for some.
Difficult to slide. 
2. Freeman pfl618br Pneumatic flooring nailers 3-in-1 Lightweight Nail Gun for Flooring With Padded Grip Long Reach Handle – Best Flooring Nailer for Professionals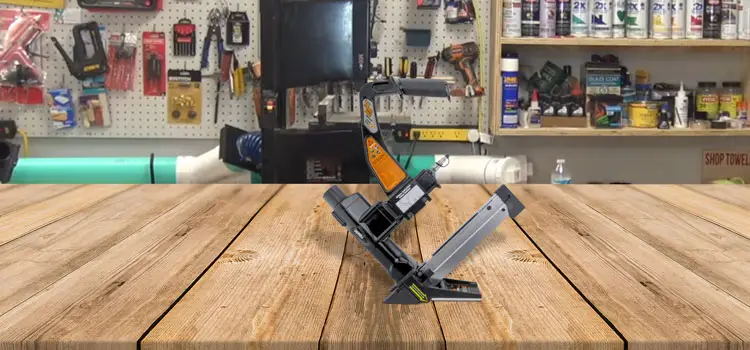 Freeman PFL618BR features a lightweight aluminum build with a durable structure. Padded grips are present so that you can have a secure hand on the tool. It is capable of shooting 15.5 & 16 gauge staples ranging from 1 to 2 inches. 
The nailer has a magazine size of 120 staples/cleats like the NuMax nailer. It is a 3 in 1 flooring nailer where you will be able to interchange between T-cleats, L-Cleats & staples. No-Mar interchangeable base plate adds a lot of protection & safety against the floor surface. 
There are a lot of accessories coming with the nailer. Such as flooring mallet, safety goggles, air tool oil & other tools. The best part is the manufacturer's 7-year warranty with the nailer. Much much better than the 1-year warranty of the NuMax. 
Many users have found that there is air leaking around the trigger after some time. This makes an annoying hissing sound in the air. The product also doesn't include an ⅝ inch base plate. You have to buy it elsewhere. 
Pros
Durable & lightweight aluminum build.
3 in 1 versatile flooring nailer.
Comes with a lot of accessories. 
High-capacity magazine size. 
Carries a 7-year warranty. 
Cons
Makes an annoying hissing sound of air. 
Doesn't include ⅝ inch base plate.
3.3. Bostitch Flooring Stapler for Engineered Hardwood (ehf1838k) – Best For Engineering Wood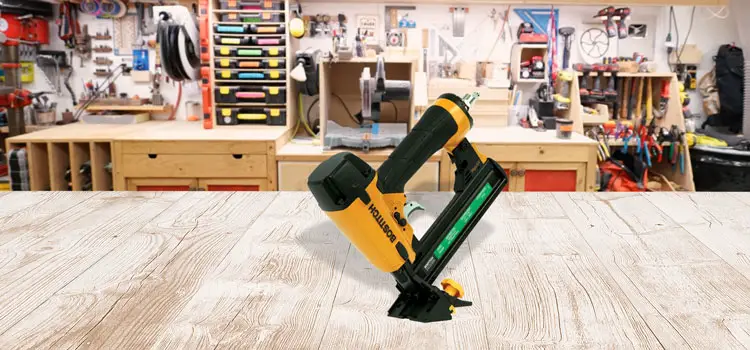 Bostitch has provided the best technology for this flooring nailer. It has a structure of aircraft-grade aluminum. This makes the nailer durable & lightweight of all the flooring nailers here. The nailer has an air compressor to operate it. 
3-½ pound weight makes it a tool to use for longer periods of time with the least fatigue. It has an oil-free operation, eliminating possibilities of oil spills. An existent no-mar cap ensures your floor doesn't get any accidental scratches. 
You can work with any flooring size by using the adjustable knob for depth. It can be adjustable between 5/16 inches and 7/16 inches for solid hardwood. And between 1/2 inch and 5/8 inch for engineered hardwood floors. The rear exhaust blows debris away. 
It has a magazine size of 100 staples to keep you at work for a longer time. Although this size is lower than the previous two ones we discussed. The nailer has a driving force of almost 160 inches/pounds between 70 and 120 PSI. The manufacturer provides a 7-year warranty on the tool.
There are some drawbacks that come with this tool. You might have to think twice while operating with more than ½ inch floor nailing. It doesn't work on these floors. It only specializes in engineered hardwood.
Pros
Portable operation.
lightweight for a floor nailer.
Doesn't scratch the floor surface.
Adjustable knob for depth adjustments. 
7-year warranty. 
Cons
Doesn't work outside the operating range of thickness. 
Only for engineered hardwood. 
4. Bynford Hardwood Flooring Stapler Nailer (for Conventional 5/8″ & Under T&G Flooring and Shaw Type Flooring Groove Side Stapling). – Best Optional Nailer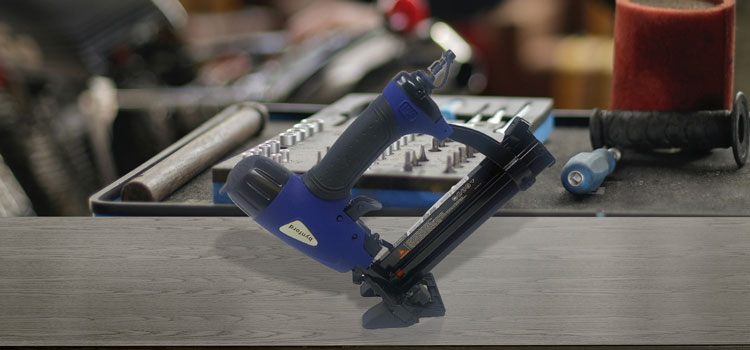 Bynford has a shoe-like design convenient for both amateur & professional work. Due to the plastic lightweight structure, you can work for long hours & feel no fatigue. The standout fact about this tool is that you can use it as a professional tool without the expense of one. It is a more economical choice for those who are amateur. 
The adjustable shoe plate gives a lot more versatility for different thicknesses of the flooring. It is for floors that have a thickness of 1/4″ – 9/16″. You can use standard 18 gauge narrow crown staples & 18 gauge brad nails up to 1-9/16″. 
There is a brad mode that is ideal for trim molding. The ability to angle the nail gun is 45 degrees. This makes your job of laying flooring very easy. Clearly, as a professional, you have other great choices. But as a DIY enthusiast or as backup, it can be for a lot of applications. 
You have to keep watch of the groove while working. Although it's lightweight, plastic construction is not a proper choice for a nailer. Definitely, con suggested for a professional level tool. 
Pros
Lightweight structure. 
Unique design & angle making for laying floors.
Economical choice. 
Adjustable depth control.
Cons
Not a professional choice tool.
Plastic body.
Limited choices for the thicker floor. 
5. 3 PLUS HFSNSP 2-in-1 Pneumatic Flooring Nailer/Stapler – Best Floor Nailer in terms of Durability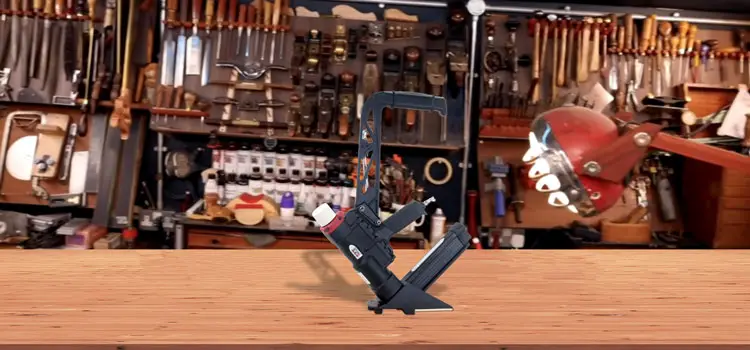 3PLUS has developed an aluminum-constructed flooring nailer as a perfect solution for any project. It is a 2 in 1 tool that comes with the capability of shooting both 15 ½ gauge staples. And 16 gauge L cleats using the same magazine. It has a range of 1-1/2″ to 2″. 
Working with nailers can get scary if you don't have a firm grip. That's why you have a long reach handle. But if you find the long handle disturbing, you can replace it with a shorter one. The handles are with a padded grip to get a firm hand to them. 
The tool has two shoe plates. 1/4″ shoe plate for 3/4″ thick hardwood flooring & 5/16″ shoe plate for 1/2″ solid wood flooring. It comes with a white rubber mallet for your convenience. It can operate with hardwood & engineered flooring. 
The biggest drawback for this tool would be the 15.65 in pounds weight. It's a heavy machine to operate. The tool has a tendency to malfunction after the first 120 square feet of area. 
Pros
Durable body structure.
Long reach the handle.
Good for thick floors.
Interchangeable base plates. 
Cons
The heavyweight is a huge drawback. 
It's not compatible with T- cleats
| | | | | | |
| --- | --- | --- | --- | --- | --- |
| Attribute | NuMax | Freeman PFL618BR | BOSTITCH | BYNFORD | 3PLUS HFSNSP |
| Type | Pneumatic | Pneumatic | Pneumatic | Pneumatic | Pneumatic |
| Built | Aluminum | Aluminum | Aluminum | Plastic | Aluminum |
| Weight (Pounds) | 15.62 | 11.46 | 3.47 | 5.99 | 15.65 |
| Warranty | 1 | 7 | 7 | | 1 |
| Cleat/ Staples | Both | Both | Both | Both | Both but missing T |
| Gauge | 15.5 & 16 | 15.5 & 16 | 18 | 18 | 15.5 & 16 |
| Magazine  | 120 | 120 | 100 | 100 | N/A |
What is Hardwood Flooring Nailer
It's a type of nail gun that allows you to do the tedious task of nailing down hardwood floors. Flooring nailers are different from other nail guns. Because these guns are not automatic or trigger powered. You need to strike it with a rubber mallet to set the fasteners. 
These floor nailers are dependent on the user's strength. If you use manual floor nailers, then you have to work twice as hard. But, a pneumatic nailer requires only one mallet strike. 
Necessary Aspects to Look Into for Best Hardwood Floor Nailer
Type of Nailer
When considering buying a flooring nailer it's essential to choose between pneumatic and manual type nailers. Let's take a closer look.
Pneumatic Floor Nailer
These types of nailers need an air compressor to operate. They have an operating pressure of around 50 to 120 PSI. A hint of pressure is enough to create a force of hundreds of pounds per inch. Although they are expensive, they are better in the long run due to their immense power.
Manual Floor Nailer
These floor nailers do not need an air compressor to drive nails. They rely on your raw muscle power. You have to hit the bumper twice with a mallet for manual nailers. Due to the absence of an air compressor, they cost a lot less. But these nailers are not good for operating long periods of time. 
Design
Design can vary from manufacturer to manufacturer. Modern floor nailers use more or less the same design. The structure & material varies. You would want your handle to be in the appropriate position for you. A removable handle is quite good as this becomes a personal choice for many people. 
Type of Nail
You are going to need different types of cleats and staples while working on a big project. So you need to know your priority. Choose a nailer that specializes in both as you won't know when you'll be needing which. 
Cleats
Cleats are made of steel to better hold the floor. They can tolerate temperature & humidity as these factors can expand the wood floor. You will find L cleats & T cleats doing the same work & in a different shape. You would want your nailer to have both options for you.
Staples
You would find staples more reasonable than cleats. They do a good job of holding the floor in place. But with the expansion of the floor, they can loosen up a bit. This leads to cracking of the floor. 
You would want a floor nailer that has L cleats, T cleats & staples for a more versatile work experience. 
Nail Gauge
This indicates the thickness of the cleats or staples. Determining the gauge of the fasteners is important as the wrong size might not hold the floor together. Most floor nailers are compatible with 16 to 18 gauge cleats & 15.5 gauge staples. If you have a thicker floor then you would need a lower gauge number. 
Make sure you know your floor thickness before going for a nailer. 
Weight
Installing a floor from scratch requires a huge amount of time. So having lightweight floor nailers becomes essential for you. Otherwise, you will be in bed with back pain after the first day of work. 
Handle 
Like the weight of the nailer, you can counter it with an extended handle. With an extended handle, you won't need to bend as often to drive the nails. A padded handle with a comfortable rubber grip will allow you to do your job with more ease.
Nail Length 
You would not want the nail to go through the floor. This can damage the floor to quite an extent. You would want your fasteners to range from 1-½ " to 2". This is the standard length size of the fasteners for any type of floor. 
Warranty 
Having a good warranty on your power tools can make your life a whole lot easier. Although most tools are tested before they go out, you never know when they might malfunction. When you are a professional, considering a warranty would be a great option. You are working on several projects, where any part can malfunction at any time.
Having a 7-year warranty on the tools is a great option that will give you more flexibility in your job. 
Frequently Asked Questions
Which should I go for between staples & cleats?
Cleats are usually used for thicker flooring & staples, on a thinner floor. This all comes down to personal preference as the cost of cleats is twice from staples. But do look for a floor nailer that can work with both. 
Are all nailers compatible with all types of floors?
No, all nailers are not compatible with all sorts of floorings. Some nailers are designed to work only with exotic wood such as bamboo. Some may work on engineered hardwood. And some are even designed to work on most types. 
Do all types of nailers need an air compressor?
Only the pneumatic floor nailers need an air compressor. The manual flooring nailers do not need air compressors. But they will need more force & sweat from you. 
Do I need any other nailers to finish installing the floor?
Yes, you would need a finish nailer to install the trim around & down the hall. This nailer helps hide any gaps that are left around the edge of the room.
Conclusion 
Without the perfect helping hand, you are stuck in the middle of nowhere. The best hardwood flooring nailers will give you a more versatile approach to your workspace.
Be sure to review your priorities before making a decision. All our flooring nailer reviews will hopefully help you to get the best out of all tools available there.