Electric staple guns offer noticeable benefits over their spring-loaded counterparts. In short, they are the future of stapling since no other tools can match their firing rate, let alone their driving strength. For people who wish both of these, Roberts 10-600 is an ideal choice because of its solid performance. 
However, not all professionals demand the same out of a particular tool. Therefore, we tried to provide a comprehensive guide to finding the best electric staple gun in the scope of this article.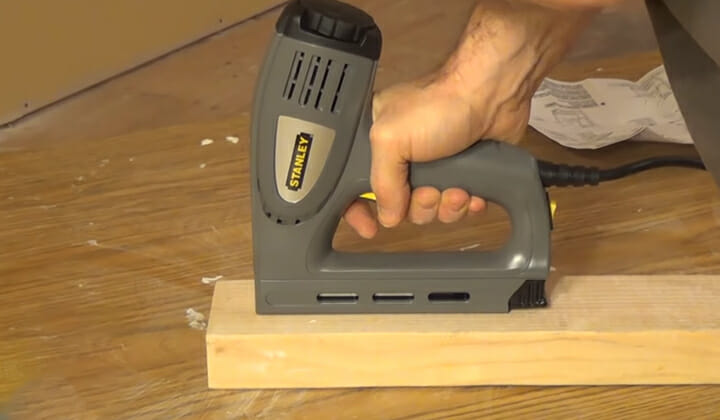 Best Electric Staple Guns in Town
Editors Choice
Best Buy
Nice Pick
ROBERTS 10-600 3/16" Crown, 120V, 15-Amp, 20 Gauge Electric Stapler with Carrying Case, Red
KeLDE Electric Staple Gun Kit, 120V Electric Stapler/ Brad Nailer with Adjustable Firing Mode Switch, Includes 1500pcs T50 Staples and 500pcs 14mm Brad Nails for Carpentry, Decoration, Furniture
Arrow Fastener T50AC Professional Electric Staple Gun and Nailer
Editors Choice
ROBERTS 10-600 3/16" Crown, 120V, 15-Amp, 20 Gauge Electric Stapler with Carrying Case, Red
Best Buy
KeLDE Electric Staple Gun Kit, 120V Electric Stapler/ Brad Nailer with Adjustable Firing Mode Switch, Includes 1500pcs T50 Staples and 500pcs 14mm Brad Nails for Carpentry, Decoration, Furniture
Nice Pick
Arrow Fastener T50AC Professional Electric Staple Gun and Nailer
Below are some of the best-in-class electric staple guns in the market. For making your decision easier, we present you all their upsides and drawbacks in as understandable a way as possible.
1. ROBERTS 10-600 3/16″ Crown, 120V, 15-Amp, 20 Gauge Electric Stapler with Carrying Case, Red
ROBERTS 10-600 features a die-cast aluminum housing, way more durable than the KeLDE electric stapler's polymer build. Thus, it is far more likely to withstand a fall or rough conditions. Moreover, the hardened nosepiece, paired with an extra-hard hammer, increases the overall lifespan of this tool by a large margin.
However, the aluminum build takes its toll on mobility no matter how long (12ft) the power cord is. For instance, it weighs 7.6lbs, whereas Arrow Fastener T50AC barely crosses the 4lbs mark. Nevertheless, it has a rubbery, ergonomic non-slip handle to make up for the increased weight. 
For performance, ROBERTS 10-600 uses a powerful 1500W solenoid to drive 20-gauge 3/16 to 9/16-inch staples. So, you can use it for most flooring jobs alongside carpeting. And as it has a capacity of 85 staples, you won't have to reload so often. Besides, its 6-¾-inch high head has a compact footprint to sneak into tight corners. Btw, how long do you take to reload an arrow staple gun?
Moving on to downsides, the apparent culprit to hamper its user experience is the weight. As a result, it will cause quite a bit of fatigue during long work sessions, forcing you to take frequent intervals. In the process, your overall work pace will also take a hit.
Pros
Durable die-cast aluminum housing protects internal components from all possible damages. 
Great longevity due to the hardened nose-piece and extra-hard hammer.
An ergonomic handle with a rubber grip offers a firm grasp and reduces fatigue while working. 
Powerful 1500W solenoid allows driving 20-gauge 3/16 to 9/16-inch staples for more versatile use. 
The compact head design offers reachability into cramped areas.
Cons
Over 7lbs of weight makes it hard to maneuver around.
2. KeLDE Electric Staple Gun Kit, 120V Electric Stapler / Brad Nailer with Adjustable Firing Mode Switch | Best for Carpentry, Decoration, and Furniture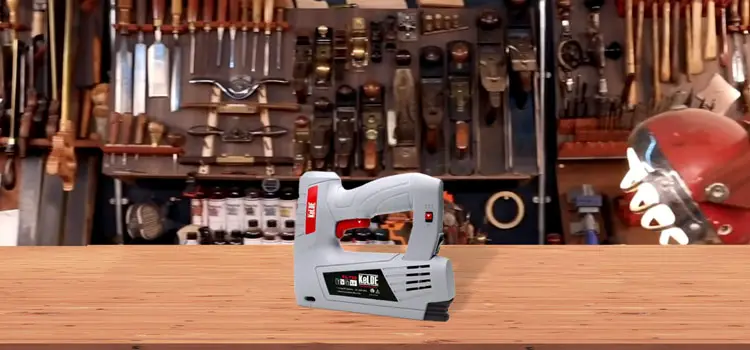 In our opinion, the best thing about the Kelde electric staple gun is its selectable drive feature. To clarify, it allows the user to conveniently switch between sequential and contact actuation mode as per project requirements. As a result, the overall work efficiency gets a boost. 
Further, stepping away from the conventional approach of a coil structure makes this tool an ideal pick for long work sessions. We say so because its built-in motor is capable of dissipating heat on its own. Consequently, it tackles the overheating dilemma most electric staple guns face during prolonged usage.
Other than that, this tool kit is pretty versatile. That is to say, and it will serve well whether you use it for stapling cardboards or insulating fabrics, foils, and leather. Furthermore, it comes with both T50 staples and brad nails, while others only bring compatible staples. 
However, Kelde did cut some corners in build quality to keep the cost low. For example, they went for a polymer material that is less durable than the die-cast aluminum used in ROBERTS 10-600. Though they managed to keep the weight below 4lbs, the tool requires cautious handling.
Pros
Selectable trigger modes offer flexibility on the job site besides enhancing work efficiency. 
Built-in motor stays safe from overheating even during long stapling sessions. 
Versatile enough for insulating materials aside from stapling cardboards. 
It contains 1500 T50 staples alongside 500 brad nails.
Triple lock mechanism for added peace of mind.
Lightweight and easy to maneuver.
Cons
The inferior polymer construction leaves scope for questioning the durability.
3. Arrow Fastener T50AC Professional Electric Staple Gun and Nailer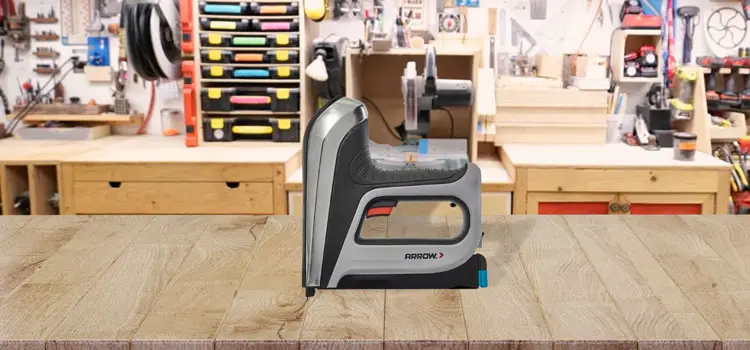 First things first, the T50AC electric staple gun has a sleek and futuristic design language. Though appearance is subjective, you cannot overlook that traditional tools like ROBERTS 10-600 have an obsolete appearance. 
Looks apart, T50AC's design is also pretty ergonomic for an enhanced day-to-day experience. Plus, at 4.2lbs, it is featherweight as compared to the rather bulky Roberts 10-600. Consequently, working with this tool is a breeze for the most part.
Besides, the rather unconventional form factor makes room for a patented pending motor functionality. Unlike traditional solenoid motors, it makes sure the tool doesn't run out of power no matter the length of your extension cord.
Above all, Arrow Fastener has tweaked it to work versatilely with both ¼ to 9/16-inch staples and 9/16 to 5/8-inch brads. What is more, the easy-access magazine makes all the difference when it comes to reloading. In addition, it has an indicator light to alert you about low nail count, eliminating dry fires.
Unfortunately, the performance of this tool is not so consistent as we see with its counterparts. Despite having an updated mechanism, it does not deliver its full potential. Also, it has an unnecessarily sensitive trigger that increases the chance of misfires.
Pros
Updated modern and ergonomic design.
4.2lbs lightweight housing and patented pending motor drive for increased portability.
Works with both staples and brad nails to handle a wide range of applications other than stapling. 
The easy-access magazine allows quick reloading. 
Low-nail indicator light makes it easy to avoid dry fires.
Cons
Inconsistent staple delivery.
Overly sensitive trigger and no dedicated locking mechanism
Things to Look For in the Best Electric Staple Gun
What makes an electric staple gun the best in its class? Find that out in this detailed section.
Power Source
Depending on the power source, electric staple guns are of two types. Firstly, there are battery-powered ones that operate without any trailing wires. Therefore, they are suitable if you want mobility at its best. Anyhow, they are a bit expensive with limited battery backup. So, make sure you have the budget for spare batteries too. 
On the flip side of things, you have corded electric staple guns. Unlike their battery-powered counterparts, they don't have to rely on battery backup. Thus, you can work for a prolonged period without worrying about recharging. Nevertheless, they have downsides too. The cord length can sometimes restrict mobility, for example.
Staple Size
Generally, each electric staple gun comes with its preset staple size. In other words, some units have support for staples down to 3/16 inches, whereas some rare ones can go more than 2-inches. However, most stapling jobs will require pins ranging from ¼ to 9/16 inches. You should, therefore, keep this range in mind.
Build Quality
In terms of build quality, most manufacturers go for a polymer solution to keep the weight minimum. But that takes a toll on the durability side of things. Thus, having aluminum or at least a metal presence is crucial if your workplace demands tough tools. Besides, hardened nose tips are as important for longevity as durable housing. 
Having said that, don't end up getting a unit that offers durability but lacks an ergonomic design. Especially if you work long hours on a particular project, an ergonomically designed staple gun will come in handy.
Weight
A sturdy staple gun does not necessarily have to be anything bulky. For example, the average weight of electric staple guns fluctuates between 3.5 to 7lbs. However, anything beyond the 5lbs mark will be tiresome to work with on long projects. Yet, you can go for a 7lbs metal tool if your job allows frequent intervals.
Mobility
The mobility factor eventually boils down to your preferred power source. If you are okay with limited battery life, a cordless staple gun should be the call. On the contrary, if you go for corded ones, make sure the cord length is enough to cover the distance between the power source and the job site. Namely, a minimum cord length should be around 15ft.
Versatility
Whenever bagging a new staple gun, keep an eye out for units that can do more than just stapling cardboards. A versatile staple gun will handle insulating fabrics, foils, and leather, for example. Besides, it should be able to work with both T50 staple and brad nails. Meanwhile, a dual trigger system is also a welcome feature for added flexibility.
Safety
Last but not least, look for features like dry fire lockout, low-nail indicator, and trigger locking. Each of these helps avoid misfires and dry fires to keep both the user and the tool safe.
Frequently Asked Questions
How to stop my electric staple gun from firing more than one staple? 
Firstly, detach the gun from its power source. Secondly, take all the staples out of it and check for any visible jams. Finally, clear blockages if necessary and reload the magazine.
Can you use an electric staple gun for upholstery?
Usually, upholstery requires 22-gauge staples, whereas some jobs need 18-gauge ones. Therefore, you can use an electric staple gun if it complies with these terms.
Conclusion
Expert carpenters have a trick up their sleeve to match the staple size with any given electric staple gun. That is, get the assumed size along with its immediate shorter length. First, use the assumed size and check if the staples stand away from the surface. If so, use the shorter ones instead.