Do you know that the nail guns started showing up after World War II? They were sold to the construction companies for only flooring-related applications. Roofing nailers appeared much later. To install shingles precisely in a short time and with less labor, a roofing nailer is a must.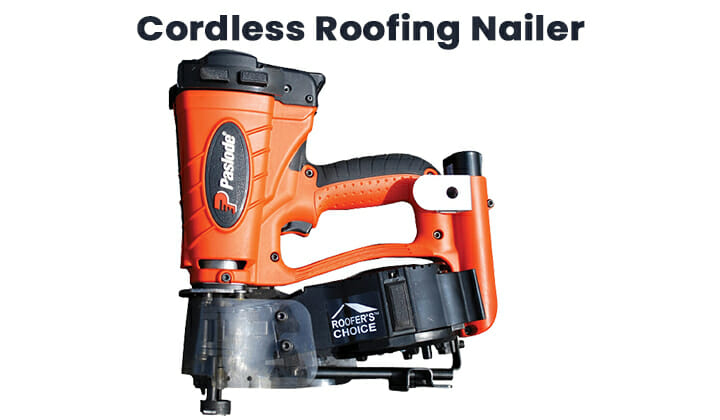 This article features some premium nail guns for the perfect installation to help you find the best cordless roofing nailer. I nominate the nailer from the Dewalt brand for the ultimate feat. You can also get the Paslode nailer and save some cash if you are okay with working at a slower pace. Let's know more about nail guns! 
Some Best Cordless Roofing Nailer at Present
Editors Choice
Best Buy
Nice Pick
Paslode Cordless Roofing Nailer
DeWALT DCN45RND1 20V 15 Degrees Lithium-Ion Cordless Coil Roofing Nailer Kit
BOSTITCH CRN38K 20.4-Volt Cordless Roofing Nailer w/Case
Editors Choice
Paslode Cordless Roofing Nailer
Best Buy
DeWALT DCN45RND1 20V 15 Degrees Lithium-Ion Cordless Coil Roofing Nailer Kit
Nice Pick
BOSTITCH CRN38K 20.4-Volt Cordless Roofing Nailer w/Case
To help you compare some of the best nailers and see which one is ideal for you, this section gives a brief overview of 3 leading cordless roofing nailers.
1. Paslode Cordless Roofing Nailer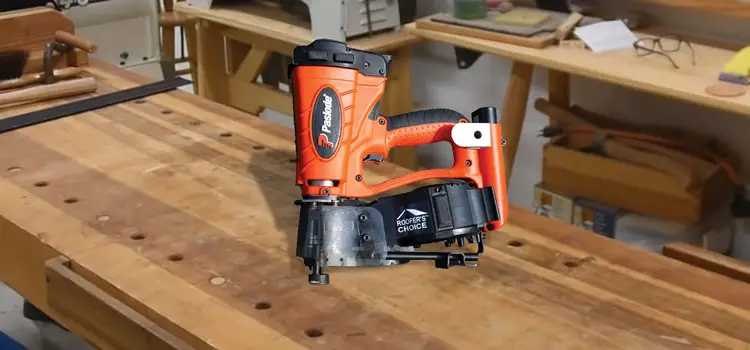 Paslode manufacturer introduces us to a cordless roofing nailer that is fuel-powered. It uses the Paslode Roofers Choice fuel that has enough power to drive in 900 nails without a problem. Also, the battery can last a whole day on one charge, and it can fire about 2200 nails per charge.
At the front of this nailer has a depth control system where you can adjust the drive depths. The nailer magazine can hold up to 120 nails at a time while it is capable of firing two nails per second. It can shoot nails 11 gauge nails up to 1-1/4 inch effectively.
You will get a rechargeable battery and charger, safety glasses, and a padded backpack carrying case with this nail gun. This nailer also has a built-in lanyard that allows you to hook the tool to your belt. Both the backpack and lanyard are very beneficial when both of your hands are loaded, such as climbing a ladder.
You can't use this nailer at high speed too, cause if you go too fast, the nailer starts misfiring and jams a lot. The fuel cell expires too fast, which is very inconvenient.
Favorable Factors 
Depth control feature
Safe to carry
Strong battery
Belt hook
Kit included
Unfavorable Factors
2. DeWALT DCN45RND1 20V 15 Degrees Lithium-Ion Cordless Coil Roofing Nailer Kit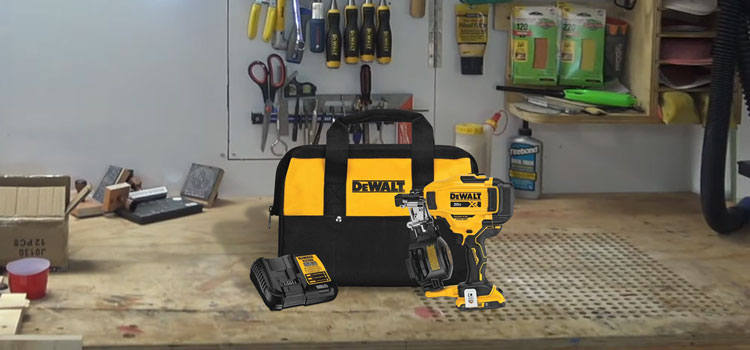 Dewalt brand produces a cordless coil roofing nailer with superior qualities and features. This best coil roofing nailer can drive the full range of 11 gauge roofing fasteners from 3/4 inch to 1-3/4 inches. The tool-free nail tray can easily adjust to accommodate all these nails.
For better comfort and control, the handle is designed ergonomically. The 15-degree canister can hold up to 120 wire collated roofing nails. It can drive up to 500 nails and install up to 100 square feet of asphalt roofing shingles per charge.
To drive nails precisely, this nailer comes with a depth adjustment wheel. The bump mode of the nailer ensures efficiency and productivity while the brushless motor increases runtime and durability. This nailer features a stall that releases the lever to return the driver blade in jams.
You will get a three years warranty with this durable roofing nailer. Also, you will get a 20V max 2 Ah lithium-ion battery, a charger, belt hook, and a kit bag along with this roofing nail gun. It also has the lightest weight among other nailers on the list.
Despite all the good features, this nail gun is hard to get for many for its high price.
Favorable Factors 
Lightest weight 
Efficient and durable
Depth adjustment feature
Three years warranty
Unfavorable Factors
3. BOSTITCH CRN38K 20.4-Volt Cordless Roofing Nailer w/Case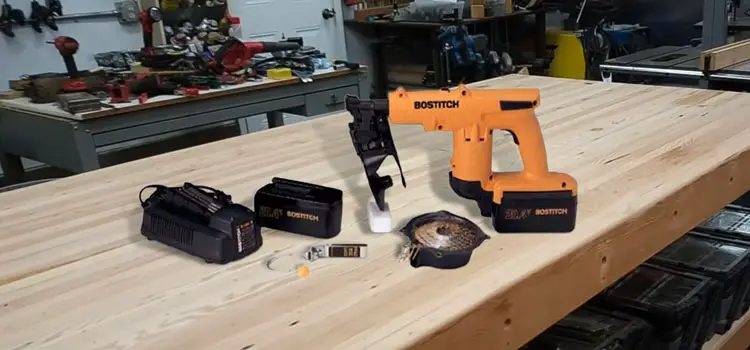 BOSTITCH brand manufactures a cordless roofing nailer which is powered by rechargeable batteries. This nail gun works with 11 gauge galvanized roofing nails with 1 inch to 1-1/2 inch lengths and is ideal for felt paper, drip edge, flashing, woods, and asphalt shingles.   
To eliminate overdrive virtually, this nail gun comes with a multi-blow technology. It is also equipped with a speedy DC motor that delivers 650 watts of power and helps conserve more energy. This tool can work on 250 square feet of shingles in a single charge.
You can use this nailer in places that are very hard to reach, like valleys and dormers. Also, you will get two 20.4 volt Ni-cad batteries, two canisters of 1-1/4 inch nails, a manual, and a carrying case in addition to the cordless roofing nailer.
Weighing 8.1 pounds, this nail gun is heavier than previous nailers. Also, it doesn't support roofing nails with a length of less than 1 inch. The handle is not molded with rubber which makes it uncomfortable and easy to slip away.
Favorable Factors 
It covers more area without recharge
Prevents overdrive
Conserves energy
Included accessories
Unfavorable Factors
Heaviest on the list
It doesn't support all the roofing nails
No rubber grip
Frequently Asked Questions (FAQ)
1. What's the difference between a roofing nailer vs. a framing nailer?
A roofing nailer is used in roofing jobs suck as shingles and felt works, whereas a framing nailer is used in heavy construction jobs such as framing, joining beams, etc. A framing nailer is bigger and more durable than a roofing nailer.
2. How to use a roofing nailer safely?
Always wear eye protection while working with a nail gun. Load the fasteners correctly, test the fire before starting actual work, and make sure the depth setting is correct. Set the firing mode you are comfy to use and use shingle guides. Be careful about contact mode, and most importantly, avoid using a damaged nailer. 
3. Is hand nailing a roof better than using tools?
Hand nailing shingles can give you more control over the process. Since hand nailing takes a bit more time, you can correct the mistake on the spot quickly. But it is a very time-consuming process, and the labor cost is high.
4. Which is better, roofing nails or staples?
Staple guns are more petite, well-balanced, and far less prone to jamming issues than a nailer. But they lack the most essential thing, holding power. Staples can't provide much holding power for heavy-duty jobs like roofing, and if used, they can cause more damage. That's why staples are prohibited in some areas.
Parting Statement
Cordless nailers may be free from the hassle of hoses, but the battery makes the tool heavier. This, indeed, can affect your overall work performance. So make sure to get the lightest nailer possible for comfortable roofing experiences. Also, carry an extra charged battery if possible; it will save the day in emergencies.