Using of wood in various furniture and structure has been passed down from medieval times. Ever since we learned to use it, people were trying to figure out new methods to make wood joints stronger by using various shaped cuts. Later, nails, glues, and other methods were invented for wood joints.
Pins and nails are usually used where glues can't provide the necessary strength. As hammering them all day requires a lot of time, strength, and patience, people invented nail guns for better performance. And to help you find the best cordless pin nailer we present you with this article. Sit back and Enjoy!
Some of the Best Cordless Pin Nailer at the Moment 
Finding your ideal pin nailer from hundreds of brands and thousands of similar products is so tedious. This section is dedicated to alleviating your troubles by gathering the best cordless nailers at present.
1. Makita xtp02z 18v Lxt Lithium-Ion Cordless 1-3/8″ Pin Nailer, 23 GA, Tool Only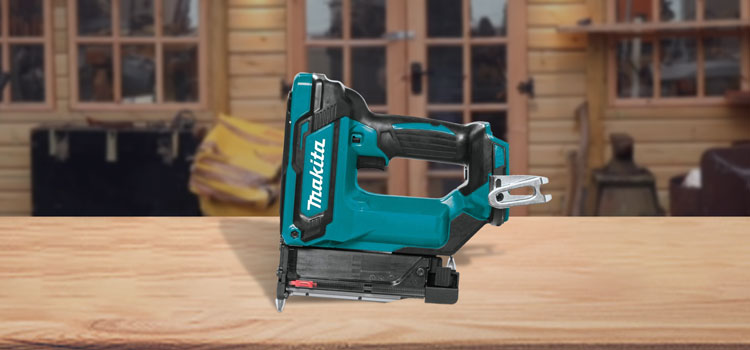 Makita features a cordless 23 gauge pin nailer that can drive pins with 6 different lengths of  58 ῎, 1116 ῎,  34 ῎, 1῎, 1316 ῎, and 138 inch. To support all these sizes, this tool has a depth adjustment feature. The nailer can shoot 5300 nails in a single charge.
To illuminate the work area for precise work a LED light is installed inside this nailer. It has a refined firing mechanism that reduces recoils. The integrated dry fire lockout mechanism locks the trigger at the last nail and prevents damaging the surface.
For safety, this nailer has rubber bumpers that protect the surface and tool, a trigger lock to prevent accidental firing, a reversible tool hook that allows the nailer to remain close, and a no-mar tip to protect the nose. 
A 3-year limited warranty is provided with this nailer. You will get safety glasses, belt clip, wrench, and two no-mar nose tips in the toolset. Narrow nose design ensures easy access to corners.
This nailer doesn't work with the pins 114 inches in length. The battery and charger are not included here. The price of this nailer is also a bit higher.
Strengths
Has depth adjustment feature
Ergonomic grip and rubber bumpers
Works with 6 different pin lengths
Anti-dry fire system
3 years of warranty
Weaknesses
Doesn't support 114-inch pins
No battery included
It's pricey
2. Ryobi 18-Volt One+ Lithium-Ion Cordless Airstrike 23-Gauge 1-3/8 Inch Headless Pin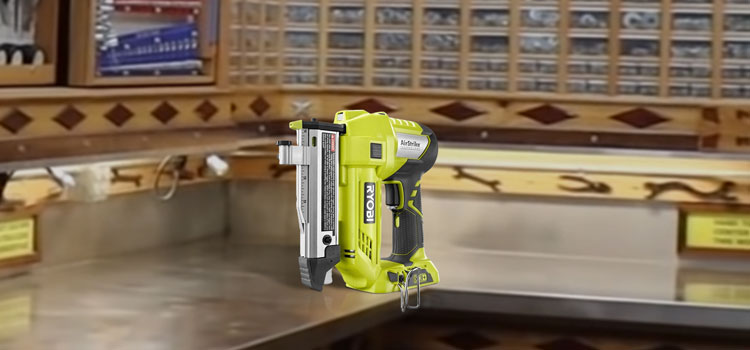 Ryobi manufactures a 23 gauge pin nailer powered by lithium-ion batteries. This cordless nailer can drive pins of 12 inch to 138-inch lengths. The depth adjustment feature of this tool makes the different pin sizes suitable to drive with this tool.
Up to 3800 nails can be shoot by this pin nailer per charge. To keep the worksurface free of tool marks, there are two non-marring pads included for the nose tip. The narrow nose of this nail gun ensures working even in tight areas.
To allow you to work in shady places, this pin nailer is equipped with LED lights. The trigger of this tool is designed with a double-action feature for sequential pinning and the dry-fire lockout mechanism prevents from destroying the workpiece while extending the lifespan of the nailer.
For extra comfort, the pin nailer grip zone is made over-molded. There is an edge guide included about the consistent placement of pins. You will also receive a belt hook and 500 pieces of 23 gauge pin nails of 1-inch length.
There is no battery, charger, or wrench provided with this product. To prevent empty fire, there's no anti-dry fire feature
Strengths
Has double action trigger
Accepts different size pins
Non-marring caps for safety
Equipped with LED light
Comes with 500 pieces pins
Reasonable price, best pin nailer for the money
Weaknesses
There is no battery 
No dry-fire lockout feature
3. Metabo Hpt 18v Cordless Pin Nailer, Tool Only – No Battery, 5/8-Inch up to 1-3/8-Inch Pin Nails, 23-Gauge, Holds 120 Nails, Lifetime Tool Warranty (np18dsalq4)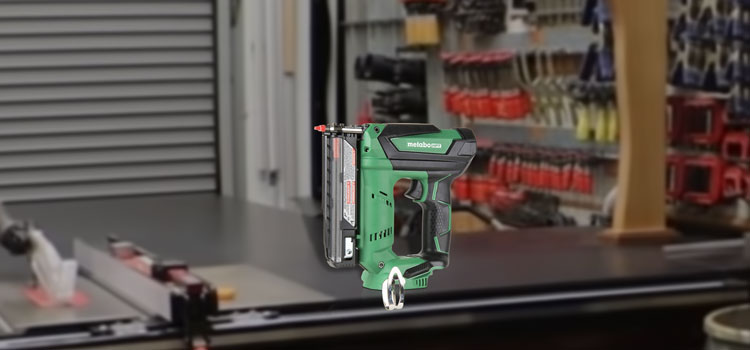 Metabo HPT introduces a battery-powered cordless pin nailer of 23 gauge pins. It accepts pin lengths of  58 inches to 138 inches. This nailer can drive approximately 3000 pins per charge with the battery of the same provider. It also has a charge indicator to warn you  
A built-in counterweight is installed in the nailer that reduces all the recoils. It also reduces the force you need to actuate the tool. There is also a high-luminescence LED light installed to help you work in dimly lighted areas. 
For safety purposes, the nailer features dry-fire system that prevents blank fire, and a no-push safety nose tip reduces spoiling work surface. The body of this nailer has rubber bumpers to prevent it from damaging. 
Ergonomic handle design with soft grip makes working comfortable. Along with the tool body, you will get a safety nose tip and a belt hook. Since this nailer comes with a lifetime warranty, there is no need to question its durability.  
You won't get any battery or charger with this pin nailer. You have to buy them separately, which is costly and bothersome.
Strengths
Suitable for different length 23 gauge pins
Integrated battery indicator
Built-in LED light and counterweight
Comes with a lifetime tool warranty
Ergonomic grip and anti-dry fire feature
Weaknesses
No battery or charger is included
4. Metabo Hpt Cordless Pin Nailer Kit, 18v, 23 Gauge, 5/8″ up to 1-3/8″ Pin Nails, 3000 Nails per Charge, Compact 3.0 Ah Lithium Ion Battery, Lifetime Tool Warranty (np18dsal)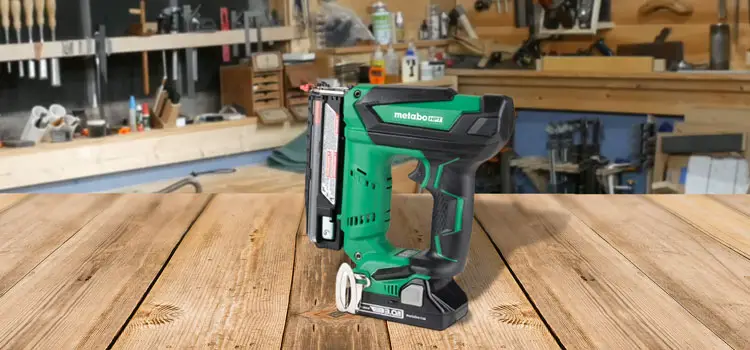 Metabo HPT provider offers another cordless 23 gauge pin nailer with some different features. It accepts different pin lengths of  58 ῎, 34 ῎, 1῎, 1316 ῎ and 138 ῎. The magazine can hold 120 pins and the nailer is capable of driving 3000 nails per charge.
Being equipped with a built-in counterweight like the previous model, it virtually eliminates flinching and reduces the force you need to actuate the tool. There is also a built-in LED that helps by illuminating darker areas. There is also a battery indicator that warns you before it's too late for emergency works.
As the handle is made soft and ergonomic, it reduces hand fatigue. The provided no-push contact tip helps in clean finishing by reducing marring. The nailer also has a depth adjustment feature that allows working with different pin sizes and dry-fire lockout system prevents accidental firings.
You will get a 3Ah Lithium-ion battery, a charger, a contractor bag, a safety glass, and a wrench with this tool. The pin nailer comes with a lifetime warranty and the battery with 2 years of warranty. This warranty ensures the durability of the nailer.
This nailer is the most expensive one on the list. 
Strengths
Accepts and adjust a wide range of pin sizes 
Equipped with LED light
Got dry-fire lockout system
Low battery indicator
Nailer kit includes charger and battery
Lifetime nailer warranty
Weaknesses
Most expensive on this list
Includes battery
Frequently Asked Questions (FAQ) 
1. Can I use 21 gauge pins in my 23 gauge nailer?  
No, trying to use different gauge pins will damage your pin nailer. If you need to use 21 gauge pins frequently, you should collect the best 21 gauge pin nailer.
2. Pin nailer vs Finish nailer, what should I use?
A finish nailer provides more strength than a pin nailer. If you work on light woods, you should go for the pin nailer as using a finish nailer here can damage the workpiece. 
Final Statement
Choosing cheaper products may be very tempting, but they are also deficient. So avoid them if you are looking for a long-lasting nail gun. Inspect thoroughly before deciding on a tool. We advise you buy the second nailer from Metabo HPT provider as it is the best cordless pin nailer with top qualities.