With no hose or compressor getting in the way, a cordless nailer allows you to focus on your final touches solely. Henceforth, cordless finish nailers always have and will continue to attract carpenters. Furthermore, recent technologies have included powerful batteries in the system. As a result, the appeal has increased tenfold.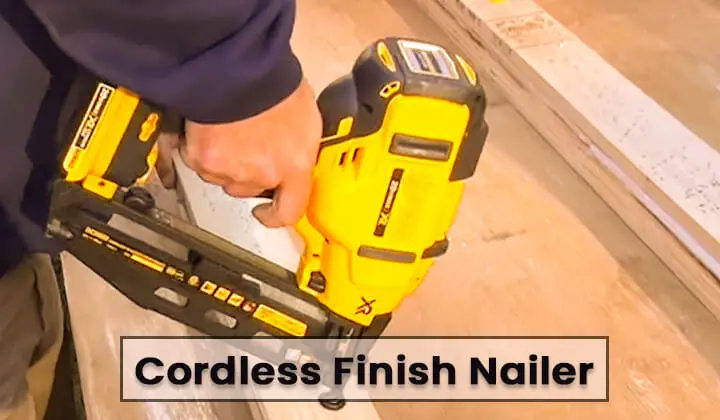 Now the notion of the best cordless finish nailer is subjective and situation-dependent. However, DEWALT DCN660B is one of the best among the reasonable options. If you plan to opt for an expensive one that includes a battery, then Paslode 902400 is an excellent choice.
Reviews of the Best Cordless Finish Nailers
Editors Choice
Best Buy
Nice Pick
DEWALT 20V MAX* Finish Nailer, Angled, 16GA, Tool Only (DCN660B)
Ryobi P325 One+ 18V Lithium Ion Battery Powered Cordless 16 Gauge Finish Nailer (Battery Not Included, Power Tool Only)
Makita XNB02Z 18V LXT Straight Finish Nailer, 16 Gauge, 2-1/2"
Editors Choice
DEWALT 20V MAX* Finish Nailer, Angled, 16GA, Tool Only (DCN660B)
Best Buy
Ryobi P325 One+ 18V Lithium Ion Battery Powered Cordless 16 Gauge Finish Nailer (Battery Not Included, Power Tool Only)
Nice Pick
Makita XNB02Z 18V LXT Straight Finish Nailer, 16 Gauge, 2-1/2"
In the market, you will see many brands and types of cordless finish nailers. However, all are not as they come in advertisements. Below are some of the better ones you might find interesting.
1. Dewalt 20v Max Finish Nailer, Angled, 16ga, Tool Only (dcn660b)- Best For Maneuverability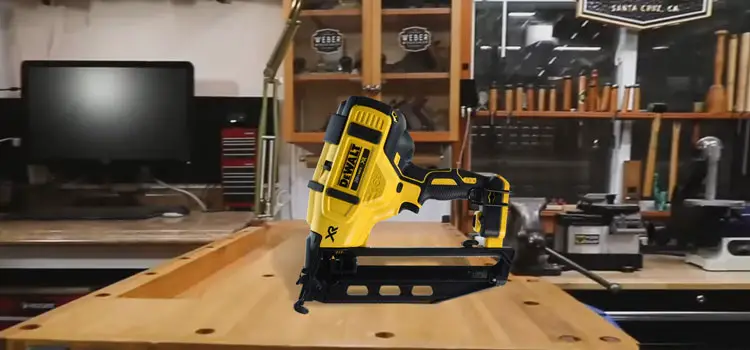 This cordless finish nailer from Dewalt is a delight to work with. As a battery-powered nailer, it allows you to work more fluidly. You won't need to spend that extra money on a compressor, hose, or gas cartridges. This also gives you more room for maneuverability which is the best aspect of this tool.
This 16 gauge finish nailer has a brushless motor. It increases the runtime and maximizes durability. Therefore, you can stop worrying about these things that are common in other ordinary finish nailers.
Whether it is the selectable trigger, depth adjustment, or jam release, they are all tool-free. Toggling the actuation mode, countersinking of nails, and clearing nail jams have never been more straightforward. Not to mention, the multi-functional LED lights are there to make sure that you do not lose your way.
If you are working in a tight space, it is common to lose your grip with ordinary finish nailers. However, the inline magazines of Dewalt finish nailer allow you to work in multiple orientations and tight spaces.
On the downside, this finish nailer has a weak spring. Therefore, the sliding mechanism does not work as advertised. Moreover, you might need to clear jammed nails often.
Pros
Brushless motor.
Multi-functional LED.
Cons
2. Ryobi p325 One+ 18v Lithium-Ion Battery Powered Cordless 16 Gauge Finish Nailer (Battery Not Included, Power Tool Only)- Best for Beginners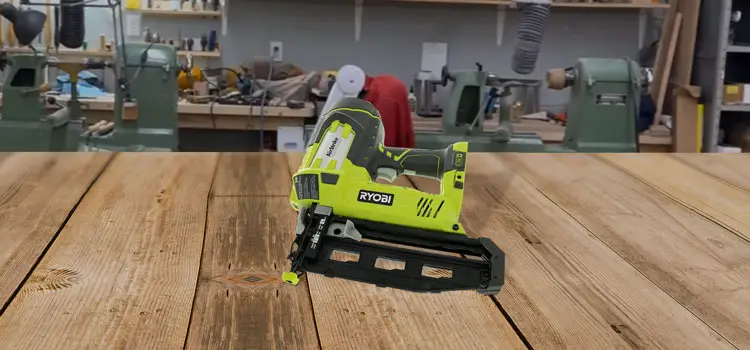 This one is an excellent cordless finish nailer from Ryobi. If we talk about the most distinct feature, then it is the switch at the back for adjusting the depth of nail driving as your will. The P325 has a unique look to it, and it's very comfortable to use.
One of the most notorious problems many have to face is dry firing. To prevent that, the Ryobi finish nail gun utilizes a low nail indicator that informs you exactly when you need to replace the clip. As a result, it prevents the woods from getting damaged.
When working in dim conditions, you will not require to make arrangements for external lights. The LED lighting at the head of the nailer allows you to continue working smoothly even amidst such hazardous situations. You won't be firing off nails accidentally anymore.
Besides, the tool-free adjustment knobs allow you to adjust depth. You can also quickly clear nail jams by flipping put the front end without the help of any tool. Overall, it's an excellent tool for beginners who are working on small projects.
However, this cordless nail gun is a bit heavy. This creates an obstruction when you have to work continuously and at a faster rate.
Pros
Air pressure adjustment switch.
Anti-dry firing system.
Cons
3. Makita xnb02z 18v Lxt Straight Finish Nailer, 16 Gauge, 2-1/2″- Best For Battery Life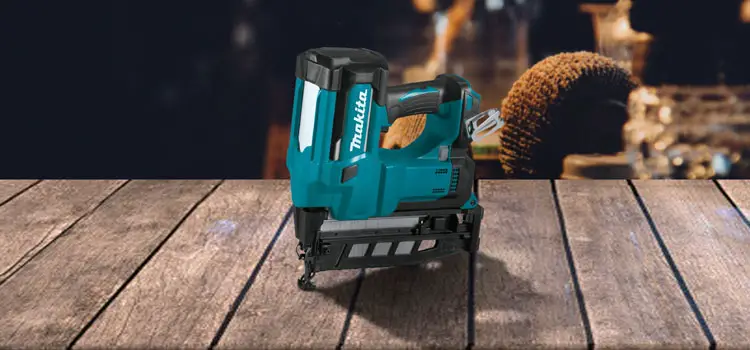 The Makita XNB02Z has a robust motor design. Not just that, it is also very compact and can drive standard 16 gauge straight finish nails from 1" to 2-1/2" in length. Whether your project involves trim work, crown molding, flooring, or other woodwork activities, this cordless finish nailer will create an ideal operating condition.
The best thing about this cordless finish nailer is its rechargeable battery. It uses a powerful 5Ah 18V LTX battery. With a single charge, this gun can drive up to 1,000 finish nails. The magazine capacity is also astounding, which is up to 110 nails. You can carry out long projects without any worries.
Being cordless, the XNB02Z eliminates any need for an air hose or compressor. Its anti-dry firing mechanism will help you prevent driving blanks and damage to the work surface. Not to mention, the two-mode selector, tool-less depth adjustment, and trigger lock button altogether make sure that your project goes smoothly.
The XNB02Z is another name for precision and efficiency. With this tool at your hands, you will have more working time than wasting time charging.
On another note, the product doesn't come with a battery. Also, the finish nailer might feel too bulky for some.
Pros
Incredible battery power.
Powerful motor design.
Cons
4. Paslode, Cordless Finish Nailer, 902400, 16 Gauge Angled, Battery and Fuel Cell Powered, No Compressor Needed- Best For Precision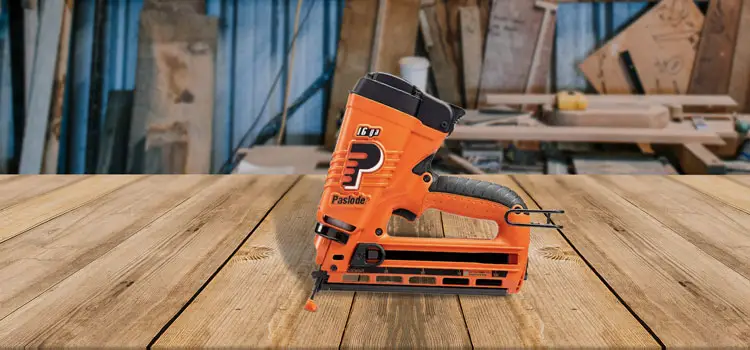 The Paslode cordless finish nailer is another name for precision. This tool is extra efficient in situations where you have to work at a tight angle. The angled magazine allows you to reach tight spots and opt for better nail placement. Be it crown molding or baseboard in the corner, this handy tool will always take you out of such chancy situations.
Another intriguing aspect of this nail gun is its lessened downtime. The gun uses a 7V Lithium-ion battery and can drive up to an enormous 12,000 nails per charge. This is a considerable amount compared to the Makita XNB02Z, which only fires up to 1,000 nails. As a result, the Paslode nailer has much lesser downtime and can last a full day.
As this is a cordless finish nailer, it offers more maneuverability than the nailers that use cords. You will not need any hose or compressor. Therefore, you are in for a much convenient operation.
The finish nailer offers you more control over it, thanks to its lightweight design. It works well and can drive through anything. Overall, a great tool to work with.
However, the nailer has jamming issues. Often this issue is complicated to fix and time-consuming.
Pros
Lesser downtime.
Lightweight.
Cons
5. Hitachi nt1865dm 18v Cordless Straight Finish Nailer, Brushless Motor, 16 Gauge, 1″ to 2-1/2″ Nails, Compact 3.0 Ah Lithium-Ion Battery, Zero Ramp-up Time, Lifetime Tool Warranty- Best For Heavy-Duty Jobs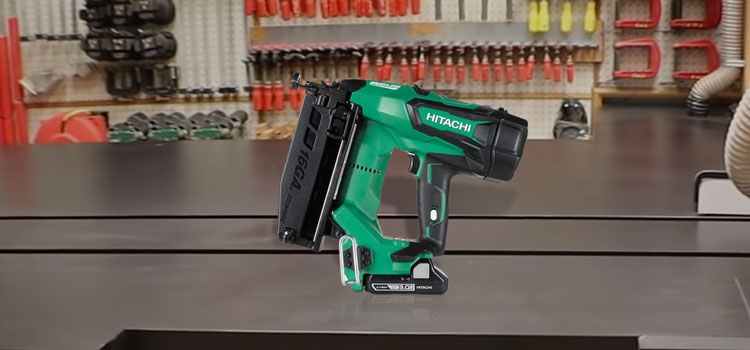 The Metabo HPT has done justice to its name with its unique cordless finish nailer. This nail gun is specifically designed for small projects with more accuracy and precision. It has a magazine that holds 100 16 gauge nails. This allows you more efficiency and output.
Besides, the brushless motor of this nail gun allows room for more runtime and increases durability. You also don't have to give much attention to maintenance. The tool has a soft-grip handle for better operation and more control.
This cordless finish nailer uses a 3Ah Lithium-ion battery. The lightweight battery allows the nail gun to be portable. As for the operation, essential features such as selective actuation switch, tool-less depth of drive adjustment, etc., are included. Therefore, your projects are executed swiftly and conveniently.
The tool-free jam release makes it easier to maintain and reduces downtime. Moreover, your work won't be hampered in low light conditions, thanks to its integrated LED lights. In other words, the Hitachi NT1865DM is an obvious choice if you want to get your job done more efficiently and smoothly.
Despite being advertised as a lightweight nail gun, the Hitachi NT1865DM still may seem too heavy. The nailer may also not seem as perfectly straight.
Pros
Brushless motor.
Ergonomic design.
Cons
Buying Guide to the Best Cordless Finish Nailer
You have to keep in mind several factors before actually opting to buy a cordless finish nailer. But even before that, it is more important to know what your job requires.
Nail Gauge
Cordless nail guns use a wide range of different nail types and sizes. Whether it is a framing nailer, finishing nailer, or a brad nailer, the size of the nail gauge makes them different from each other.
The finish nailers typically use 15 to 16 nail gauge most. The 15 gauge nails are thicker and longer, while the 16 gauge nails are thin and small. Therefore, 15 gauge nails are recommended when fastening heavier and thicker woods. The opposite is valid for 16 gauge nails. 
Magazine Alignment
Based on magazine alignment, there are two types of finish nailers.
Angled Finish Nailer
Upon positioning the tip of the nailer 90° perpendicular, an angled finish nailer will create a certain degree of difference between the magazine and the working surface. You get a lot more holding power from this type of nailer.
As this system saves space, it allows you to work in tight corners. However, angled finish nailers tend to be pricey, and the nails for such nailers are scarce.
Straight Finish Nailer
As the name suggests, a straight finish nailer magazine is positioned straight with the working surface. The bright side is that the carpenter gets additional support to work with and, as a result, does not misfire much.
Straight finish nailer use 16 gauge nails. Therefore, the head is less visible and is hard to trace after firing. Also, this nailer is not suitable for working in tight corners. However, the precision with this is higher, and the nails are easy to find in the market.
Anti-Jam Mechanism
Before buying a cordless finish nailer, you must look for this particular feature. Getting a jam is a common problem while shooting nails. If your tool comes with a quick jam release mechanism, things become much more manageable. Also, a tool-free jam release mechanism is most expected.
Nail Depth
While fastening, you have to flush nails in various depths. Therefore, your finish nailer must have a mechanism that allows you to adjust the depth of drive freely. Similar to the previous feature, the professionals and seasonal carpenters like the too-free depth-of-drive adjustment the best.
Anti-Dry Fire Mechanism
Dry firing is typical among ordinary finish nailers and can be disastrous for work surfaces. This happens when the magazine suddenly goes empty, and the nailer is still on firing mode.
The anti-dry firing mechanism is originally a lockout system that prevents dry firing. Before choosing your nailer, make sure your device has this feature.
Brand
The brand is just as important as other factors. Some of the reputed brands for producing nailers are DEWALT, Ryobi, Metabo, Makita, etc. They are famous for producing quality nailers over the years. Therefore, Make sure your chosen nailer is from one of them.
Price
Cordless finish nailers are typically more expensive than corded or pneumatic nailers. The prices of cordless finish nailers usually range from $100 to $400. Again, batteries are included for finish nailers pricing above $200.
Battery
You should know that not all cordless finish nailers come with a battery. You have to spend a little more money on the inclusion of a battery. The empty guns are more affordable. However, you have to buy the battery separately in that case.
Frequently Asked Questions (FAQ)
Are cordless nailers worth the money?
Yes, they are. They are portable and eliminate the need for a hose or a compressor. However, despite all the development, they are still prominent in size and heavy.
How long do cordless finish nailers last?
Cordless finish nailers last as long as their batteries last. Approximately the battery lasts up to three years or 1,000 charge cycles.
Conclusion
Which cordless nailer you are going to buy depends entirely on your preference and the job. If the project is small and your budget is limited, then DEWALT DCN660B or Ryobi P325 is the most appropriate choice. However, if you prefer quality and money isn't a factor, you can consider purchasing Paslode 902400 or Hitachi NT1865DM.