Wood has been used in making building materials for ages. Albeit most of us believe wood is not sturdy enough. However, the truth is the exact opposite! Most tree species used in creating shakes and shingles can withstand the worst of nature's damage and survive up to 40 years if installed and nursed properly.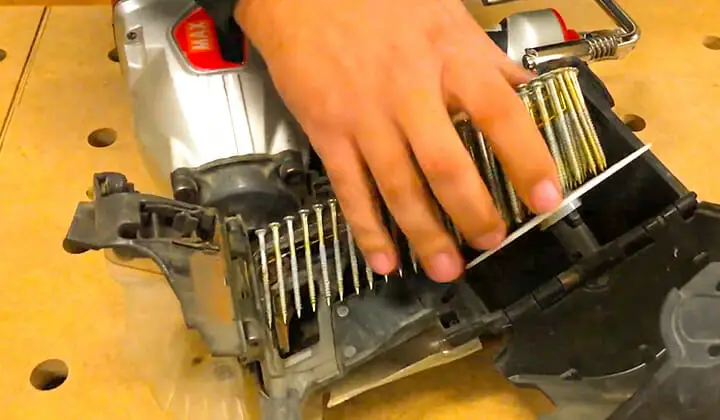 Nowadays nailers are used in the roof installation process and this article features the best coil roofing nailer for the perfect result. I recommend the NV45AB2 nailer from the Metabo store because of its superior quality. Keep reading to discover which roofing nailer is your lucky charm!
Editors Choice
Best Buy
Nice Pick
BOSTITCH Coil Roofing Nailer, 1-3/4-Inch to 1-3/4-Inch (RN46)
Metabo HPT Roofing Nailer | Pneumatic | Accepts Coil Roofing Nails 7/8-Inch up to 1-3/4-Inch | 16 Degree Magazine | NV45AB2
WEN 61783 3/4-Inch to 1-3/4-Inch Pneumatic Coil Roofing Nailer
Editors Choice
BOSTITCH Coil Roofing Nailer, 1-3/4-Inch to 1-3/4-Inch (RN46)
Best Buy
Metabo HPT Roofing Nailer | Pneumatic | Accepts Coil Roofing Nails 7/8-Inch up to 1-3/4-Inch | 16 Degree Magazine | NV45AB2
Nice Pick
WEN 61783 3/4-Inch to 1-3/4-Inch Pneumatic Coil Roofing Nailer
Some Best Coil Roofing Nailer These Days 
Finding your ideal roofing nailer can be tricky. That's why this section offers an overview of 4 leading nailers.
#1. Bostitch Coil Roofing Nailer, 1-3/4-Inch to 1-3/4-Inch (RN46)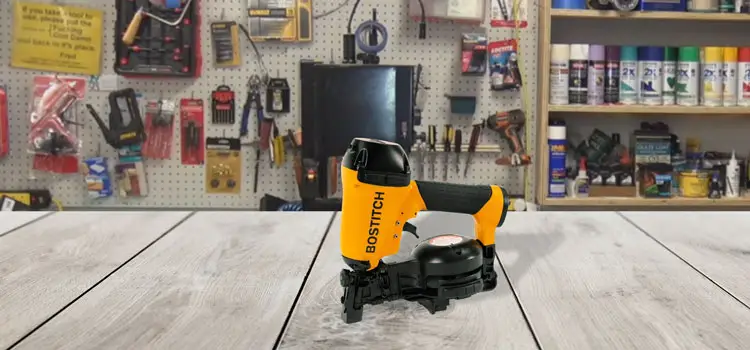 BOSTITCH manufacturer produces a coil roofing nailer that delivers professional results. This sliding nail gun is made with plastic and steel and has lightweight aluminum housing for durability. It features a zero nail lockout mechanism that prevents dry fire and also indicates when to reload the magazine.
To drive the nails into the desired depth quickly and conveniently, the nailer comes with an adjustable depth guide feature. For fast reloading, this tool has a patented single-action side loading canister. The nosepiece of this roofing nail gun features carbide inserts for a longer lifespan.
For more consistent drive quality, the nailer comes with a full round driver. It also has an adjustable shingle guide feature for quick and easy shingle spacing. The integrated aggressive wear guards and skid pads protect the nailer from damage on abrasive surfaces. The over-molded grip ensures comfortable usage.
Even though the price is costly, the nailer is still affordable to a professional carpenter. Loose trigger blows out sometimes which can be very irritating for occasional nail gun users. It is also heavier than some nailers on this list. 
Ups 
Adjustable shingle guide
Adjustable depth control
dry-fire locking
Fast reloading
Comfortable grip
Downs
Loose trigger
Heavier than some nailer 
#2. Metabo HPT Roofing Nailer, Pneumatic, Coil Roofing Nails From 7/8-Inch up to 1-3/4-Inch, 16 Degree Magazine (nv45ab2)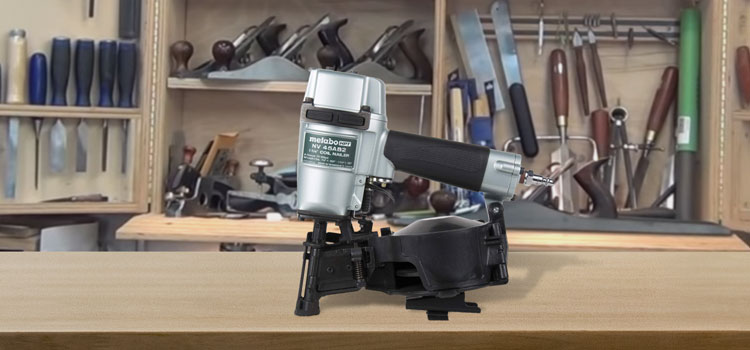 Metabo HPT offers an amazing roofing nailer that holds the position of Best Seller in the roofing nailer category. This nailer is not only good for woods but also for the installation of asphalt roofing shingles and insulation boards. The well-balanced and lightweight body of the nailer ensures smooth mobility. 
For quick and convenient fastener installation, the nailer is integrated with a side-loading magazine. And for maximum efficiency, the speed of the driving system is designed maximum. This nailer features a depth adjustment system for precision nailing or flash driving. Rubber pads ensure safety and push lever reduces wear.
You will get a warranty of 5 years with this roofing nail gun. The long-term warranty says all about the durability of this tool and the pneumatic power feed and return allows the nailer to operate in the roughest conditions. The nailer also comes with safety glasses and a magazine shingle guide assembly.
Along with all the positive sides, this nailer has a downside too of being very expensive. However, the advantages outweigh this negativity. 
Ups 
Super durable 
Lightweight and well-balanced
Depth adjustment feature
Fast reloading magazine
Rubber pads and push lever for safety
Long term warranty
Downs
Most expensive on the list
#3. WEN 61783 3/4-Inch to 1-3/4-Inch Pneumatic Coil Roofing Nailer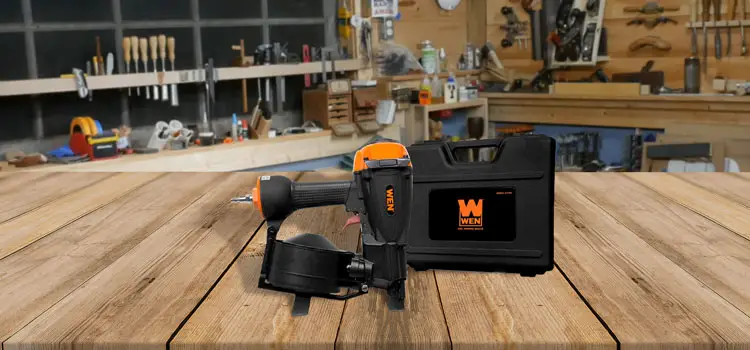 WEN brand introduces a coil roofing nailer that is also powered by air. This nailer is the most inexpensive nailer here that makes it accessible for most people. It can fire 11 gauge nails with lengths anywhere from 3/4 inch to 1-3/4 inches. The magazine of this nail gun can hold up to 120 nails at a time.
For easy shingle spacing, this roofing nail gun features an adjustable shingle guide. It also comes with a depth control mechanism that allows you to drive the nails into desired depth precisely. The quick-release mechanism allows easy access to clear jams. The rubber grip handle maximizes comfort and minimizes hand fatigue.
Along with the nail gun, you will also get a blow mold carrying case, oil for lubrication, and 3 hex wrenches. You can use air pressure anywhere from 70 to 120 psi to operate this pneumatic roofing nailer. This tool also comes with a one-year warranty. 
Unlike the previous nailers, this tool doesn't have any dry-fire lockout mechanism. It is also the heaviest nailer among others on this list.
Ups 
Reasonable price
Adjustable shingle guide
Depth control mechanism
Over-molded handle
One year warranty
Downs
No Anti-dry fire mechanism
Heaviest on the list
#4. DEWALT DW45RN Pneumatic Coil Roofing Nailer
Dewalt manufacturer comes with a pneumatic coil roofing nailer at a reasonable price. This nail gun delivers the best performance with the least effort. To operate, it requires 70-120 psi power that any cheap air compressor can supply.
Since the nailer is very lightweight, you can use it for a long time without getting tired. This roofing nail gun comes with high-speed valve technology that can drive over 100 nails per second. The steel skid plates with rubber inserts protect the nailer from the harshest condition as well as prevent sliding from the roof.
You will also get a power nailer replacement part with this roofing nail gun for emergency use anytime. Being only 4.5 pounds, this nailer is the easiest to use for a longer time without getting tired or having hand fatigue. In combination with the weight, the handle is also designed ergonomically to exterminate hand fatigue. 
For safety purposes, there is no safety hook in this coil roofing nailer. It also doesn't come with the sequential power mode or any case to carry or store safely.
Ups 
Lightest nailer on the list
Overmolded grip 
High-speed driver
Reasonable price 
Downs
No safety hooks and case
No sequential power mode
Key Characteristics of the Best Coil Roofing Nailer
Always keep in mind the below characteristics while buying a roofing nailer.
Weight
Roofing nailer is a handheld tool, that's why the weight matters. A lightweight nailer is comfy to use and prevents fatigue.
Durability 
A durable nailer is needed for worry-free nailing for years. A trick to find durable nailer is, they come with the longest warranty periods.
Depth Adjustment
To be able to drive the nails in different desired lengths without mistake, a nailer with a depth adjustment feature is necessary.
Adjustable Shingle Guides
These are the mini tools attached to your nailer that can help in the right measurements for shingle placement. Having this feature is very convenient.
Power Source 
Amongst all the nailers, pneumatic nailers are the most popular ones since they are cheaper and provide more strength. Nevertheless, they can be quite risky for roof jobs.
Design 
A good and ergonomic design ensures the nailer is compact, versatile, lightweight, comfortable, and secure.
Safety Features 
For safety, some nailers feature an anti-dry-fire mechanism that locks the trigger at the last nail. Nose caps and molded body protects the nailer and workpieces.
Reloading 
Refilling fasteners slows down the pace of work and affects the outcome. A side reloading magazine is designed to help in reloading faster.
Price 
Price is important especially if you are on a low budget. Although I recommend buying the best nailer even if it cost a fortune. Because carrying the burden of high price is still better than carrying the responsibility of the disaster happen by poor installation of a roof!
Frequently Asked Questions (FAQ) 
Is hand nailing a roof better?
Hand nailing a roof is easier to correct any mistake since it takes time to finish since over pressured or under pressured nail guns can cause overdriven nails which is risky for shingle roofs. Though, the labor cost for hand nailing a roof is costly.
What is the difference between a coil nailer and a strip-style nailer?
Coil roofing nailers are designed for shingle installation and some other roofing jobs. And they have a higher magazine capacity than the strip nailers that is very convenient for reloading. Is there any difference between siding and roofing nailer?
Final Verdict
Don't do goofing about roofing! To build a durable roof, you need to get the best coil roofing nailer, not the cheapest ones. I suggest you go for the Metabo HPT NV45AB2 for its quality. But if you want a reasonable option with good quality, get the RN46 of the BOSTITCH brand.