Blowing off brads to hit workpieces is mindboggling and was a dream but not now! Softwood trims now find either air compression or battery power to crown or mold the project.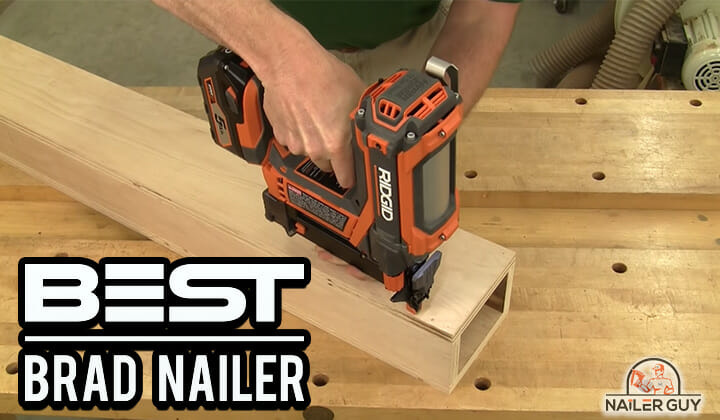 But the newest invention and characteristic modifications can drive any potential purchaser nail guns to frenzy. And here we appear into the equation.
We'd love to break every point and aspect to hand over the best brad nailers you ask for. Even the alternatives are analyzed to test the great ones out.
Best Brad Nailer Review
Editors Choice
Best Buy
Nice Pick
WEN 61720 3/4-Inch to 2-Inch 18-Gauge Brad Nailer
STANLEY Nail Gun, Electric Staple, 1/2-Inch, 9/16-Inch and 5/8-Inch Brads (TRE550Z)
Hitachi NT50AE2 18-Gauge 5/8-Inch to 2-Inch Brad Nailer
Editors Choice
WEN 61720 3/4-Inch to 2-Inch 18-Gauge Brad Nailer
Best Buy
STANLEY Nail Gun, Electric Staple, 1/2-Inch, 9/16-Inch and 5/8-Inch Brads (TRE550Z)
Nice Pick
Hitachi NT50AE2 18-Gauge 5/8-Inch to 2-Inch Brad Nailer
1. WEN 61720 18-Gauge Brad Nailer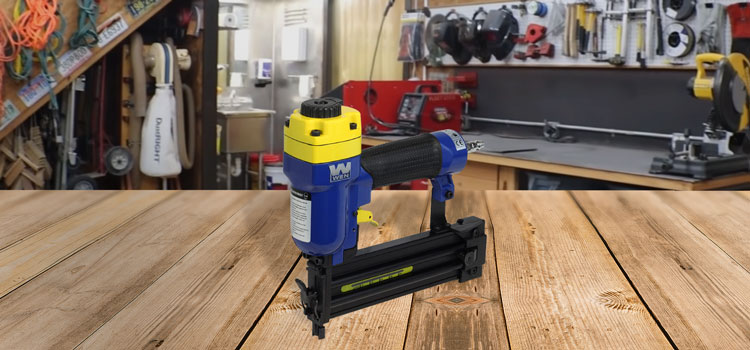 Why choose it?
The greatness of WEN 61720 is the awesome lightweight body of 3 pounds. This was not possible without the usage of aluminum as basic material. A fantastic gripping handle made of rubber has further reduced fatigue in work.
Finding a 0.25-inch air inlet of NPT type for a pneumatic machine that works at 60 to 100 psi is a great feature to embed by the manufacturers. With all these, the brad nailer is a fine worker on both soft and slightly harder kinds of wood.
Talking of accessories and extras this nail gun offers a great deal. The package comes with adjustment wrenches and oil. A durable and customizable carrying case is also included in the kit. This makes the product so handy in terms of both portability and storage.
The magazine is featured with a capacity of 100 brad nails. The 18 gauge ¾ to 2 inches nails find quite spacious room in the magazine. Moreover, the quick release technology is lovely incorporation.
The WEN product has a 1-year warranty. The most appreciable factor is its friendly and homely customer service.
What puts it behind?
Imprinting is created if this brad nailer is not handled properly. The depth gauge is to be adjusted to some preset position to obtain fine finish works.
Sometimes more than one nail is shot by the nailer. Besides, nail heads are often observed to pop out.
Though the brad nailer is said to be using 2-inch nails at an ease, that's not the practical scenario anyway.
2. Stanley TRE550Z Electric Staple/Brad Nail Gun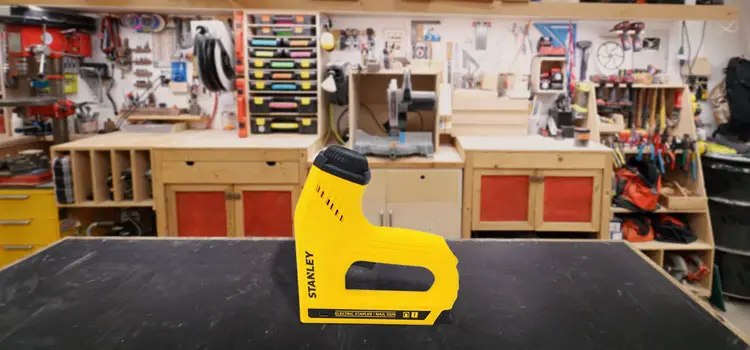 Why choose it?
What a DIYer dream of more than having both brad nailer and electric stapler gun on the shed. What if both the utilities were found in a single gun? Yes, that's the fact about this brad nailer.
With an extra-long power cord measuring 8 feet you get a lot of space to walk and work freely. Since the gun is both a stapler and nailer all kinds of staples and brad nails of Stanley are compatible with it. You can easily use brads ranging from ½ through 9/16 to 5/8 inches.
The versatility of the nailer is expressed out through the two switchable power options. You can choose between softer and harder woods or wood-like materials while nailing.
Maneuvering nailers in a narrow area and tight corners and edges get tougher without any extra aid. Thanks to Stanley for its flush nose that comes in direct help in this particular aspect.
The heftiness of the nail gun is greatly encountered by the contoured grip. So, even larger formats of nailing and stapling jobs settle out to be simpler and a lot more comfortable.
Stanley features an anti-jam mechanism in the device. And with a lifetime warranty, there remain almost no hassles that can't be dealt with.
What puts it behind?
It requires quite a lot of force to get your nails perfectly stable. If the wood is a bit harder and you have a whole day's stapling left, you got to need some extra muscles in your hand.
The brad nail gun is comparatively heavier than its mates.
3. Hitachi NT50AE2 18-Gauge Brad Nailer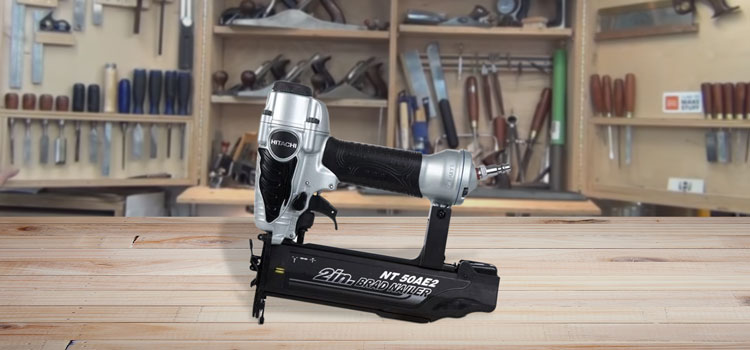 Why choose it?
Hitachi has brought about a heavy-duty brad nailer weighing just 2.2 pounds! It is the aluminum body that prevents it from being heftier. But being lightweight didn't keep its duty light. Along with that, the ergonomic, as well as the dynamic design of the nail gun, has made it extra-comfy.
It has a magazine that loads laterally. Containing 100 brad nails the magazine is well spacious and well techy. A yellow window lights up when the nail count is scanty. This is a great aid in preventing dry fires. This is probably the best replacement for the anti-dry-fire system.
A depth nailer is always ready to adjust the depth of insertion. And before starting nailing the mode of firing can be set between bump fire and contact fire. So, this compact and lightweight brad nail gun is an ideal one for both small DIYs to large carpentry works.
The high-end handle grip is found in this nailer gun. Again on the other side, you get a nose cap. It helps a lot in clearing it since no tool is required for jam clearing. Among the other accessories, safety goggles and the case for both storage and protection are included.
Nail magazine has capacity enough to handle 100 nails. Moreover, a 360-degree exhaust is another level ascender!
What puts it behind?
The air hose port does not feature an adjustable characteristic. This is fundamentally important since the hose creates a lot of constrictions in terms of movement spaces.
No anti-dry-firing mechanism is installed in this nailer. Instead, it has a yellow window as an indicator when the number of nails in the magazine lowers down to a few. So, it's an extra burden of the task that you need to do while accomplishing your nailing.
4. PORTER-CABLE BN200C 2-Inch 18GA Brad Nailer Kit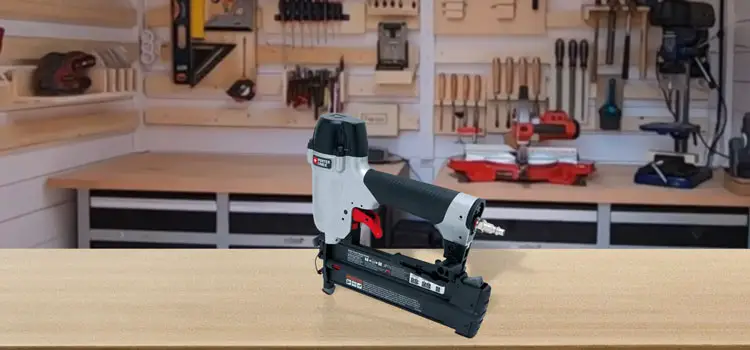 Why choose it?
The maintenance-free motor means no extra oil. And this is what Porter-Cable has for you to offer in this brad nailer. It means you can still use a powerful motor to fire out nails without staining at all.
The nose tip is not only no-marring but also removable. So you get versatility and custom ability. Moreover, the trigger offers you sequential control to let your access easy and fair every time.
The 1.25 lbs lightweight brad nail gun is equipped with a rear exhaust. To keep dust and dirt away from your face this one is a healthy choice. Besides, the anti-jam mechanism would keep away boredom in your nailing job.
China-made product features tool-free depth drive adjustment along with detents. Even the jam releasing system is also tool-free. These two aspects ensure the setting of the heads of nails rightly as well as ease in removing nails when jammed.
What puts it behind?
2-inch nails are not really compatible with this brad nailer. Again the case is quite smaller as compared to others. So, it is really a hard task to accommodate extra brads after putting the nailer in it.
Some complaint is there revealing that sometimes the user needs to apply an extra amount of force in order to engage firing brads.
5. DEWALT DWFP12231 Pneumatic 18-Gauge 2-Inch Brad Nailer Kit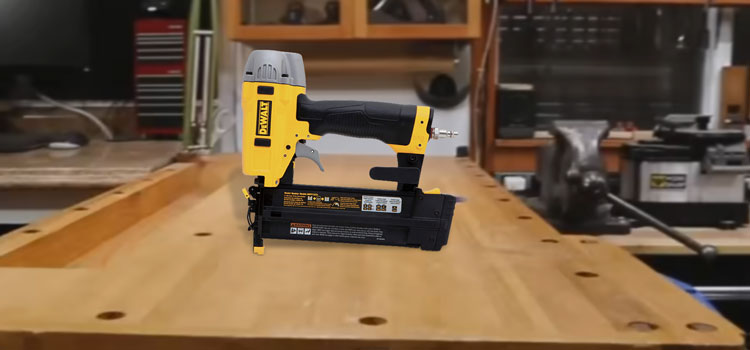 Why choose it?
This nailer of Dewalt has a practically beautiful design with a smaller nose. The DWFP12231 brad nailer is a trademark of quality nailing due to its high precision. It's not only a nail gun devoid of nails. 500 nails are included in the kit too! And all these come in a fine quality case.
Like most other DeWalt products, this brad nail gun is a fatigue reliever. Working with it means comfort and ease due to its rubber grip. The handle is no slip featured. A pneumatic nailer of this compact size is especially great for control.
The magnesium body nailer also comes with a no-maintenance motor. Again, on the rear side, you will find the exhaust. For these, the nail gun is a good choice for hassle-free and dirt-free nailing. To work with further ease Dewalt provides a belt hook along with this product of theirs.
Along with having an excellent grip and balance the brad nailer here has got tool-free depth adjustment. In spite of having some issues with jamming the nail gun, the tool-free jam clearing mechanism tackles the factor well.
The 1.25-inch nails that these devices use can be stored inside it due to the on tool storage feature. For more storage and greater portability, a case is included in the kit. Besides, the 3-year warranty puts this brad nailer in one of the favorite positions.
What puts it behind?
The exhaust on the rear side is not adjustable at all. The piston sealer is not also designed well enough. In the ring of piston sealer, in some cases, cracks are found. This is bad it happen since it affects the functionality of the nailer.
The tool jams in nailing as time passes. Though the jamming out is not every now and then, such considerations for products of great companies like DeWalt are not acceptable to many.
6. Makita AF505N Brad Nailer, 2-Inch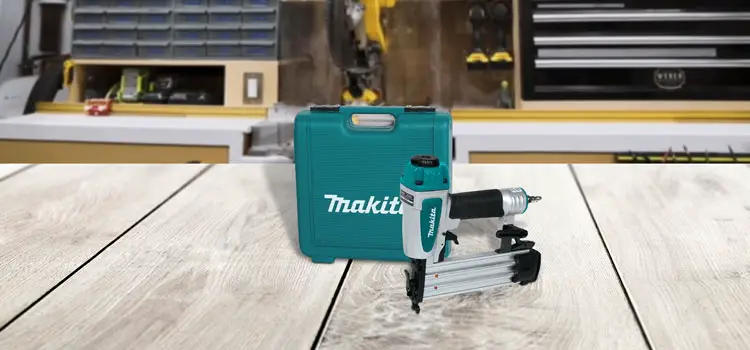 Why choose it?
Having a narrow nose tip is not quite common in the market of nailers. Makita has it in this AF505N 2-inch brad nailer. It has an appreciation for working in narrow and confined workplaces. The nose is further featured with a marring rubber structure. And the bumpers are always engaged in the protection of your workpiece duly.
To open the assembly of the nail guide you will find the anti-jam mechanism. The cam lock, when released, clears out the jammed nails. The whole thing goes entirely tool-less. This reduces downtime and extends the duty cycle.
Similarly, depth adjustment is also toolless. The adjustment dial comes up in a wide variety and gifts the used an outstanding finish. The finish gets superb in the end due to the precise contact with the workpiece. This was not possible without the cast as well as a machined piece of the nose.
Maneuverability is summoned by adding a 180-degree rotatable tool hook. This would allow you to do your work freely staying out of your way as well as remaining close enough to grab when needed.
What puts it behind?
Rapid firing is a lack in the functionality of this nailer of Makita. You need to lift the gun every time you want to nail the material. A number of customers have pointed out the same factor.
Some have experienced missing in shots even after trigger pull. So, you may need to press more than once and be harder to penetrate.
7. BOSTITCH BTFP12233 Smart Point 18GA Brad Nailer Kit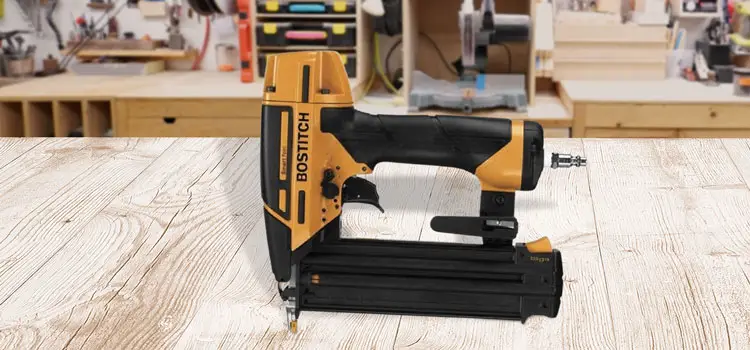 Why choose it?
If you have a tiny workpiece to work with and delicate pinpoint design is your demand Bostitch has made this nailer for you. With smart point technology, they've produced a nail gun that throws brads from a 60% smaller nose. Tighter and narrower spaces are ones where this nailer wants to fire!
A great addition to the package is the ¼ inch swivel connector. The cord will stay out of your hand and feet and thus you'll have the next level of maneuverability in weird positions and situations. It also includes extra no-mar tips, hooks belt, and fasteners. Of course, the whole setup comes in sturdy storage and carrying cases.
The workplace will remain stain-free due since the nailer is oil-free. 5/8 to 2-1/8 inch brads of 18 gauge will find a great nailer to fire out from as tool-free jam releasing features are embedded in it.
What puts it behind?
Adjustment of depth is not up to the mark. A little hassle is often needed. Jamming is also an issue to some extent. Besides, while working with oak-like harder wood, the nailer proves itself quite inefficient.
The type of magazine makes it hard to understand the type of nails in use. So, if you are not a frequent user, this factor may irritate you a bit.
Buying guide
Problems and hazards are associated with every nailer and nail. We believe it's your right to know every piece of info and face each and every brad nailer just like a critic. So here we inaugurate the journey of being "the critic of brad nailers" by examining the factors that really make a brad nailer expert in firing brads.
Nail Length Limit
For maximum cases, brad nailers use brad nails up to a limit of 2 inches. Some nail guns can accommodate 18 gauge brads of 2-1/8 inches. Smaller finish works and most delicate ones require brads less than 2 inches. So, 2-inch brad nailers are enough for them.
But, if you need the the2-inch nails on a regular basis, then think further. Some nails are marked as 2-inch ones but measure somewhat more. So, regular users of such nails should buy 2-1/8 inch nailers. You'll face trouble in using a bit longer nails in only 2-inch nailers since they won't produce force enough to penetrate nails well.
Size of Nose
The brad nails are smaller in dimension than usual nails. They are neither so hefty nor is their operable range wider. So definitely you would want to fire the brad in your nailer magazine to hit the pinpointed exact spot.
To attain that level of accuracy and precision smaller noses and tips are always at the top of the priority list. But note that often nailers with smaller noses are not that sturdy.
Design and Construction
Tight and narrow spaces in the workplace are the challenges. To deal with them cumbersome design is not at all acceptable. So, along with the nose tip, the overall design of a brad nailer should be as slim as possible.
Negotiation may be done between robustness and slimness. Workplaces devoid of tight corners may provide sturdiness an upper hand. But stout yet the compact body is always the winner within budget.
Magnesium construction and ergonomic handle with non-slip rubber grip are among the other criteria to top the preference.
Power Source
Brad nailers are found to be of two individual categories- air-powered or pneumatic and battery-powered or cordless. Both have their own features comprising of both pros and cons.
No cord means a lot less hassle at work. Battery-powered brad nailers are thus known for and used for higher portability. So if you have nailing at a higher place or want to fire nails at confined places battery-powered brad nailers are the best choice. But the addition of the battery adds weight to the device.
Using cordless brad nailers may cost you some extra bucks in buying an extra set of batteries. You need an extra battery to extend the duty cycle of the nailer. Besides all battery-powered nailers aren't as powerful in firing as the air-powered ones are.
Well, pneumatic brad nail guns are also not the buck saver all the way. Air compressors and hoses are the must-have components in their regard. So if you have a set earlier then it's a lot easier to buy one. But they are often a great choice for higher maneuverability due to less weight.
Having no battery in them, air-powered brad nailers are lighter in weight. But you have to buy this benefit at the cost of a larger setup area and the addition of cord hassles. Besides, working at a higher altitude may not be suitable with such nailers.
Nail Drive Depth
Best brad nailers have tool-less depth drive adjustment. Some may have dials or switches while some other nail guns may possess buttons to adjust the depth of firing nails into the workpiece. But make sure that it is convenient to use.
Jam Clearing
Jamming is a part and parcel of nailers. Get the one that takes great care of the fact and reduces your period of downtime at least due to frustration. Prefer tool-less anti-jamming mechanisms.
Dry Fire Lockout
A few nailers in the queue and stop firing immediately- that's what the anti-dry fire mechanism refers to. It is so fundamental for both your device and material. Some brad nailers provide indicators instead. But the feature itself proves really crucial in terms of practical importance.
Case
A storage case is really important for enhancing portability too. Much increase in price due to it is, though, not appreciated at all.
Frequently Asked Questions
Q; Which nail is the best for attaching trims?
Ans: It is generally both the brad and finish nails that are used to attach baseboard and trims of lightweight. However, brad nails have an upper hand. The brad nails are comparatively thinner gauged and so are comprising of smaller heads. This would help you attaching trims devoid of putty covering for holes.
Q: Are brad nails enough strong?
Ans: Finish nails can easily handle hardwood, plywood as well as MDF woods. Brad nailers are for brads, typically 18 gauge ones, that aren't that strong but are enough for you if trimmings are the focal point of your job. They are actually for delicate projects.
Conclusion
Reliability, speed, power, budget, and dozens of other parameters come into play when you head for a brad nailer. Finally getting one into work you badly need to find the "intersection" of every aspect that really matters to you. For instance, WEN 61720 may be the best brad nailer for you because of the performance it provides within an outstanding budget.
But the WEN product in our list has the potential to pause your progression as mentioned in its drawback section. Again NT50AE2 of Hitachi is a great choice for both speed and power. But the budget may not drive everyone to satisfaction. Besides, you must keep an eye on the overwhelming upcoming features of the brad nailers.
Also read-Narrow Crown Stapler Vs Brad Nailer