Brad nailer is a very handy tool for anyone for its versatility. An expensive brad nailer from a top brand can provide the best finishing and perform industrial-level works like a piece of cake. But if you want a cheaper nailer to do some random tasks occasionally, finding an ideal flawless gun will feel like sticking in the mud.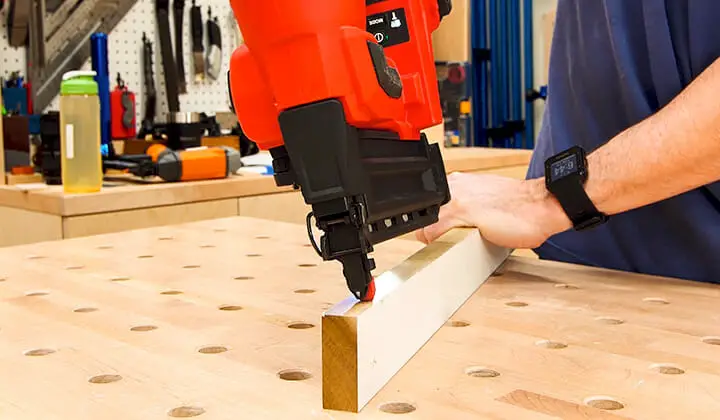 No worries cause we got your back. We have gathered some of the best brad nailers for the money in this article. Specifically, the one from STANLEY is the most economical option but work as both nailer and stapler pretty well. Whereas, the Metabo HPT nailer is a reasonable version of the best pro nail guns. Let's see which one is for you!
Trip to Get the Best Brad Nailer for the Money 
Editors Choice
Best Buy
Nice Pick
WEN 61721 18-Gauge 3/8-Inch to 2-Inch Pneumatic Brad Nailer
STANLEY Nail Gun, Electric Staple, 1/2-Inch, 9/16-Inch and 5/8-Inch Brads (TRE550Z)
Metabo HPT Brad Nailer Kit | Pneumatic | 18 Gauge | Accepts 5/8 to 2-Inch Brad Nails | 5-Year Warranty | NT50AE2
Editors Choice
WEN 61721 18-Gauge 3/8-Inch to 2-Inch Pneumatic Brad Nailer
Best Buy
STANLEY Nail Gun, Electric Staple, 1/2-Inch, 9/16-Inch and 5/8-Inch Brads (TRE550Z)
Nice Pick
Metabo HPT Brad Nailer Kit | Pneumatic | 18 Gauge | Accepts 5/8 to 2-Inch Brad Nails | 5-Year Warranty | NT50AE2
In this section, you will get to know 3 different brad nailers from different brands to compare them all and find the one that suits you the most.
1. WEN 61721 18-Gauge 3/8-Inch to 2-Inch Pneumatic Brad Nailer with 2000 Nails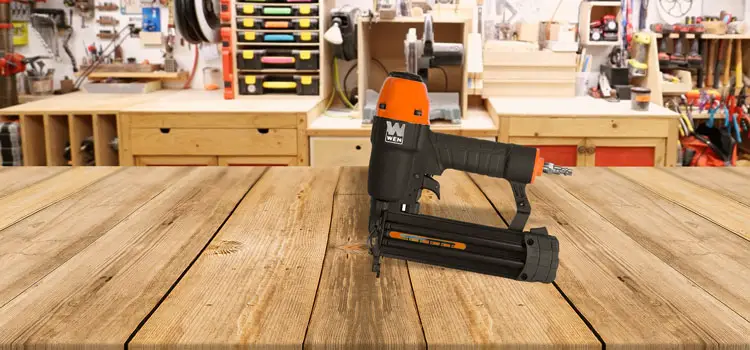 WEN brand offers a pneumatic brad nailer which is affordable to most people. The nail gun can shoot 18 gauge brad nails with lengths ranging from 3/8 inch to 2 inches with 60-115 psi of air supply. This tool weighs only 2.7 lbs and features an NPT inlet fitting that offers a quick connection so that the nailer is all set to go anytime.
For simple and fast reloading, the metal magazine is equipped with a spring and it is spacious enough to hold up to 106 brad nails at a time. Also, a transparent window on the magazine shows the remaining fasteners. The depth adjustment wheel near the trigger lets you control the nail depth inside the workpieces.
You can rotate the exhaust port to a full 360° to direct the output air away from your face. The rubber grip handle prevents hand fatigue and allows you to work for more time comfortably while the nose latch is designed to let you clean jammed nails like a piece of cake. Moreover, you will get a warranty of 2 years with this tool.
Accessories, such as storage cases or nails are not included with this brad nailer.
Strengths
Depth adjustment wheel
Adjustable exhaust
Rubber grip handle
Spring-loaded magazine
Magazine window gauge
Weaknesses 
No accessories and storage case
2. STANLEY Nail Gun, Electric Staple, 1/2-Inch, 9/16-Inch, and 5/8-Inch Brads (TRE550Z)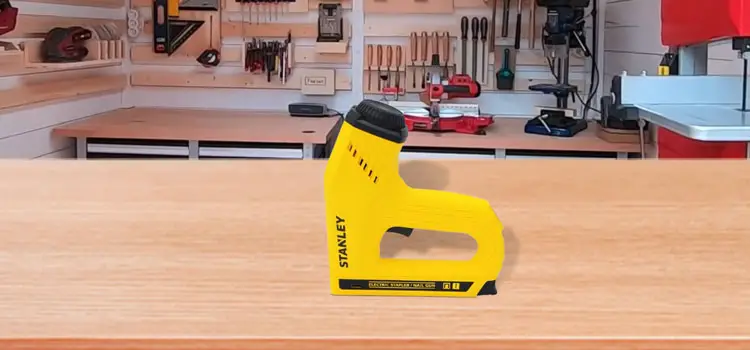 STANLEY manufacturer offers a heavy-duty combo tool that can act as both a nailer and stapler. It is compatible with Stanley Sharpshooter TRA700 Series or Arrow T-50 heavy-duty staples. This nailer can also shoot 1/2 inch, 9/16 inch, and 5/8 inch brad nails with its outstanding driving power.
To let you work on both hard and soft materials, this tool has a unique dual power lever to change the intensity between high and low intensity. The flash-nose design of this tool helps to staple in tight areas and the magazine window reminds you about reloading.
Not only this nailer is inexpensive, but also super comfortable to use for the countered grip. The tool has an anti-jam mechanism that lets you finish your job quickly. With the 8-meter power cord, you can reach any place easily.
Since it weighs less than one pound, it is compact and light enough to use all day without getting tired and carry in a small bag. This combo nailer comes with a limited lifetime warranty for flaws in material and workmanship.
It doesn't support brad nails of all the lengths. Also, don't support a wide range of staples.
Strengths
Great for the price
Anti-jam mechanism
lightweight
Magazine widow
Flash-nose for a tight spot
Weaknesses 
Not compatible with all brad nails and staples
3. Metabo HPT Brad Nailer Kit, Pneumatic, 18 Gauge, 5/8-Inch up to 2-Inch Brad Nails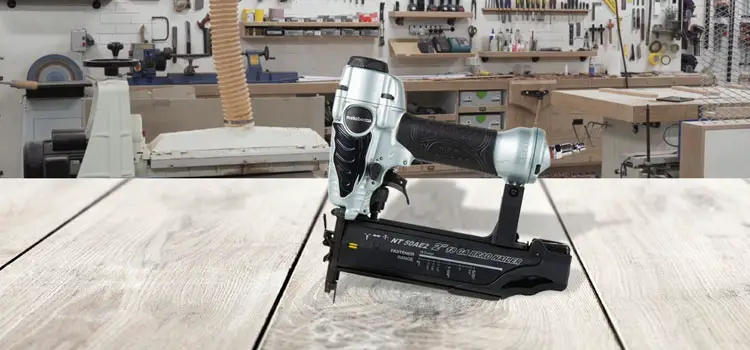 Metabo HPT provider offers an air nailer which is more professional friendly than the other two nail gun. It can work with 18 gauge brad nails with lengths varying from 5/8 inch to 2 inches. 
To easily switch between bump fire and sequential modes, the nailer comes with a selective auction trigger. This nailer also features a depth adjustment mechanism that allows you to choose how deep the nail should go from the work surface. The rotatable exhaustion port keeps dust, oil off the work area.
For the safety of the tool, a no-mar tip is provided on the nose that protects the workpiece from unintended markings. Also, the nose is designed in a way to clean jams easily. There is a reload indicator located on the magazine that alerts the user when the fastener quantities are running low to avoid blank fires. 
You will get 5 years of warranty with this nailer. With this tool, there are also safety glasses, air fitting, no-mar tip, hex bar wrenches, and a hard case that allows you to carry and store them all safely.
Contrasting the other nailer on this list, this nailer is quite expensive.
Strengths
Two firing modes
Reload indicator
Depth adjustment feature
Adjustable exhaust port
5-year warranty
Weaknesses 
Frequently Asked Questions
How do I use a brad nailer properly as a newbie?
You need to always read the instruction and follow the brad nailer tips. In short, use safety glasses, lock triggers, or power off the tool while you are not working, test fire for few times to check things are okay, adjust the exhaustion port and depth of drive, and select the firing mode before you start the actual job.
Is every nailer is best for baseboards?
For the best work experience in this area, all you need is the best brad nailer for baseboards. Not every nailer will provide the satisfactory result you are expecting. A pin nailer can never provide enough power for baseboards while a finish nailer can damage the work surface when supplying more power. Also, you can look for the best nail gun for baseboards.
What types of work can I do with a brad nailer?
You can use a brad nailer for decorative and narrow trim, picture frames, birdhouse, paneling, shoe molding, quarter-round molding, thin cuts in baseboards or thin wood, or your DIY projects.
Parting Words
Since you are looking for an inexpensive brad nailer, you need to take care of it very well to make that last longer. Because warranty will not back you up if you are the reason behind any flaw in the tool. Clean and lubricate it regularly, even if you don't use the nailer often. And never use water or moist air to clean the parts.