Most of the baseboards used in houses have less than 1-inch thickness. For this reason, a brad nail, as it is more potent than pins, is powerful enough to trim the baseboards and hold them together. It may seem like using any brad nailer for baseboards is okay as they all shoot brad nails. But the reality is quite different.
A brad nailer may be versatile, but it can be imprudent for baseboards like the NuMax brad nailer and stapler combo. The very best brad nails for baseboards are challenging to find, but this article got your back. We suggest you go for the WEN brad nailer for its durability, efficiency, and fantastic performance with baseboards.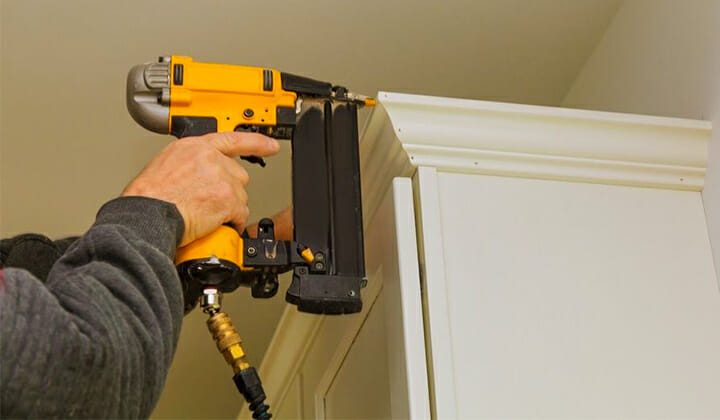 Road to Grab the Best Brad Nailer for Baseboards 
Editors Choice
Nice Pick
WEN 61721 18-Gauge 3/8-Inch to 2-Inch Pneumatic Brad Nailer
NuMax S2-118G2 Pneumatic 2-in-1 18-Gauge 2" Brad Nailer / Stapler
Editors Choice
WEN 61721 18-Gauge 3/8-Inch to 2-Inch Pneumatic Brad Nailer
Nice Pick
NuMax S2-118G2 Pneumatic 2-in-1 18-Gauge 2" Brad Nailer / Stapler
In this section, we talked about two different brad nailers so that you can compare them, clear misunderstandings, and choose the right nail gun for you. Let's have a look.
1. WEN 61721 18-Gauge 3/8-Inch to 2-Inch Pneumatic Brad Nailer with 2000 Nails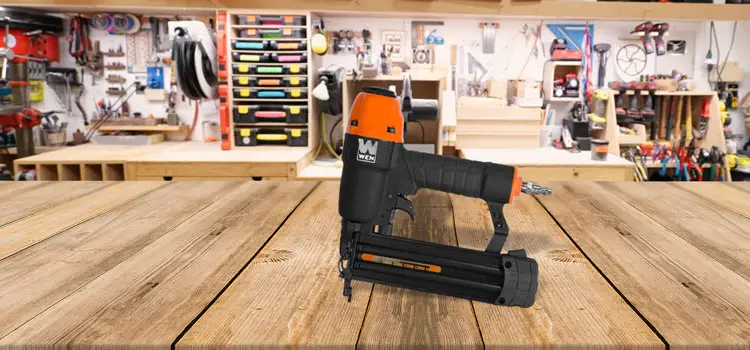 WEN manufacturer comes with a brad nailer that is powered by air compressors. It can shoot 18 gauge brad nails with lengths ranging from 3/8 inch to 2 inches with an air pressure of 60-115 psi. The nailer weighs less than 3 lbs, and the NPT inlet fitting offers a quick connection so that the tool is always ready to roll.
For quick and easy reloading, the spacious metal magazine is equipped with spring, and it can hold up to 106 brad nails together. A transparent window on the side of the magazine to notify users. The depth adjustment wheel near the trigger lets you choose how deep you would like your brad nails to be driven.
To direct the exhaust fire away from your face, you can rotate the exhaust port to a full 360°. The rubber grip handle prevents hand fatigue and allows you to work for more time comfortably, while the nose latch is designed to let you clean jammed nails like a piece of cake. Also, the nailer comes with a warranty of 2 years.
No accessories, such as nails or storage case included with this brad nailer.
Positive Features 
Depth adjustment wheel
Adjustable exhaust
Rubber grip handle
2-year warranty
Spring-loaded spacious magazine
Negative Features
2. NuMax S2-118G2 Pneumatic 2-in-1 18-Gauge 2″ Brad Nailer and Stapler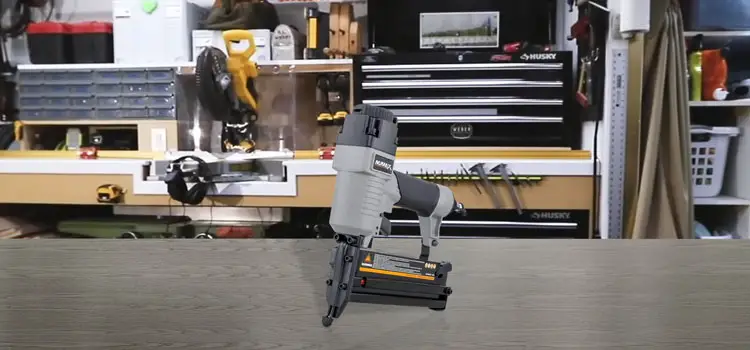 S2-118G2 places itself among the best ergonomic and lightweight combo brad and staple Gun.  And the unique feature that keeps its neck ahead is its tool-free finger depth adjustment.
NuMax brand offers this pneumatic combo nail gun that can accommodate 18 gauge brad nails. Interestingly, it ranges from 3/8 inch to 2 inches. And there are 1/4 inch narrow crown staples ranging from 1/2 inch to 1-5/8 inches. In short, it is a great tool to use in a wide range of projects.
To let you enjoy the nailing comfortably, the nailer features an anti-vibration rubber grip. The magazine of this tool can hold 100 nails at a time, and you can see if the nails are running out with the reload indicator. You can operate the nailer with an affordable air compressor with pressure from 60-110 psi.
Some accessories are included with the nailer, such as hex wrenches and oil. With the adjustable exhaust, you can adjust depth with the depth controlling wheel and direct output air to any side. Anti-dust cap, no-mar safety contract, and sequential fire mode provide extra protection.
It is not suitable for nailing because when you shoot nails with it, the tool leaves holes for staples that are visually not pleasant. It also comes with a one-year warranty, but the period is less than the previous nailer.
Positive Features 
Brad nailer and stapler combo tool
Depth adjustment feature
Magazine indicator
Comfort grip
Adjustable exhaust
Negative Features
Less warranty period
Leaves staple holes while nailing
Frequently Asked Questions
What else can I do with a brad nailer besides baseboards?
You can use your brad nailer for decorative trim, narrow trim around windows and doors, picture frames, paneling, birdhouses, shoe molding, quarter-round molding, thin cuts on the woods, or any DIY project.
What to do if the air is leaking from the trigger area of my nailer?
In case the trigger area of your nail gun is leaking air, the reason can be a damaged trigger valve head, stem, seal, or perhaps a worn-out O-ring. To resolve this problem, you should check the parts and replace the one that is damaged.
How do I clear a jammed nailer?
At first, turn off the power source and keep the tool pointed away from you and others. After that, open the latch and remove the jammed nail with a hex wrench or plier to make your nailer all set. If the jamming issues keep occurring frequently, you should contact the customer center or ask for a replacement.
Ending Statement
After buying your ideal brad nailer, make sure to clean and lubricate the tool regularly. Plus, when working with baseboards, try to finish the board before installing and put larger baseboard sections together. Doing so will make nailing and installing even better.