If you are searching for framing nailers, it's evident that you have heard about Bostitch. They produce some of the most popular framing nailers' models currently available. If round head nails are your primary requirement, no alternative to F21PL will suffice. But the clipper head expert is F28WW.
But they have a wide variety of choices. This article has shared some of the benefits of owning a particular type of Bostitch framing nailer. We have, however, uphold some of the drawbacks to be aware of.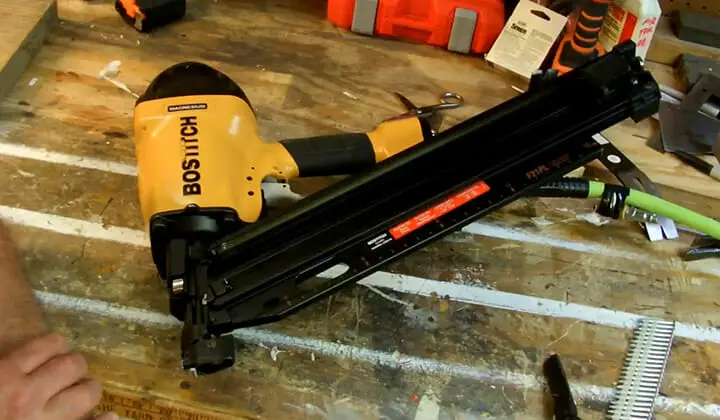 Best Bostitch Framing Nailers Currently In the Market! 
Editors Choice
Best Buy
Nice Pick
BOSTITCH Framing Nailer, Round Head, 1-1/2-Inch to 3-1/2-Inch, Pneumatic (F21PL)
BOSTITCH Framing Nailer, Wire Weld, 28 Degree, 2 to 3-1/4-Inch, Pneumatic (BTF83WW)
BOSTITCH Framing Nailer, Clipped Head, 2-Inch to 3-1/2-Inch, Pneumatic (F28WW)
Editors Choice
BOSTITCH Framing Nailer, Round Head, 1-1/2-Inch to 3-1/2-Inch, Pneumatic (F21PL)
Best Buy
BOSTITCH Framing Nailer, Wire Weld, 28 Degree, 2 to 3-1/4-Inch, Pneumatic (BTF83WW)
Nice Pick
BOSTITCH Framing Nailer, Clipped Head, 2-Inch to 3-1/2-Inch, Pneumatic (F28WW)
It's time for digging deeper into the products. Here we have listed some of the Bostitch framing nailers that are in high demand. In this list, you can find nailers that are meant to serve different purposes. These nailers come in other packages to best do that specific purpose.
1. BOSTITCH Framing Nailer, Round Head, 1-1/2-Inch to 3-1/2-Inch (F21PL)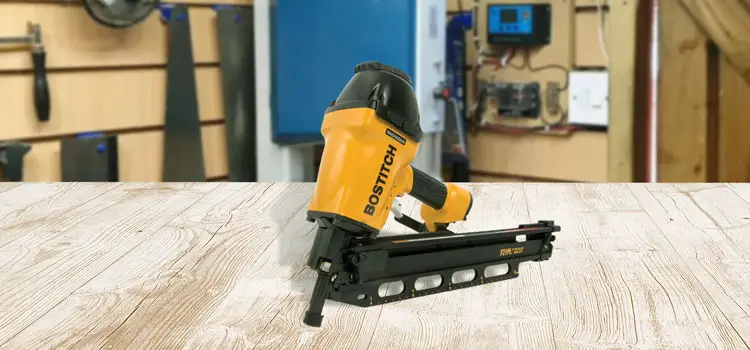 It serves a dual purpose!
First, we will be familiarized with a nailer that can be doubled as a metal connectors' applicator. This is a reasonably good deal for those people who moderately use their framing nailers. Of course, this is not designed for dedicated nailing tasks. But it can deliver more than an average light framing nailer. 
This model has a 21-degree magazine angle. This may not sound impressive for some heavy-duty tasks. But keep in mind, this is a suitable angle for most of the moderate needs. 
Its magazine can hold up to 60 regular stick nails which are more than cordless nailers. Another indication of usefulness! You can load the magazine from the bottom which is handy considering the ergonomics. 
While considering the ergonomics, we should take a glance at the weight of the nailer. According to the manufacturer, the overall weight is 8.1 lbs. This weight is adequately distributed, which makes the handling easier. 
You get depth adjustment to control the penetration depth of the nail. Undoubtedly, a handy feature for accomplishing a neat task. A 7-year manufacturer warranty backs this unity. It enables you to focus on the job, not on the maintenance! 
However, you may run into trouble while shopping for a new set of nails for this unit. As this one plays a double role, the design of the pin is sophisticated. Those nails are slightly more expensive than the regular ones. 
Pros 
We are dedicatedly designed for light to moderate usage. 
You can purchase it with an air compressor and nail set.
Seven years manufacturer's warranty
Cons 
Nails are slightly more expensive.
2. BOSTITCH Framing Nailer, Wire Weld, 28 Degree, 2 to 3-1/4-Inch (BTF83WW)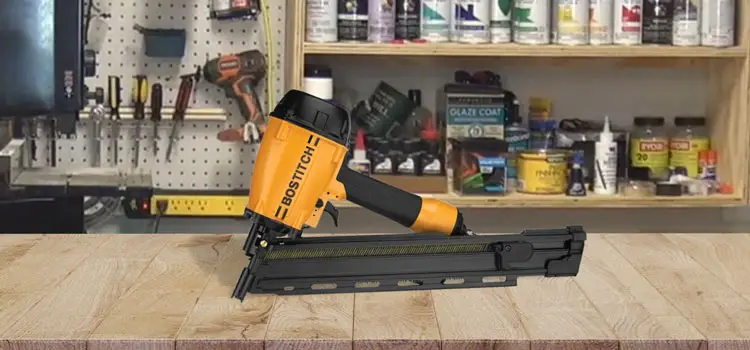 BTF83WW is an addition to the existing low-profile nailer line-up of BOSTITCH. This unit is designed in a way that it can reach tight corners. It has an ergonomic design that helps the overall handling. This is especially helpful if you are dealing with tight quarts and rafters. BOSTITCH provides a one-year warranty for this model. 
You can store 100 nails at a time in its magazine. This is undoubtedly a significant improvement over 40 pins in some cordless ones. As this one is a pneumatic nailer, you can use it in professional heavy-duty tasks. Besides, its lightweight construction helps to be user-friendly so that DIYers can use it. 
This unit is equipped with tool-free adjustable depth. Selectable trigger gives protection from bump fire and helps in sequential operations. Moreover, an adjustable rafter hook further facilitates the task. 
You can confidently use this on lumbers and still get industrial-grade framing and sheeting. However, it needs some time to get used to using this nailer.  
Pros 
Low profile ergonomic design
Can be used in heavy-duty tasks
Available at a comparative price.
Cons 
Not so ergonomic initially 
3. BOSTITCH Framing Nailer, Clipped Head, 2-Inch to 3-1/2-Inch (F28WW)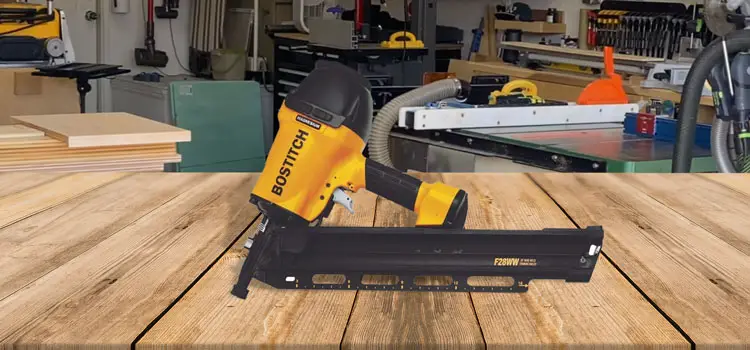 This unit is a popular choice among contractors or individuals who need to deal with larger projects. Bostitch F28WW is made for heavy-duty operations and can be a versatile tool. It uses 28-degree nails. These nails are clipped-headed, which has some restrictions in local building codes. Therefore, make sure that you can legally use these nails in your area.   
23x16x6-inches may seem a bulky dimension for a tool that has the flexibility to be operated easily. But the weight and weight distribution of the nailer has solved the problem. It weighs 7.6-lbs which is typical for any pneumatic nailer. 
You can crank up to 1050 in/lbs—power from this nailer. Besides, you can easily tweak the air output. The nailer will work between pressure ranges of 80-120 PSI. It has an adjustment for the nail depth. Besides, you can toggle between bump mode and sequential mode quite easily. 
Pros 
Optimized weight distribution helps to gain better control
Depth of drive adjustments help to diversify its usages
Rafter hook allows the nailer to hang from the ladder easily
Cons 
Local building codes may prohibit its usages
4. BOSTITCH Coil Framing Nailer, 15-Degree, 2 – 3-1/2 inches (N89C1)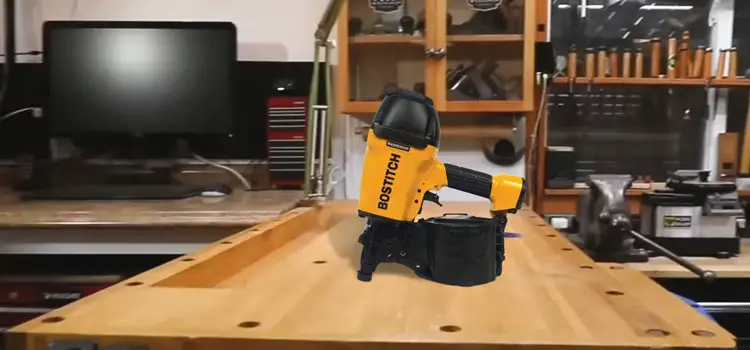 Bostitch N89C1 is a heavy-duty framing nailer that is rated to withstand the punishment of harsh working conditions. It can constantly deliver powerful output to place nails into position. But clever engineering has made it comfortable enough. This powerful framing nailer has a magnesium housing which reduces the overall weight. 
You can use it on rough surfaces. Thanks to its wear guard that can protect it from potential damages. Depth adjustments are easy and can be done within a shorter span. This ensures minimal downtime during a project. 
It has an adjustable exhaust to direct air away from your face. This feature is handy undoubtedly. It gives you a clear view of your workspace. You can store 300 nails in its magazine, which is fair enough for professional usages. 
Overall, this unit is precisely designed for professional usages. However, the only thing that bothers me is its nail angle. 15-degree may not be easy to work within tighter areas.  
Pros 
Light-weighted yet sturdy construction
Wear guards allow to work on harsh surfaces
Adjustable exhaust helps to gain more control
Large enough magazine for more significant projects
Cons 
a 15-degree nail angle is challenging to work within tight areas. 
Frequently Asked Questions
Q: Is it okay to use a sliding nailer instead of a framing nailer?
A: Unfortunately, you cannot use a sliding nailer instead of a framing nailer. For the framing purpose, you need to insert 3.5-inch nails. But sliding nailers can hold up to 2.5-inch nails. But as the framing nailers have depth adjustments, you can use framing nailers as sliding nailers. 
Q: Should I wear eye protection while using framing nailers?
A: Framing nailers produce a considerable amount of power. This power can shoot debris unpredictably. Even the nails can fall off. That's why it's recommended to use safety goggles and face masks during operation.   
Conclusion
Finding the best Bostitch framing nailer isn't that difficult if you go step by step. First of all, you need to define in which projects you are planning to use it.
If you use it in tight areas, having nails with higher angles is a good solution. However, you need to ensure that your local building code approves nailing with those nails.