Anyone who has an interest in woodwork knows the importance of speed & precision. A hammer is not going to provide you with that agility. You need the best all-around nail gun that will give you the mobility to get the job done. 
If you are looking into a pneumatic nail gun, then the best choice would be the WEN 61721 would be the one. But want more mobility & freedom in your work, then go for a cordless nail gun. The porter cable is the perfect job for this purpose.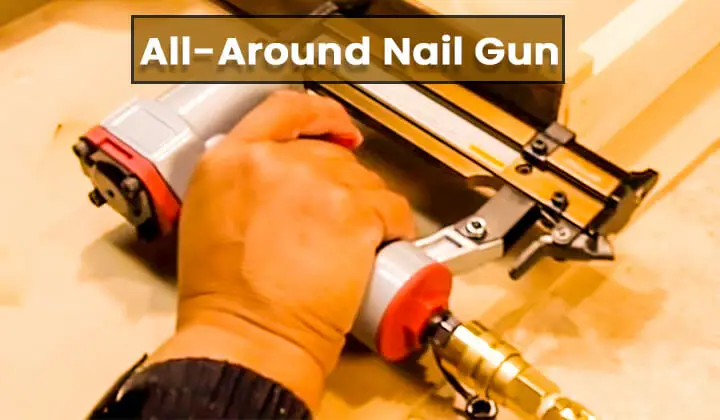 Our List for Best All-Around Nail Gun
Editors Choice
Best Buy
Nice Pick
WEN 61721 18-Gauge 3/8-Inch to 2-Inch Pneumatic Brad Nailer
PORTER-CABLE 20V MAX* Cordless Brad Nailer Kit with 1 Battery, 18GA (PCC790LA)
DEWALT Brad Nailer Kit, 18GA, 2-Inch (DWFP12231)
Editors Choice
WEN 61721 18-Gauge 3/8-Inch to 2-Inch Pneumatic Brad Nailer
Best Buy
PORTER-CABLE 20V MAX* Cordless Brad Nailer Kit with 1 Battery, 18GA (PCC790LA)
Nice Pick
DEWALT Brad Nailer Kit, 18GA, 2-Inch (DWFP12231)
Here are some of the elite nail guns in the market right now. You'll find all the features at length throughout the whole article. Be sure not to miss any pros & cons from the summary we provided. 
1. WEN 61721 Pneumatic Brad Nailer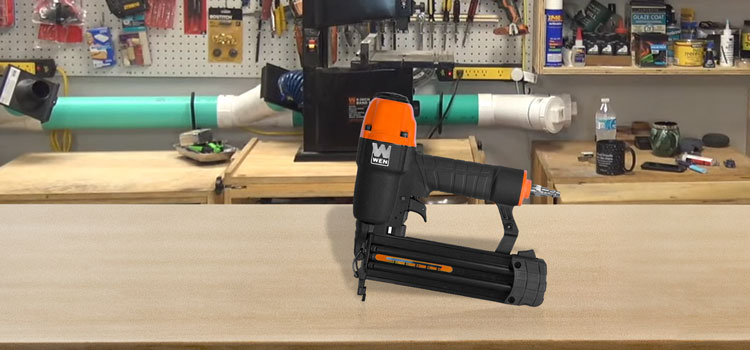 WEN 61721 is a combination of lightweight body material with a rubberized handle. The weight of the gun is 2.8 lbs. You won't have any problem working all day long with any arm fatigue. 
The nailer works with 18 gauge nails that range anywhere between 3/8 to 2 inches in length. The magazine has a quick reload with the capability to hold up to 106 nails. The operating pressure is around 60 to 115 PSI with the 1/4-inch NPT air inlet fitting. 
There is a depth adjustment wheel available to adjust the firing depth of the nailer. This enables you to work on many projects. A hassle-free nose latch makes it easy to clear jammed nails quickly. There's also an air exhaust that directs the air out 360 degrees. 
The nailer doesn't come alone in the package. It comes with lubricating oil, hex wrench & 500 nails of 3/8-inch, 3/4-inch, 1-inch, and 2-inch nails each. The manufacturer also adds a 2-year warranty on the nailer itself. 
No matter how good the nailer is, it does come with some downsides. It doesn't ship with any carrying case. The air hose is also absent from the accessories. You might also face some air leaks out of the connection. 
Pros
Lightweight durable design.
Magazine size 106 nails. 
Hassle-free nose latch to clear the jam.
Comes with 2000 extra nails.
2-year warranty. 
Cons
Carrying case missing. 
Need separate air hose. 
Air leaking issues. 
2. PORTER-CABLE 20V MAX Cordless Brad Nailer Kit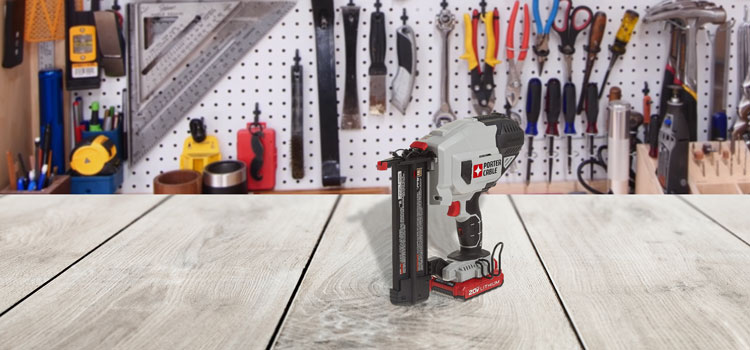 Whenever you hear the word power tools, Porter-Cable comes with it. They have a cordless brad nailer that requires no hose, no compressor & no gas to operate. The built of the nailer is very solid with a metal magazine to it. The weight of the nail is around 5.9 lbs. 
You can power the nail gun with a 20V lithium-ion battery. Say goodbye to the hassles that come with air compressors & cords. The battery supplied with the nailer is 1.5 amp-hour. You can shoot about 450 shots with the nailer before the charge runs out. 
The motor has a design to get consistent firing power for 18 gauge nails. The length of the nails varies from ¾ inch es to 2 inches. The magazine size for the nailer is 100 nails. A depth adjustment window is available to adjust the depth. 
There are multifunctional LEDs to indicate error detection. The package comes with 300 nails extra nails of 3 different sizes. There is also a 3-year limited warranty on this nail gun. 
If you like portability, then this nail gun is perfect for you. But working with a 5.9 lbs tool takes a toll on your hand. It's much heavier than the Wen Nail gun we saw before. You also can't work continuously because the charge runs out. 
Pros
Portable operation. 
No need to air compressors. 
100 nails per magazine. 
Depth adjustment. 
3-year limited warranty. 
Cons
Arm fatigue is inevitable due to the weight. 
Charge runs out that interrupts the project. 
3. DEWALT Brad Nailer Kit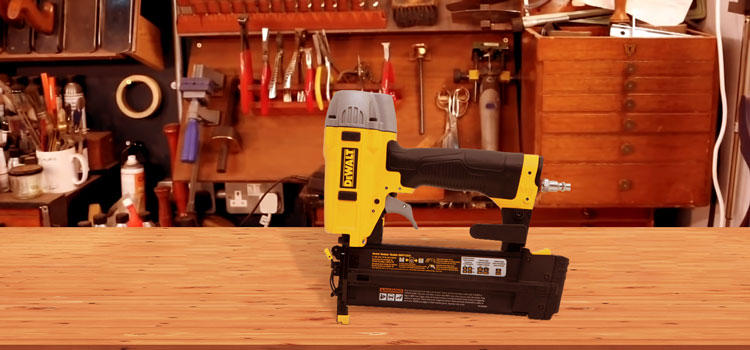 Dewalt has been in the power tool industry for a long time. They have built a reputation for their durable tools over the years. This brad nailer kit is no different. With a magnesium body, it has a solid built & a lightweight body mass. It's much more durable than all other contenders in this list. 
The pneumatic nailer requires an air compressor & hose to operate. The range of air pressure for the tool is 70 to 110 PSI. The weight of the nailer is around 2.05 pounds. So arm fatigue would not be an issue for you. 
You are capable of driving 18 gauge nails from 5/8″ to 2″ in length. Depth of drive adjustments marks it easier to adjust the nail settings. The magazine has a 100 nail working capacity. There is an adjustable belt hook to keep the tool hanging by your side. 
The jam release mechanism is easy for nail removal. It has a carrying case that comes with the tool. The manufacturer provides a 3-year limited warranty on the whole kit. 
There are some drawbacks that we have found. The air compressor & hose doesn't come with the while kit. It's also not ideal for progressive nailing. 
Pros
Durable &  lightweight body. 
Tool-free jam clearing.
Strong rubber grip.
100 nail magazine size. 
3-year warranty. 
Cons
Doesn't come with an air compressor or hose. 
Not ideal for progressive nailing. 
4. CRAFTSMAN V20 Cordless Brad Nailer Kit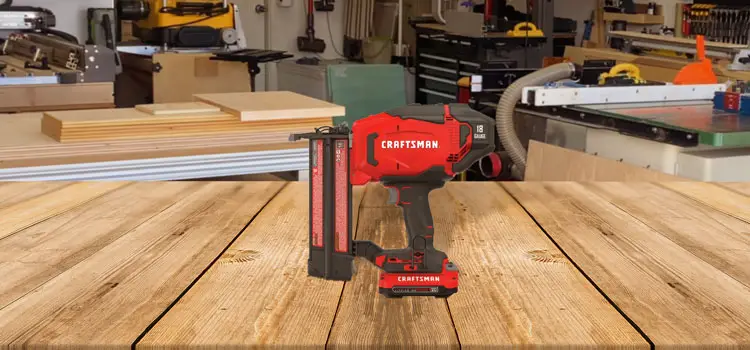 For our last nail gun, we have the Craftsman V20. This is a cordless designed nailer. You will need no air compressor hoses or costly gas cartridges. The tool has a great build with a metal magazine attached to it. The overall weight of the tool is around 7 pounds. 
The tool works on a 20V battery that can work on 18 gauge finish nails. With a single charge, you can shoot almost 420 2 inch nails. That should meet the users' usual demands. plus, the ergonomically designed handle has an anti-slip mechanism for users' convenience. 
There is a tool-free depth setting that allows you to set up the tool for your work. The tool has a single fire mode so you have to pull the trigger to fire every nail. You can lock in the tool with your belt using the hook of the tool. Even tool-free jamming is available for the tool.
You can use nails around ⅝ inch to 2 inches. The magazine size is almost 100. You will get an extra 300 nails of different sizes with the tool. It has a one-year warranty on the kit. This is much lower than all other brands provide here. 
Being a cordless nail gun, it has a heavyweight to it. If you are working on a project you need to sit idle while it charges. It also doesn't support bump fire mode. 
Pros
No compressor or hose is needed.
Portable. 
Ergonomically designed handle. 
Tool-free jamming. 
Depth adjustment. 
Cons
Has heavyweight. 
Bump firing not supported. 
| | | | | |
| --- | --- | --- | --- | --- |
| Attribute | WEN 61721 | PORTER- CABLE | DEWALT | CRAFTSMAN |
| Type | Pneumatic | Cordless | Pneumatic | Cordless |
| Weight | 2.8 | 5.9 | 2.05 | Around 7 |
| MagazineSize | 106 | 100 | 100 | 100 |
| Depth Control | ✓ | ✓ | ✓ | ✓ |
| Warranty | 2 | 3 | 3 | 1 |
Frequently Asked Questions (FAQ)
1. What is a brad nail?
Usually, for woodworking, the commonly used nails are 8 to 11 gauge. But a brad nail is 18 gauge. It's very thin & perfect to blend in the wood. These nails are for applying trim or to finish woodwork. Brad nailers are used for applying brad nails.
2. What's the difference between brad nailers & finish nailers?
The two tools are for similar jobs. But the finish nailer offers a stronger hold shooting 15 to 16 gauge nails. But for more delicate work you need 16 gauge thin nails. Here the brad nailer is for more delicate work. 
3. What to do if the tool gets jam?
Most tools nowadays have tool-free jam clearing. So you have to first open the magazine of the nails carefully. Then clear out the jam. Close the jam once it's done & start shooting. 
4. When should I go for a cordless nail gun? 
When you are looking for flexibility in your work, then you can choose a cordless nail gun for the job. They don't need the hassle of an air compressor & hose. You can even work outdoors if you like. 
Conclusion
At the end of the day, every tool has its own upsides & downsides. Everybody wishes to find a tool that can match everything they need. But unfortunately, it doesn't work that way. So you need to make a priority list & match it accordingly to find the perfect tool for you.