Air compressors are more economical than most other power sources for nail guns. All you gotta do is setting up the air compressor and enjoying nailing. Your compressor will do its job of compressing the free air and supplying it to your nailer by hoses. 
You may think buying an air compressor with the most capacity will be the best choice. But hold your hype on; that's not the wisest! There are other aspects that you need to consider.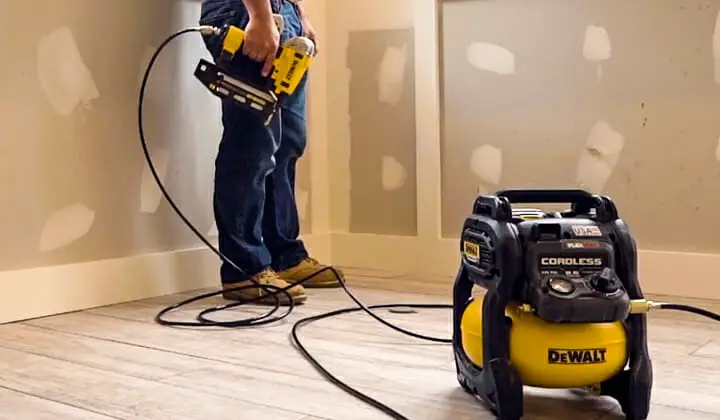 That's why this article is here to help you find the best air compressor for roofing nailers. Our best overall best pick for roofing nailers is PORTER-CABLE, and Makita Big Bore for heavy-duty work.
Best Air Compressor for Roofing Nailer Reviews
Editors Choice
Best Buy
Nice Pick
DEWALT Pancake Air Compressor, 6 Gallon, 165 PSI (DWFP55126)
Makita MAC2400 2.5 HP* Big Bore™ Air Compressor
PORTER-CABLE Air Compressor, 6-Gallon, Pancake, Oil-Free (C2002)
Editors Choice
DEWALT Pancake Air Compressor, 6 Gallon, 165 PSI (DWFP55126)
Best Buy
Makita MAC2400 2.5 HP* Big Bore™ Air Compressor
Nice Pick
PORTER-CABLE Air Compressor, 6-Gallon, Pancake, Oil-Free (C2002)
This section comprises all the aspects you need to know to assist you in your hunt for the best air compressor. Simply decide which air nailer is manufactured for you!
1. DEWALT Pancake Air Compressor, 6 Gallon, 165 PSI (DWFP55126)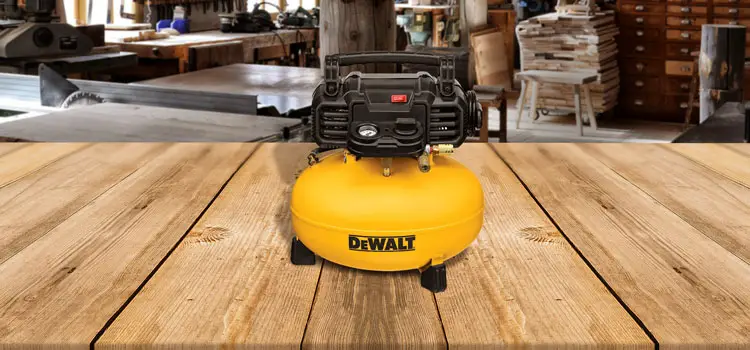 DEWALT manufacturer offers an air compressor with a total capacity of 6 gallons that provides 90-165 psi air pressure. The high productivity motor of this electric air compressor is designed to be super easy to start up even in cold weather and hose extension. You don't even need to maintain it regularly to get the max result.
In case of price, this is more economical than most air compressors and affordable to most professionals. Also, it weighs only 30 lbs, which makes storage and transportation easier. The console cover protects controls, and the protective rubber leg surfaces prevent marring. Interestingly, the outlet tube has a rerouting to avoid catch points.
You will get a 1-year limited manufacturer warranty with this air compressor. The tool has two universal couplers to support two users at a time easily. Also, the couplers and high flow regulator ensures max air tool performance.
There are no other accessories included except the tool. As it is a pancake air compressor, it isn't suitable for heavy or industrial works, and it can be noisy.
Advantages
Inexpensive
Lightweight
Requires no maintenance in operation
It starts quickly in cold weather
Supports two users
Protective covers
Disadvantages
Not for heavy-duty jobs
No accessories included
2. Makita MAC2400 Big Bore 2.5 HP Air Compressor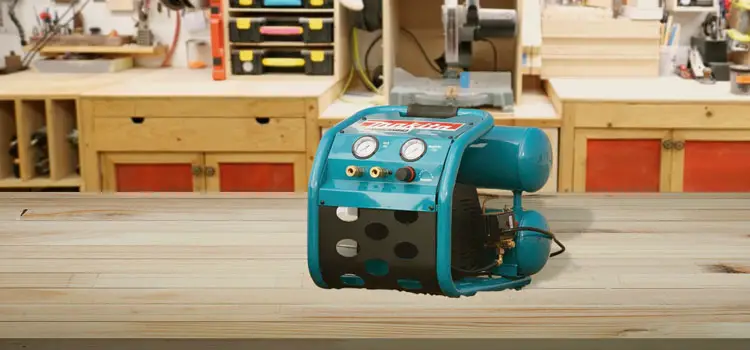 Makita brand comes with an electric-powered air compressor that delivers industrial power and results with improved durability for harsh job site conditions. It has a cast iron pump with a big bore cylinder and piston designed to provide faster recovery. Operating pressure is enough for two nailers.
For increased air intake and greater efficiency, this tool comes with a large automotive-style industrial air filter. The pump is oil-lubricated to prevent wear and run in colder temperatures.
Same as the previous air compressor, this tool also features a 1-year warranty for parts and labor. The built-in thermal overload provides additional protection for the motor. For complete protection against extreme site conditions, the air compressors are placed inside a roll cage construction.
At startup, the low AMP draw reduces incidences of tripped breakers. The compressor comes with copper-finned discharge tubes to minimize water in the tank and to dissipate increased heat.
MAC2400 air compressor features the lowest capacity of other compressors here, about 4.2 gallons. Also, it is the heaviest and most expensive compressor among others on this list.
Advantages
Industrial heavy-duty tool
Faster recovery time
Enough power for two nailers
Large air filter
Well protected
Disadvantages
Heaviest here
Lowest capacity
Most expensive
3. PORTER-CABLE Air Compressor, 6-Gallon, Pancake, Oil-Free (C2002)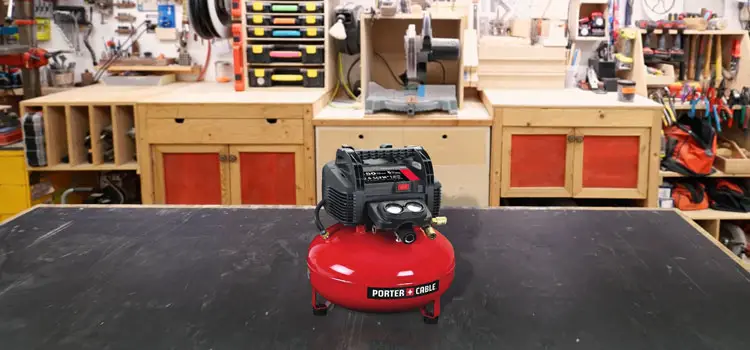 PORTER-CABLE producer provides an air compressor of 6-gallon capacity and powered by electricity like the previous compressors. This portable air compressor offers a max of 150 psi pressure and allows for quick compressor recovery time. For protection, rubber feet and a water drain valve are equipped with it. 
To support two users simultaneously, the air compressor has two regulated and factory-installed air couplers. The 120v motor of this air compressor is designed to start quickly in cold weather and with extension cords. Also, this air compressor is designed to last longer without any maintenance during the operation.
It is the most reasonable one among all other compressors on this list, costing less than 100 bucks. A 1-year warranty also backs it. Also, like the other compressors here, this one can support two tools at a time. Handle and console cover are provided for extra protection and cord wrap to carry easily.
You won't get any accessories with this air compressor. Since it is also a pancake air compressor like the first one, it is not suitable for heavy-duty jobs, and it can be very noisy.
Advantages
Affordable
Quick recovery time
No maintenance is required in operations
Well protected
Fast startup in all weather 
Disadvantages
No accessories included
Can be noisy
Can't do heavy-duty jobs
4. BOSTITCH Air Compressor Combo Kit, 2-Tool (BTFP2KIT)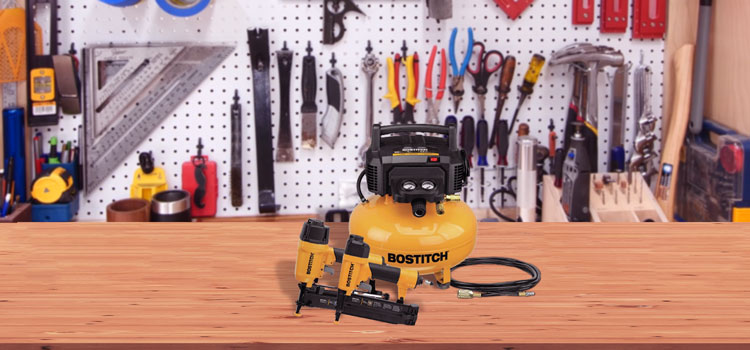 BOSTITCH manufacturers come with a combo air compressor kit, an 18 gauge brad nailer, and a 16 gauge finish nailer. Not to mention, the compressor's capacity is 6 gallons and delivers a max of 150 psi air pressure. Moreover, it also enables long tool run time and quick recovery time.
In the case of the nailers, the brad nailer supports fasteners with lengths varying from 5/8 inch to 2 inches. And the finish nailer drives straight finish nails from 1-1/4 inch to 2-1/2 inches long. The high-flow regulator ensures maximum air tool performance.
Just like all other air compressors on this list, this compressor also comes with a 1-year warranty. You will get a PVC air hose of 15ft length, including fittings. Indeed, this nailer can start the high efficient motor quickly in colder weather and hose extension over 50ft. The oil-free pump requires no assistance for the user's convenience.
It is not helpful if you already have some nailers and don't need extra ones by spending more money since they won't help in roofing. It is noisier than other air compressors on this list.
Advantages
Air compressor and two nailers included
Nailers support a wide range of nails
1-year warranty for air compressor and nailers
High efficient motor
Works well in cold weather
Disadvantages
Pricey if you already have nailers
Noisy 
Frequently Asked Questions
What size air compressor do I need for my roofing nailer?
For your roofing nail gun, an air compressor with a capacity of 6 gallons and 4.0 CFM is perfect. This size of air compressor also works fine with framing nailers and sheathing nailers. You can operate finish, brad, and pin nailers with air compressors of smaller size and capacity.
How much psi does a roofing nailer need to work well?
For the best performance, your roofing nailer needs an air pressure of more than 90 psi. Usually, you can operate the roofing nailers at a range of 90-100 psi, but sometimes they require more power to perform well.
Can a pancake compressor run a roofing nailer?
A pancake compressor can deliver a maximum of 150 psi, which is sufficient for a roofing nailer. But you will only use this air compressor for light or moderate-duty works. For a regular and heavy job, buy an industrial air compressor.
How quiet can an air compressor be?
The quietest air compressor is GSS GSOC-270C, and it produces a noise of 50 dB. Most air compressors usually have noises around 70 dB. You can wrap the motor and intake to make your compressor quieter.
Closing Statement
Regardless of buying any good compressor, you need to follow some activities regularly for the best experience with the best air compressor for roofing nailers. PeriodicallyYou check the hoses and keep the intake vents cleaned. Replace air filters when needed and drain tanks moisture often if you work in a humid environment.