An effective air compressor is immensely needed to carve out a flawless workpiece by a framing nailer. If you're looking for an air compressor for heavy-duty use, Makita MAC2400 can serve you well. If you want a compressor liable enough to provide you in regular use, BOSTITCH BTFP02012 can be the product.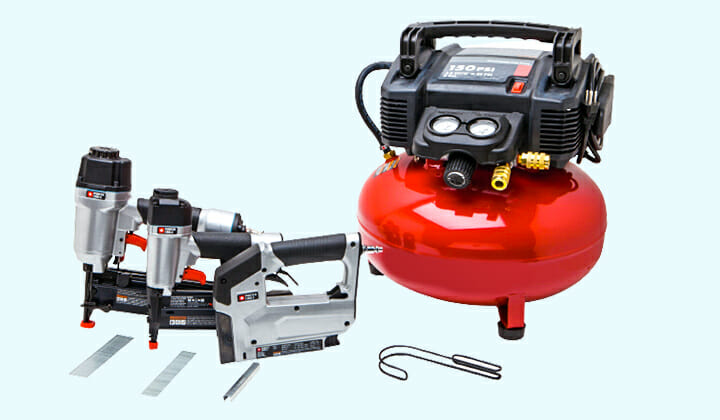 Our List of the Best Air Compressor for Framing Nailers
Editors Choice
Best Buy
Nice Pick
BOSTITCH Pancake Air Compressor, Oil-Free, 6 Gallon, 150 PSI (BTFP02012)
Bostitch Air Compressor Combo Kit, 3-Tool (BTFP3KIT) 21.1 x 19.5 x 18 inches
DEWALT Pancake Air Compressor, 6 Gallon, 165 PSI (DWFP55126)
Editors Choice
BOSTITCH Pancake Air Compressor, Oil-Free, 6 Gallon, 150 PSI (BTFP02012)
Best Buy
Bostitch Air Compressor Combo Kit, 3-Tool (BTFP3KIT) 21.1 x 19.5 x 18 inches
Nice Pick
DEWALT Pancake Air Compressor, 6 Gallon, 165 PSI (DWFP55126)
There are many air compressors available with great features. However, we listed the best four of them below according to us, calculating the qualities and potentialities to save your time and confusion a little bit. 
1. BOSTITCH Pancake Air Compressor, Oil-Free, 6 Gallon, 150 PSI (BTFP02012)-Most Dependable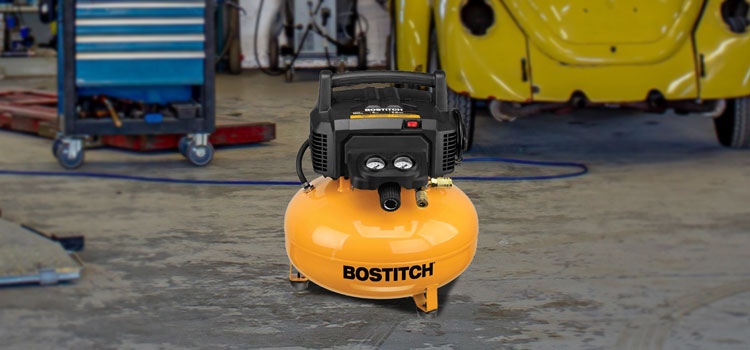 BOSTITCH BTFP02012 is a dependable air compressor with some fantastic features. This portable air compressor includes a dynamic motor that promises maximum effectiveness. 
You can quickly turn on the motor in cold weather or with the help of an extension cord. This compressor has a maintenance-free, oil-free durable pump for beneficial use. Though it has a well-constructed body, it weighs only 29 lbs. There's an easy-grip handle added for quick portability. 
For effortless condensed water drainage, a drain is also included in the compressor. The compressor provides 2.6 SCFM at 90 PSI which is perfectly compatible with most of the framing nailers. The highest operational pressure of this item is 150 PSI. So it is easy to know about the maximum runtime along with fast recovery.
The high flow regulator keeps the power rational. Thus it is a convenient compressor for both outdoor and indoor use. The lightweight design helps in a quick move as well. The maximum capacity of it is six gallons. This capacity is enough for almost all operations. The noise of this tool is 78.5 decibels which means it also ensures quiet operation. 
The package includes a 50' air hose and other tools for easy installation. It comes with two universal couplers to efficiently serve two users. The compressor is backed up with one year warranty. Though the noise level is claimed to be low, customers often complain about the product being louder. 
Pros
Includes a dynamic motor with maximum effectiveness
It weighs only 29 lbs
Grip handle for easy portability.
The highest operational power is 150 PSI.
Well constructed and long-lasting 
Oil-free pump
Includes a high-flow regulator 
Cons 
The noise level is not convenient.
2. BOSTITCH Air Compressor Combo Kit, 3-Tool (BTFP3KIT)-Most Versatile Kit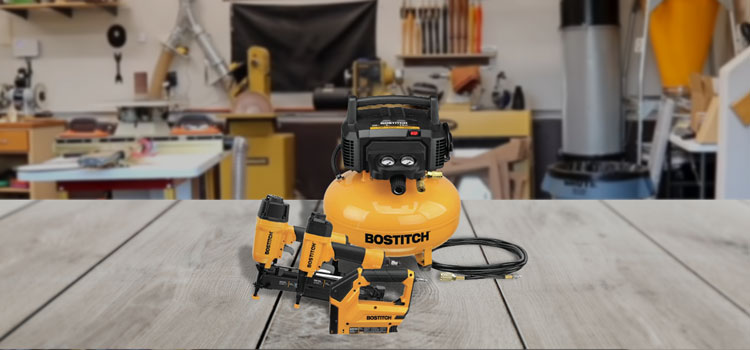 BOSTITCH BTFP3KIT is another fantastic creation of BOSTITCH, having a capacity of 6 gallons and a maximum pressure of 150 PSI. The effectiveness of this air compressor is praise-worthy. If you're looking for an ideal framing nailer with a package, this item should undoubtedly be on your list.
It is a versatile air compressor set. SB-1850BN 18 GA brad nailer added to the kit drives 18GA brad nails from 5/8-inch to 2-inch. 16 GA straight finish nails from 1-1/4-inch to 2-1/2-inch are driven by SB-1664FN 16 GA refined finish nailer. 
BTFP71875 heavy-duty 3/8-inch crown stapler drives 3/8-inch crown staples from 1/4-inch to 9/16-inch and 18GA brad nails from 1/2-inch to 5/8-inch. So it is a perfect kit for multi-purposes. The dynamic motor of the compressor provides an airspeed of 2.3 SCFM at 90 PSI. 
It includes an air hose of 15 feet which means much room is there for canny expression during work. The sturdy, durable, yet lightweight construction makes it easily portable. It is also an oil-free pump. So the maintenance is quite simple as well. 
However, the pressure is not consistent. The pressure adjustment knob is sloppy and slow in response. Some customers complain that the compressor is too loud.
Pros
It has a capacity of 6 gallons
Maximum pressure 150 PSI.
Includes a 15 feet air hose
Oil-free pump.
Cons 
Irregular pressure.
The pressure adjustment knob is slow in response.
Noisy air compressor. 
3. DEWALT Pancake Air Compressor, 6 Gallon, 165 PSI (DWFP55126)-Best for Roofing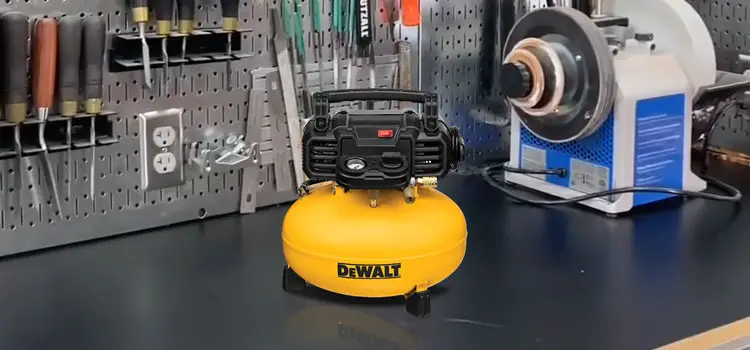 The plush features make this DEWALT DWFP55126 prominent. This is perfect if you're looking for an air compressor of roofing nailers. It has a capacity of 6 gallons as well. But the maximum pressure is 165 PSI. So it is a very effective and reliable air compressor.
This air compressor has enough room to use for various applications and to be in control of your activities fully. It provides an airspeed of 2.6 SCFM to 90 PSI. So it guarantees extended runtime and quick recovery time. The noise level of this compressor is 75.5 decibels. 
The highly efficient motor is constructed for easy start-up in cold weather or expansive cord application. It weighs only 30 lbs. The lightweight item is easy to maneuver. It is an oil-free pump. So the maintenance of this compressor is also effortless. 
The compressor provides two all-embracing couplers that mean two people can easily use it. An undemanding cord wrap is delivered with the package for easy storage. The high-flow regulator ensures its maximum performance.
The outlet tube is rerouted to assure the highest performance. It is a durable product as well. Again, the removable console cover insulates controls. On the other hand, the ball drain valve helps in fast and thorough draining. Protective rubber leg covers resist marring. However, some complain that the pressure is not regular.
Pros
Maximum pressure 165 PSI.
High efficient motor.
Lightweight and portable.
Oil-free pump.
High-flow regulator to ensure optimum performance.
The rerouted outlet tube.
A protective rubber leg cover prevents damage.
The ball drain valve ensures thorough and quick tank draining.
Cons 
Pressure is not consistent.
4. Makita MAC2400 Big Bore 2.5 HP Air Compressor-Most Efficient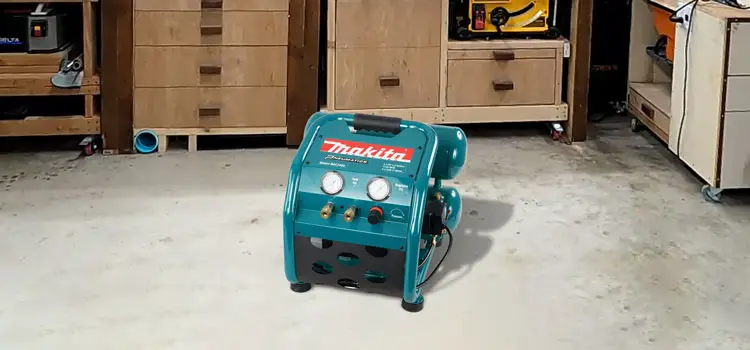 With non-negotiable power and capacity, Makita MAC2400 stands out with its compact design and potentiality. The cast iron body and a couple of big core cylinders easily catch sight. The rich characteristics of this compressor make it better than most of its competitors. 
The cylinders are removable. So you can take it into service quite easily to preserve its lifespan. The 2.5 HP motor is very effective. The included four poles produce an airspeed of 4.2 CFM at 90 PSI. Thus it can be said as the most efficient product compared with the previous three air compressors. 
Heat is dissipated through the copper-finned discharge tubing. Such cooling increases the durability of the compressor. Moreover, the low amperage operation resists breakers from slipping at startup. The machine runs at a speed of 1730 RPM that is a bit low. As a result, the pump durability is enhanced, and the operational noise is reduced. 
The oil-sight glass allows easy maintenance and boosts efficiency. This oil-lubricated pump is constructed for cooler running temperatures and prevents wear. Furthermore, it includes a ¼-inch universal fast coupler and a thermal overload for extra motor protection. 
The design and construction of this air compressor ensure the endurance of severe job site environments. The lever handle ball valve tank drain helps in easy drainage. It includes a 4.2-gallon twin-stacked tank as well. The automotive-style industrial air filter makes it a perfect choice for industrial purposes. 
However, the weight of this compressor is 77 lbs which is much higher than the other three compressors. Besides, there are too many components added on all four sides. Thus it is not so easy to maneuver. The noise level is 79 dB, which is quite loud. 
Pros
Powered by a 2.5 HP, 4-pole motor.
It has an airspeed of 4.2 CFM at 90 PSI.
The low amperage operation prevents breakers from slipping at the beginning.
It is easy maintenance due to oil-sight glass.
Copper-finned discharge tubing dissipates heat.
Idle for industrial use.
Heavy-duty cast iron body.
Cons 
Too loud.
Not easy to maneuver.
Heavy 
Here is a comparison table to help you give a quick look and compare regarding all standard features. 
| | | | | |
| --- | --- | --- | --- | --- |
| Attributes  | BOSTITCH BTFP02012 | BOSTITCH BTFP3KIT | DEWALT DWFP55126 | Makita MAC2400 |
| Capacity (gallon) | 6 | 6 | 6 | 4.2 |
| Maximum Pressure (PSI) | 150 | 150 | 165 | 130 |
| Weight (lbs) | 29 | 41.8 | 30 | 77 |
| Airspeed (CFM at 90 PSI)  | 2.6 | 2.3 | 2.6 | 4.2 |
| Noise level (dB) | 78.5 | Not known | 75.5 | 77 |
Frequently Asked Questions (FAQ)
1. What tank size is recommended for air compressors?
It depends on the project you'll use the air compressor for. Usually, for large projects, 6 gallons or 8 gallons capacity of tanks works pretty well. For small projects, 1-gallon tank capacity can go enough. 
2. Is it possible to run an air compressor on battery power?
There are various air compressors available in the market which can be run on battery power, and they serve pretty well. So the answer is yes. However, for high-powered compressors, batteries may not be efficient enough to run them regularly. Otherwise, lithium batteries work well.
3. Is it necessary to drain my air compressor after I use it each time?
Yes. To preserve the lifespan of the air compressor, it's essential to drain the air compressor after every use to prevent the inflation of water in the tank. If you don't drain your machine regularly, it can lead to corrosion. 
Last Words
Framing works are never accessible if you don't find the perfect compatible equipment. Framing nailers largely depend on the air compressor. Finding the best air compressor for framing nailers may not be a piece of cake, with so many renowned brands like BOSTITCH, DEWALT, Makita, etc., competing against each other. Get clear on purpose and choose the best air compressor for framing nailer.