True workmanship not only comes from the man but also his tool. Whether you are a DIY enthusiast or a professional craftsman, you need the right pin nailer for your project. The right pin nailer will drive the cleanest shots for the ultimate work.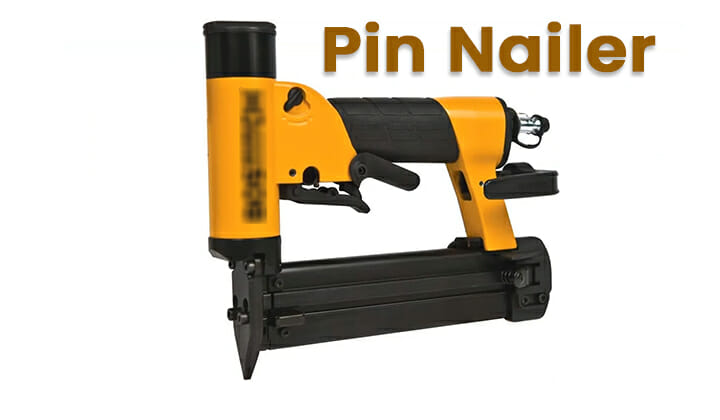 If you are looking from a professional perspective, then the BOSTITCH would be a perfect fit. But from a DIY standpoint, the Metabo HPT would be a greater option to master the tool first. The Makita AF353 would also be a great choice for this category. Let's what else has in this list of best 23 gauge pin nailers.
Titleholders for Best 23 Gauge Pin Nailer
Editors Choice
Best Buy
Nice Pick
Metabo HPT Pin Nailer Kit | 23 Gauge | Accepts Pin Nails from 5/8-Inch to 1-3/8-Inch | 5-Year Warranty | NP35A
PORTER-CABLE Pin Nailer, 23-Gauge, 1-3/8-Inch (PIN138)
NuMax SP123 Pneumatic 23-Gauge 1" Micro Pin Nailer
Editors Choice
Metabo HPT Pin Nailer Kit | 23 Gauge | Accepts Pin Nails from 5/8-Inch to 1-3/8-Inch | 5-Year Warranty | NP35A
Best Buy
PORTER-CABLE Pin Nailer, 23-Gauge, 1-3/8-Inch (PIN138)
Nice Pick
NuMax SP123 Pneumatic 23-Gauge 1" Micro Pin Nailer
Here are some of the best 23 gauge pin nailers in the market. Every aspect is present in length so that you can have a clear conscience on the matter. 
1. Metabo Hpt Pin Nailer Kit- Best DIY Tool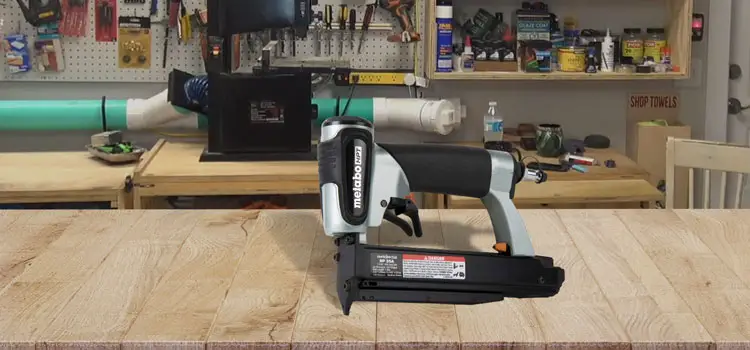 Metabo is a popular brand that focuses on power tools. Their 23 gauge pin nailer is a great option as a pneumatic power tool. Steel construction makes it a durable tool to work with. There is a dual trigger feature for safer fastening. 
It only has a weight of 2.0 lbs. You can work all day long without having to think or any arm pain. The narrow nose is ideal for doing sensitive work on smaller tasks. It is a combination of both power & versatility. Depth adjustments are available according to the surface.
The length range for the nailer is ⅝ inch to 1 ⅜ inch. You can use Metabo for a wide variety of projects for this fastener length range. Some of the more common applications would be cabinets, paneling, molding & crafting. You can also do picture frame assembly. 
The whole kit includes a carrying case, an oil bottle, and safety glasses. To put the icing on the cake, the manufacturer provides a 5-year warranty on this pin nailer. It is a great option for those in their amateur levels. 
Hard to think of any drawbacks for such an amazing pin nailer. But to get the pin, you need to remove the no-mar tip. You need to set the tip to the largest depth to drive the nails completely in. 
Pros
Lightweight build. 
Double trigger safety mechanism. 
5-year warranty.
The air pressure is decent to work with. 
Ideal for beginners. 
Cons
Can't get the pin with a no-mar tip on.
Depth adjustments need to be set to largest to work with. 
2. Porter-Cable Pin Nailer- Best Durable Tool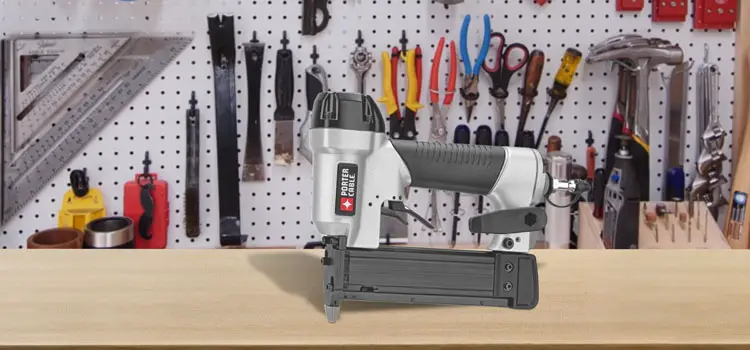 If you are looking into a more reliable brand, then Porter-Cable would come first. With an aluminum body & magazine construction, it makes the tool durable. It has a 2.2 lbs weight. You can use the machine all day long. 
The porter cable can work in a length range of ⅝ inch to 1 ⅜ inch. There is no need for oil at all for the pneumatic nailer. This keeps your workspace oil-free & prevents any sort of contamination. The motor has a long work life considering the design. 
The dry fire lock-out feature prevents users from firing when there are no nails in the tool. There is also a low nail indicator to better help you be alert when the nail is running low. There is a rear exhaust that keeps potential contaminants away from the workspace. 
But this little tool might not match with the power of Metabo. The machine comes with 2000 headless pin nails, one ¼ inch plug with cap, one wrench & a carrying case. You would receive a 3-year limited warranty & a 90 days money-back guarantee. 
You might face some issues with the nail depth. Manus users have found that the nails are not going deep enough unless you press firmly. This is especially true if you are using it with oak. 
Pros
Lightweight aluminum design.
Indicator for low nails in the magazine.
Adjusts according to fastener length
3-year warranty. 
Includes a lot of accessories. 
Cons
Average performance overall. 
Struggles to drive nails in harder wood. 
3. Numax sp123 Pneumatic 23-Gauge Micro Pin Nailer- Best Affordable Tool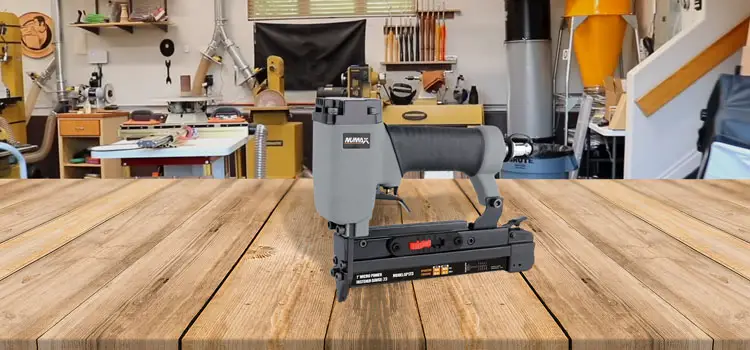 If you are looking for a more affordable option, then NuMax has got your back. Their 23 gauge nailer is one of the cheaper options in the market. But it still gives you a great output. The lightweight aluminum body construction speaks for itself. 
It has an ergonomic handle to give you a good grip. There is a trigger acting as a safety mechanism to prevent any misfiring. This pneumatic nailer has a pin length range of ½ inch to 1 inch. This is quite limited to the range of Porter Cable & Metabo. 
The trigger is specially designed for contact actuation. This ensures accurate pin placement all the time. You can do all sorts of DIY applications such as crafts, small picture frames, jewelry cases & much more. 
The operating pressure of the tool is around 60 to 100 PSI. The manufacturer offers a 1-year warranty on the tool for the users. If you have a hobby for this sort of work, then you can look into the NuMax SP123. 
The fact that it has a 1-year warranty is a great drawback. Its competitors are offering around 3 years of warranty for such a tool. Not a professional-level tool with that long-range. The magazine size is also lower with 100 nails. 
Pros
Aluminum lightweight built.
Prevents misfires. 
Ergonomic & comfortable hand grip.
Affordable price tag.
Cons
Small length range. 
Only a 1-year warranty for the tool. 
Low magazine size. 
4. Bostitch Pin Nailer- Best Professional Tool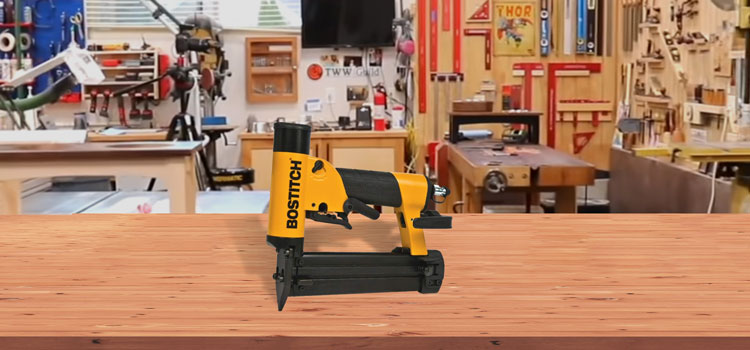 If we are strictly talking about power tools, BOSTITCH has become one of the household names. They have built a reputation among users for being reliable & high quality.  The HP118K pin nailer is no different from that. The lightweight durable aluminum structure gives it the groove. 
The nailer supports 23 gauge nail pins between a length range of ½ -Inch to 1- 3/16 – inch. This range is lower than that of Porter Cable & Metabo. But you can change the power control sets pin depth without changing the compressor settings. 
The narrow nose piece is capable of tapping down pins to contact points with clean accuracy. The over-mold grip is great to keep the tool in your hands. 200 magazine size is 19% greater pin capacity among all other competitors. 
Apart from the pin nailer, the kit includes ¼ inch air fitting, 500 each of ½ " Pins, ¾ " Pins & a carrying case. The manufacturer has a great load of confidence to give a 7-year warranty on this fantastic tool. 
The only drawback of the tool is that it's not so good when used on softwood. It has a great deal of power. For softwood, you need something more delicate. 
Pros
High magazine capacity.
Durable aluminum design. 
Drive depth controllable. 
Ergonomic grip. 
Comes with a lot of accessories.
Cons
5. Makita af353 23 Gauge- Best Overall Tool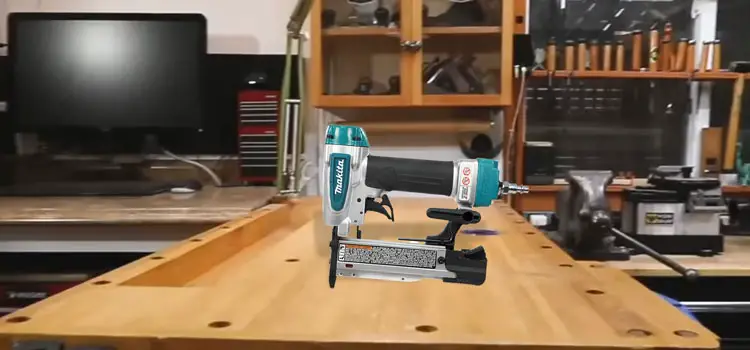 For our last pneumatic tool, we have the Makita AF353 23 gauge. The aluminum structure gives the machine a great level of durability. It weighs only 2 pounds. So you can work with it all day long without the worries of arm pain. 
You can work with headless pin sizes ranging between ⅝ inch to 1 ⅜ inch. This is quite like the Porter Cable & Metabo. There is a lain lock-out mechanism that protects the tool from blank fires. If the tool has no nails left, then the surface is also protected. 
The tool has a capacity of up to 130 nails in the magazine. This might not be at the level of BOSTITCH, but still quite decent. There is a built-in air duster that prevents any sort of debris from building up on the workspace. 
There are also 2 removable no-mar tips that are present for increased accuracy while nailing. The kit comes with safety glasses, air fitting, hex wrench & a carrying case. The manufacturer provides a 3-year warranty on the tool. 
Although this tool has all the basics, it does lack depth control. This is a key point for a pneumatic gun. It also has a hefty price tag. 
Pros
Lightweight Aluminum design. 
Misfire protection.
Comes with a lot of accessories. 
Air duster present. 
3-year warranty. 
Cons
No adjustable depth.
More expensive than others.
Attribute
Metabo HPT
PORTER- CABLE
NuMax SP123
BOSTITCH
Makita AF353
Weight
2
2.2
2.2
2.5
2
Magazine
Size
Around 150
Around 150
100
200
130
Depth Control
✓
x
x
✓
✓
Warranty
5
3
1
7
3
Frequently-Asked Questions (FAQ)
What is a 23 gauge nail?
23 gauge is a small headless pin that helps in joining wood together. These pins are of the same diameter as a sewing needle. They have a diameter of almost 0.330 millimeters. 
What should be the least pressure rating for a pneumatic nailer?
A pneumatic nailer uses pressurized air to drive nails inside surfaces. You need a certain air pressure to use these nailers. This depends on how hard the surface is. If it is a hard surface then you might consider going around 90 PSI. 
Is anything else required besides a nailer? 
To operate a pneumatic nailer, you need to get the right air compressor for the tool. The air compressor & tube is connected to the pinner. This will enable the air compressor to work in driving the nails. 
Why is there more than one trigger for some pin nailers? 
Some of the more high-end pin nailers have two triggers to operate the tool. This is a safety mechanism so that there are no misfires if you mistakenly pull one trigger. You have to pull both triggers to operate it. 
Conclusion
With so many similar features, it's hard to find the absolute right tool for your job. Narrowing down your priorities should be the best way to find the best 23 Gauge pin nailer for your project. Settle for the best one!