Slender nailer nose is the primmest of the traits to differentiate the best pin nailers from the contemporary ones. The depth control, anti-dry firing, and no jamming are the points centering which you can stick onto a model. But note that, most of the pin nailer has the same feature, but that doesn't ensure they will work the same.
Don't let the fancy description of any product bewitch you. In the quest for the best 21 gauge pin nailer, I would rather anchor myself to the Magnum MPB2150 pin nailer. It's strong, it's inexpensive and most assuringly- the customers are satisfied using it.
Some of the Best 21 Gauge Pin Nailer up to the Present
Editors Choice
Best Buy
Nice Pick
Pinner 21lxp Al Med Head 21ga
OMER MG.40 21 GAUGE 1/2" - 1-9/16" 21 GAUGE PIN AND BRAD NAILER
Magnum Industrial MPB2150 5/8" - 2" 21 Gauge Pinner/Pin Nailer/Brad Nailer
Editors Choice
Pinner 21lxp Al Med Head 21ga
Best Buy
OMER MG.40 21 GAUGE 1/2" - 1-9/16" 21 GAUGE PIN AND BRAD NAILER
Nice Pick
Magnum Industrial MPB2150 5/8" - 2" 21 Gauge Pinner/Pin Nailer/Brad Nailer
Put an end to the confusion and time-consuming comparison between hundreds of products. To save your time, we have sorted out some of the best gauge pin nailers that are dominating the markets. 
1. Pinner 21lxp Al Med Head 21ga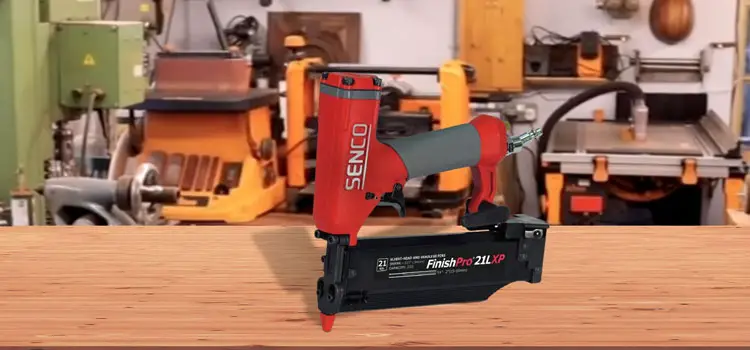 Senco manufactures a super-strong pin nailer that is ideal for the 21 gauge pins. The industrial strength of this nailer can do decorative trimming, paneling, finishing with ease. This powerful nailer ensures the complete drive of the pins into hard objects smoothly.
As the power source of this nailer is compressed air, you don't need to use electricity or carry heavy wires. You can even use both short and long pins as the magazine automatically adjusts for different fastener lengths. Plus, it can hold 170 pins at a time in the magazine.
For working on mill works and tight corners easily, the nailer's nose is designed ultra-narrow. The ergonomic configuration of the handle allows all-day nailing operation. Furthermore, it relieves hand fatigue and makes gripping more comfortable.
Besides, a good term warranty is provided with this product. This nailer comes with a reversible belt hook and a jam clearing wrench. To prevent dry-firing, the nailer automatically gets locked when the magazine has only one pin left.
When running for an extended period, the nailer jams from time to time. This nailer has the highest price on this list. An air compressor is required to operate it.
Positive Features 
Suitable for different 21 gauge pin length
Ergonomic handle makes work comfortable
Comes with an anti-air-dry system
No need to use electricity
Easy access to corner jobs
Negative Features
Can't operate without an air compressor
It is the most expensive among our picks
Sometimes the nailer gets jammed
2. Omer MG.40 21 Gauge 1/2″ – 1-9/16″ 21 Gauge Pin and Brad Nailer
Omer brand features a gauge pin nailer that does not only supports 21 gauge pins but also M-series brads from ½ inch to 1-9/16 inches. This commercial-grade strong nailer is made in Italy and it is a great tool for a variety of works like paneling, furniture making, decorative woodworking, and so on.
Just like the previous pin nailer, this nailer is also powered by air. So, you don't need to carry cords or find an electrical outlet. You don't even need to buy a pricey air compressor for this nailer as it requires only 70-110 psi working pressure.
You will get a one-year warranty with this product. The nailer's nose is made ultra-narrow that allows precise aims even in narrow corners. This product includes a wrench and oil for emergency usage. For the safety of the nose, a plastic tip is also provided. It also comes with an anti-dry fire mechanism for safer work.
Only 150 gauge pins can be held by the magazine of this nailer. It doesn't have any depth control mechanism or rear exhaustion. They don't provide any case or bag with this product. 
Positive Features 
Different lengths of pins and brads can be used
It has the lightest weight on this list
You don't need electricity for this
One year warranty
Accurate aims with the narrow nose
Has anti-dry fire mechanism
Negative Features
No depth control feature
The magazine can hold less amount of pin than others
No case or bag for safe storage
3. Magnum Industrial mpb2150 5/8″ – 2″ 21 Gauge Air Pinner/Pin Nailer/Brad Nailer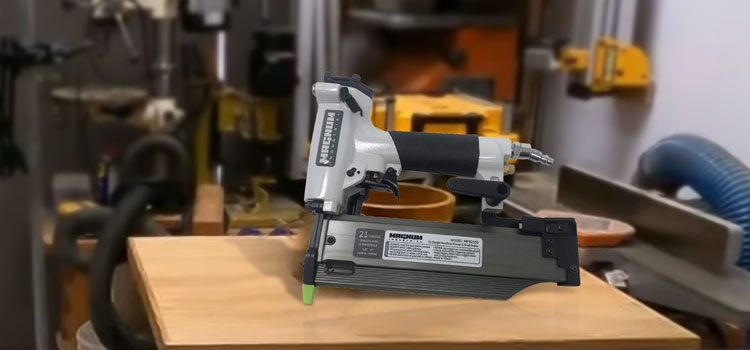 Magnum produces the best cordless pin nailer that supports 21 gauge pins as well as brads ranging in length from 5/8 inch to 2 inches. It is a perfect tool to work on furniture, wood decoration, trimming, beading, and many other crafting works. 
Having an anti-dry fire system makes this nailer safe. There is also a soft plastic nose tip for safety. The magazine can hold up to 200 pins. This pin nailer is also pneumatic or air-powered, thus it doesn't need electricity. Inside the nailer, there is a built-in air duster or blowgun. 
Similar to the other pin nailers on the list, this one also has a fine precision nose for precise aiming. This metal nailer ensures the pins drive into all hardwoods. It needs only 70-100 psi working pressure, which means you don't need a costly air compressor.
The handle is wrapped with a soft cushion to make gripping comfortable. This is an inexpensive nailer; the price is almost 100 dollars less than the nailer from the Senco brand. Moreover, it comes with a belt hook and blows modeled plastic case to store the nailer safe and soundly anywhere. 
The weight of this nailer is heavier than the previous ones.
Positive Features 
A case and belt hook are included
Accepts different pin and brad length sizes
Has anti-dry fire mechanism
Reasonable, thus the best pin nailer for the money
Has built-in blowgun
Slender nose ensures precise pin drives
Negative Features
It is the heaviest nailer on this list
Frequently Asked Questions (FAQ)
1. Why do I need 21 gauge pins?
23 gauge pins are not that strong, but 18 gauge pins can destroy your workpiece. But being in the middle ground, 21 gauge pins can solve this problem as they are small in size but stronger than 23 gauge pins.
2. Is there any difference between pin nailer and brad/finish nailer?
The main difference between pin nailer vs finish nailer is the trigger modes. While the finish or brad nailer has multiple trigger modes, the pin nailer has only one mode. The magazine capacity is also higher for the pin nailers.
Closing Statement
Woodworking is so delicate in nature; if you mess up and edge the entire work may fail. If you work with traditional tools, there are more chances that the workpiece you are working on will get damaged. Hence cart your nailer keeping your workpiece in the middle of consideration.