Narrow or delicate workpieces need more care. You wouldn't want to accidentally make a hole that might crack or leave a bad mark on the piece. That's where brad nailer comes in. The best 18 gauge brad nailer will produce a smooth finish without damaging or leaving any spot on the surface.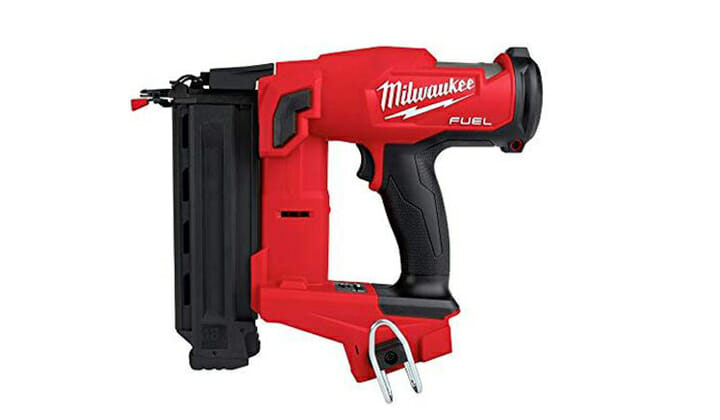 You can choose the WEN 61720 18 gauge brad nailer if you want portability along with the best results. You can also go for DEWALT or Metabo's brad nailer if you want more precision in your work.
Best 18 Gauge Brad Nailer
Editors Choice
Best Buy
Nice Pick
WEN 61720 3/4-Inch to 2-Inch 18-Gauge Brad Nailer
DEWALT Brad Nailer Kit, 18GA, 2-Inch (DWFP12231)
Hitachi NT50AE2 18-Gauge 5/8-Inch to 2-Inch Brad Nailer
Editors Choice
WEN 61720 3/4-Inch to 2-Inch 18-Gauge Brad Nailer
Best Buy
DEWALT Brad Nailer Kit, 18GA, 2-Inch (DWFP12231)
Nice Pick
Hitachi NT50AE2 18-Gauge 5/8-Inch to 2-Inch Brad Nailer
There are many options for you to choose from if you are going to buy a brad nailer. Below are some of the best choices you can consider.
1. WEN 61720 3/4-Inch to 2-Inch 18-Gauge Brad Nailer | Best for Portability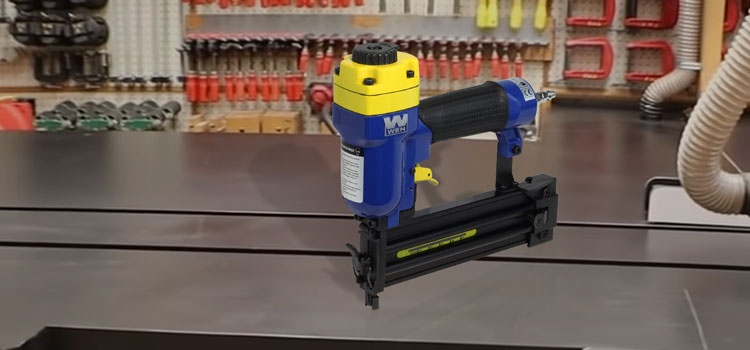 The WEN 61720 18 gauge brad nailer is a name of reliability and performance. In case you are stressed out with the issue of nail jamming, you don't have to be anymore with this brad nailer at your disposal. Not only that, the many other features this nailer offers make it one of the most valuable brad nailers out there.
It does not matter where you are working. The WEN 61720 brad nailer is perfectly portable. This is because of its lightweight aluminum construction weighing only 3 pounds. Not to mention, the comfortable rubber-grip handle will make your work a breeze.
Being a pneumatic gun, you can operate your WEN 18 gauge brad nailer at anywhere from 60 PSI to 100 PSI. The pressure is enough to get you through to any task you will be facing. If you are worried about jam issues, you will be relieved to know that the quick-release mechanism never allows such matters.
The features include a unique adjustable exhaust port and a depth adjustment wheel for correct feed. The product comes with a durable blow mold case and a one-year warranty. If you want flawless results with practically no backlash, then this is your pick.
However, its trigger management is very delicate. Sometimes the brads are released at an unpredictable angle.
Pros
Lightweight construction.
Adjustable exhaust port.
Cons
2. DEWALT Brad Nailer Kit, 18GA, 5/8-Inch to 2-Inch (DWFP12231) | Best for Maneuverability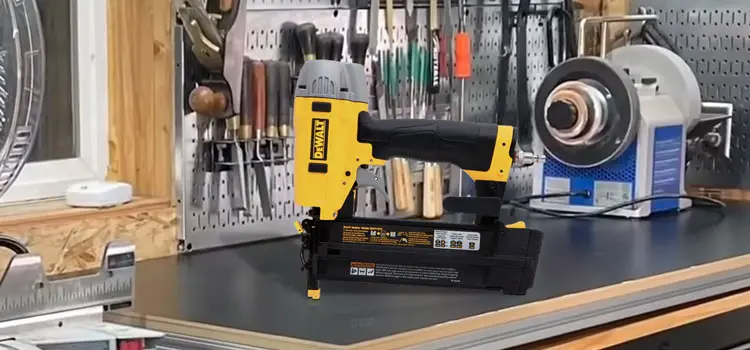 DEWALT is a brand name known for top-notch products that offer both efficiency and reliability. Their pneumatic 18 GA brad nailer kit is made for exactly what it is supposed to do in that process. This is always the right tool for your small trimming jobs and such.
This one offers enough air pressure as a pneumatic brad nailer, generating enough power to go through softwoods. It drives nails from 5/8" to 2" in length, giving you more options to work with. The sequential trigger type allows you to do your job more smoothly than ever.
The features include an adjustable belt hook. It allows the tool to keep near the user. Besides, you can easily countersink the nails with the help of tool-free depth adjustment. Most importantly, the tool-free jam release mechanism lets you remove the nails easily.
Another notable aspect of this pneumatic nail gun is its lightweight body made of magnesium. It offers increased durability and long life. Not to mention, the rubber grip is there for comfortable use without fatigue.
On the downside, this brad nailer does not offer contact trigger action. In other words, it does not fire repeatedly. This causes inconvenience in many cases.
Pros
Free motor.
Tool-free jam release mechanism.
Cons
It only allows one trigger mode.
3. Hitachi NT50AE2 18-Gauge 5/8-Inch to 2-Inch Brad Nailer | Best for Professional Use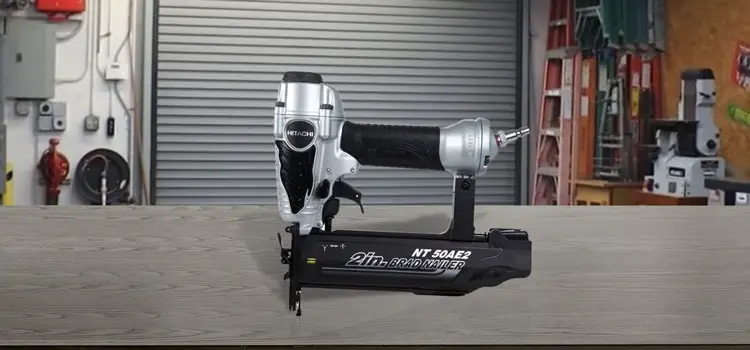 The Metabo HPT 18 Gauge Brad Nailer's simple yet effective design makes it a favorite among professionals. You will love the way this pneumatic gun punches nails and aids you in executing a clear finish. The value and quality combined make this product worthy.
Weighing only 2.2 pounds,  this brad nailer reduces fatigue from prolonged use and increases maneuverability. This allows you to use this gun in continuous and delicate tasks where you need a clean finish. Moreover, the elastomer grips are there for added comfort.
The tool offers a tool-free depth of drive adjustment that helps you do the job like a pro. You can efficiently address the issue of nail jamming by quickly clearing the nose and extracting the nails. 
The Metabo HPT 18 gauge brad nailer is one of a kind. This one is more lightweight and costs less than the Metabo HPT brad nailer kit and Bostitch brad nailer kit. You will not find a better option in this price range that offers both better versatility and performance.
However, this brad nailer sometimes leaves marks larger than the trim nail despite all those exquisite features. The dents are unacceptable where you need a delicate and smooth finish.
Pros
Dual firing options.
High capacity magazine.
Cons
4. Makita AF506 2″ Brad Nailer, 18 Gauge | Best for Precision and Power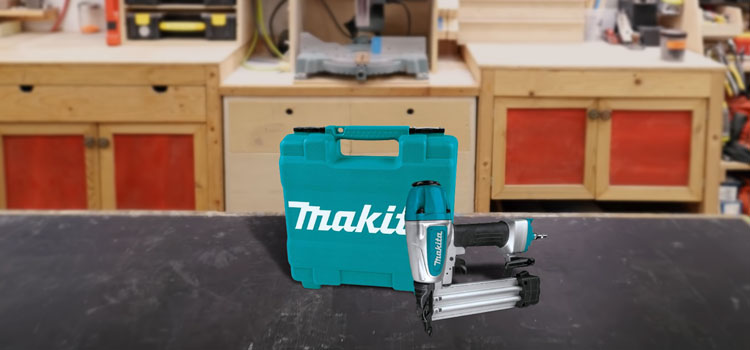 The 18 gauge brad nailer from Makita is a product that has certain features that make it alluring. Whether it's a do-it-yourself or expert job, this brad nailer has a powerful motor strong enough to serve the purpose.
The Makita 18 gauge brad nailer incorporates a powerful and efficient motor. It comes with such a design to offer maximum power output to execute the job correctly. It drives a range of 18 gauge brad nails from 5/8' to 2". Therefore, it is suitable for soft or hardwood applications.
This tool has a body, magazine, and cylinder made of aluminum. As a result, the pneumatic gun itself is lightweight, allowing you to work more conveniently. This also offers more strength and durability, making the product long-lasting. And arguably, this is one of the most versatile pneumatic nailers on the market.
Not to mention, with the Makita brad nailer, you can countersink nails and carry out precise flushes thanks to the tool-free depth adjustment. When your work surface gets dusty, you can rest assured as the built-in air duster will come into play at that moment. Compared to the products in the same price range, this one offers more versatility and power.
However, the plastic box it comes with feels cheap. Also, this brad nailer does not come with the rapid firing feature.
Pros
Powerful motor.
Lightweight build.
Cons
It does not have the rapid firing mode.
5. SENCO FinishPro® 18MG, 2-1/8″ 18-Gauge Brad Nailer (ProSeries) | Best for Beginners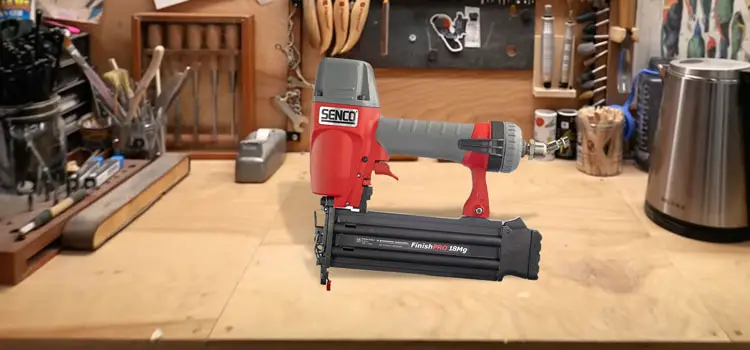 The Senco FinishPro 18 Gauge Brad Nailer is an excellent tool that offers outstanding durability along with fast performance. The versatility of this finish nailer allows it to be used in all delicate finish and trim applications. Therefore, it is deemed as the perfect nailer for such purposes.
Regarding the build, it is demanding yet lightweight, thanks to its rugged internal design. Moreover, the users can easily handle the tool as the grip is comfortable and eases fatigue. The ergonomic design and smooth finish make it a popular choice among beginners and professionals alike.
The FinishPro is another name for precision and accuracy. It features an adjustable depth of drive that allows you to drive precisely according to your choice. This brad nailer also features a rear exhaust that you can adjust according to your comfort.
Another unique aspect of the Senco FinishPro is its oil-free operation. It prevents any kind of damage and mess caused by oil spills. All these features, along with the improved selectable trigger, make this finish nailer worthy.
The magazine quality is not up to the mark as it is plastic made. Also, jamming issues are not uncommon with this one.
Pros
Lightweight magnesium build.
Oil-free operation.
Cons
Electric vs Pneumatic Brad Nailer- Which is better?
There are pros and cons to all styles and even subcategories. To choose the best brad nailer, you must understand how each one works, as well as its benefits and drawbacks.
With a pneumatic nailer, nails are driven into workpieces by compressed air. A variety of styles are available, varying from exterior framing nailers to brad nailers to pin nailers.
On the other hand, fasteners are fired by electricity in electric brad nailers. Both corded and cordless versions are available.
The user must connect corded nailers to an outlet or extension cord. Users will never have to swap out batteries or power sources, so workflows are less disrupted.
Most homeowners find cordless brad nailers to be an excellent option since they use batteries and are portable. A battery-powered cordless brad nailer is an ideal purchase because homeowners are unlikely to drive a thousand nails a day.
Frequently Asked Questions
How do I know that I need an 18 gauge brad nailer?
The 18 gauge nails are the thinnest among its kinds. These nails are suitable for more delicate pieces of wood while avoiding splitting. These finish nailers are best used in baseboard shoe moldings or cover moldings.
How much does an 18 gauge brad nailer cost?
Depending on the brand, the price varies between $100 to $440 for a cordless brad nailer only or kit. The cost of the pneumatic brad nailers varies from $50 to $390 in general.
Conclusion
Brad nailers are abundant in the market. While picking the right one – brand reputation, warranty, and last but not least- your requirements should share enough light. Compromising the quality for the price is not a good idea. Nail gun size, the abundance of features, durability, and power are some of the factors you should never miss out on while buying one.