When it comes to finish-nailers, one size will not fit all carpentry and woodworking applications. However, a 16 gauge finish nailer is typically more versatile and can be used for a variety of tasks. If you are always busy with trimming jobs and cannot afford to own multiple guns, a 16 gauge finish nailer should be a wise pick in this case.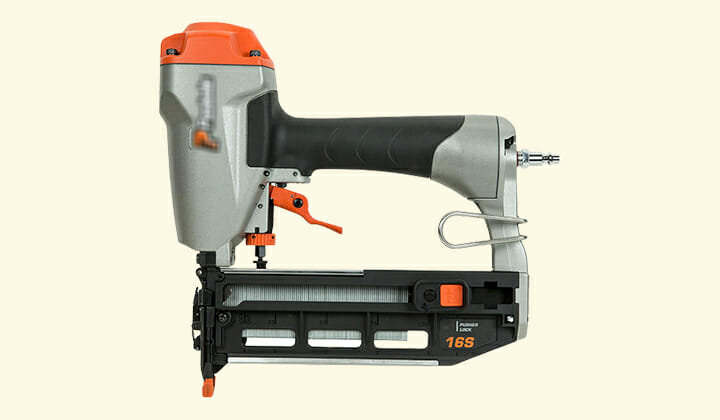 The NuMax SFN64 16 gauge finish nailer is what you should go with if you want a reasonable yet effective option for your DIY projects. However, if you want to do heavier jobs and you do not mind spending a little more, then you can go for either Metabo HPT NT65MA4 or DEWALT 16 gauge angled finish nailer.
Best 16 Gauge Finish Nailer for you
Editors Choice
Best Buy
Nice Pick
NuMax SFN64 Pneumatic 16-Gauge 2-1/2" Straight Finish Nailer
Metabo HPT Finish Nailer Kit | 16 Gauge | Accepts 1-Inch up to 2-1/2-Inch Finish Nails | Integrated Air Duster | 5-Year Warranty | NT65M2S
DEWALT 20V MAX* XR Finish Nailer, Angled, 16GA (DCN660D1)
Editors Choice
NuMax SFN64 Pneumatic 16-Gauge 2-1/2" Straight Finish Nailer
Best Buy
Metabo HPT Finish Nailer Kit | 16 Gauge | Accepts 1-Inch up to 2-1/2-Inch Finish Nails | Integrated Air Duster | 5-Year Warranty | NT65M2S
Nice Pick
DEWALT 20V MAX* XR Finish Nailer, Angled, 16GA (DCN660D1)
Several top-quality 16 gauge finish nailers are available in the market that can make you unsure on which to choose. We have sorted out the best ones according to your need so you won't get lost.
1. NuMax SFN64 Pneumatic 16-Gauge 2-1/2″ Straight Finish Nailer Ergonomic and Lightweight Nail Gun – Best Value for Money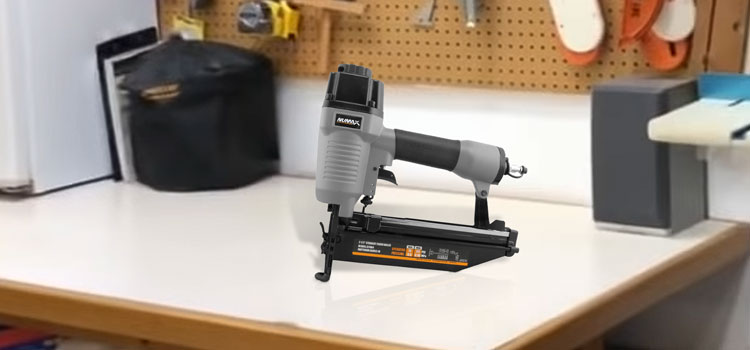 The NuMax SFN64 Pneumatic 16 Gauge Finish Nailer is a work of art. The manufacturers have used the most durable materials under strict control guidelines to ensure maximum quality. For professionals or DIY enthusiasts, this pneumatic gun is a great tool to have in possession.
This finish nailer from NuMax offers you sublime durability and a lightweight design thanks to its aluminum body. Home or workstation, you can carry it with you anywhere. On top of that, the ergonomic grip handle adds to your comfort.
Additional features include a no-mar tip, which helps you avoid dents and dings. This sublime pneumatic finish nailer also addresses the issue of nail jamming which is the cause of headaches for many. The quick jam release of this tool eliminates any possibility of nail jamming.
The 16 gauge pneumatic gun from NuMax is a name of reliability and performance. Compared to other popular brands such as Makita, Senco, Hitachi, etc. this nailer is just as efficient given its price. The outstanding value coupled with top-tier customer service makes it a popular choice among many.
However, there is no distinct way to tell when you will be out of nails. This often causes misfiring issues. Also, this pneumatic gun is not suitable for professional applications as advertised.
Pros
Great value for money.
Sturdy aluminum build.
Easy to use.
Cons
2. Metabo HPT Finish Nailer Kit, 16 Gauge, Finish Nails – 1-Inch up to 2-1/2-Inch, Integrated Air Duster (NT65M2S) – Best for Professional Use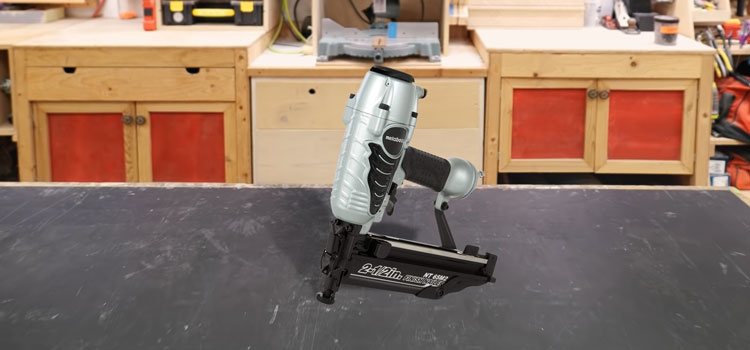 The Metabo HPT 16 Gauge Finish Nailer's simple yet effective design makes it a favorite among professionals. You are bound to love the way this pneumatic gun punches nails and aids you in heavy tasks. The value and quality combined make this product worthy.
Built with a lightweight design, the Metabo HPT reduces fatigue from prolonged use and increases maneuverability. This allows you to use this gun in heavy tasks such as installing molding, cabinetry, and other finishing jobs.
As for the features, the tool offers a tool-free depth of drive adjustment that helps you do the job like a pro. Also, the exhaust is a 360° adjustable port that can direct air away from your work area. Apart from a no-mar tip, another interesting feature is the air duster. This will blow away the dust and keep the work surface clean.
The Metabo HPT NT65MA4 16 gauge finish nailer is one of a kind. Compared to the Metabo HPT Pro, this one is more lightweight and costs less. You will not find a better option in this price range that offers both better versatility and performance.
On the downside, placing the next nail in position may prove to be difficult. Also, the weight might be an issue for many who have switched to this tool from a lighter one.
Pros
Lightweight design.
Adjustable exhaust port.
Air duster.
Cons
Ineffective nail placement system.
3. DEWALT 20V MAX XR Finish Nailer, Angled, 16GA (DCN660D1)- Best for Heavy Duty Use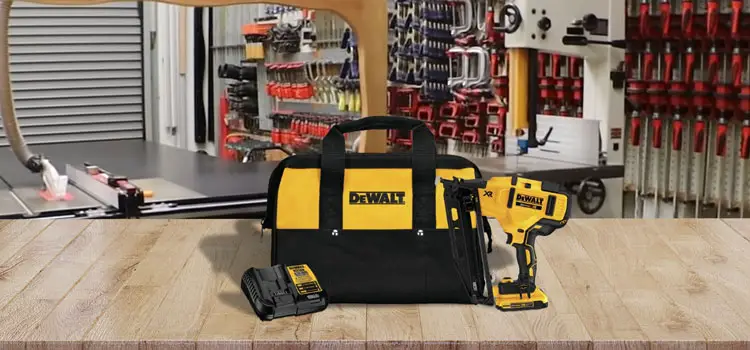 This one is a cordless finish nailer, that eliminates the hassle of hose, gas, and compressor. The tool is 100% battery-powered and much easier to deal with. If your job requires you to move from place to place, this finish nailer will undoubtedly come in handy.
DEWALT 16 gauge angled finish nailer has an increased runtime and durability thanks to its brushless motor. To top that, you can alter between actuation mode without any tool. The selectable trigger allows you to go either contact or sequential mode.
Moreover, the countersinking of nails has never been easier with the introduction of tool-free depth adjustment. Most importantly, this nailer addresses the issue of nail jamming quite effectively. The jam release mechanism is tool-free and quick, adding to your ease of operation.
Another intriguing feature is the stall release lever that is completely tool-free. This helps you to swiftly reset the driver blade. Also, you can easily control the attachment type with the help of the adjustable belt hook depending on your preference.
One of the demerits is its off-brand finish nails that come with it. Sometimes they backfire and damage the tip.
Pros
Selectable trigger.
Stall release lever.
Jam release mechanism.
Cons
4. Makita AF601 16 Gauge, 2-1/2″ Straight Finish Nailer – Best for Precision and Power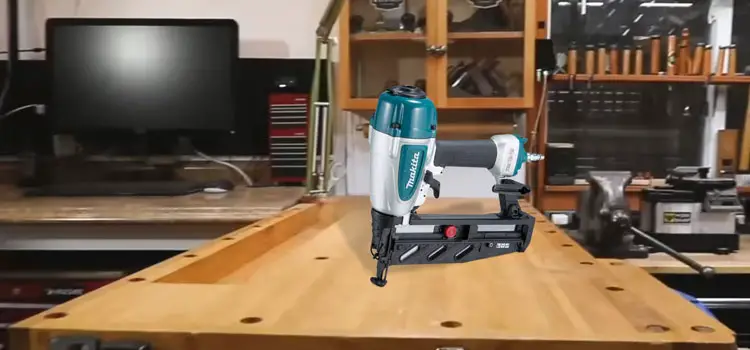 The 16 gauge finish nailer from Makita is a product that will certainly fill you with satisfaction. Each press on the trigger will bring you joy like none other. Whether it's a do-it-yourself or expert job, this finish nailer is powerful enough to serve the purpose.
Makita 16 gauge finish nailer incorporates a powerful and efficient motor. It is designed to offer maximum power output to execute the job properly. That is why you will find this tool to be very easy to deal with.
The tool offers all the basic modes that you will ever need to get a smooth execution of the job. For instance, dry firing is an issue that many have to face with their finish nailers. But Makita's nail lock mechanism allows it to prevent dry fires and protect the tool and work surface.
Moreover, you can effectively countersink nails and carry out precise flushes thanks to the tool-free depth adjustment. When your work surface gets dusty, you can rest assured as the built-in air duster will come into play at that moment. Compared to the products in the same price range such as Metabo HPT Pro, this one offers more versatility and power.
The anti-mar tip is a downside of this great finish nailer. It's a rubbery plastic tip that feels loose and cheap.
Pros
Powerful finish nailer.
Great value for money.
Tool-free depth adjustment.
Cons
5. BOSTITCH Finish Nailer Kit, 16GA, Smart Point (BTFP71917) – Best for DIY Projects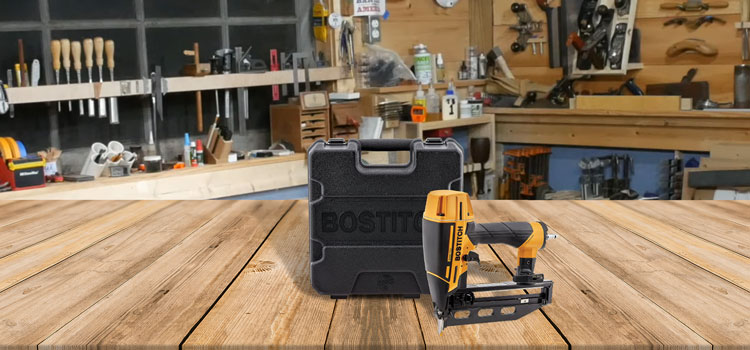 The BOSTITCH 16  finish nailer is another one of the sublime pneumatic guns on our list. The tool is extremely easy to use and user-friendly. You can do any DIY or professional job starting from molding, carpentry to other finishing projects with this excellent tool.
The BOSTITCH 16 gauge finish nailer includes all the necessary features that are enough to attract your attention. The most intriguing of them is the oil-free operation. You will not be exposed to dangerous situations due to the oil stains thanks to that.
This 16 gauge finish nailer has another basic yet important feature that is the jam release mechanism. Unlike many contemporary finish nailers, this one's jam release is effective and does not feel cheap. You can easily remove the nails to prevent damage to the tool and work surface.
As for the countersinking of nails, this nailer utilizes a Dial-A-Depth control. Therefore, you get precision and perfect output out of this nailer. Also, the selectable trigger system allows you to go either contact mode or sequential mode. This gives you more control over what you are doing.
However, the no-mar tip leaves dents. Also, there have been issues with the nails not being driven deep enough. Jamming issues are not completely resolved either.
Pros
Oil-free operation.
Dial-A-Depth control.
7 years of warranty.
Cons
Frequently Asked Questions
1. Is a 16 gauge nailer better than a 15 gauge nailer?
16 gauge nailers offer more versatility and can be used in situations where you don't have any other options. They also ensure a superior bond compared to the 15 gauge nailers.
2. Can I use my 16 gauge finish nailer for framing?
16 gauge finish nailers fire thicker nails compared to framing nailers. On the other hand, framing requires much thinner and shorter nails. Therefore, it is not a good idea to use 16 gauge finish nailers for framing.
Conclusion
A 16 gauge finish nailer can be a safe and versatile choice for many projects where you are unsure about which size of finish nailer to buy. Before you choose to opt for one, make sure you check the gauge sizes and revise exactly what size you need. You may also have to check the nail options for a particular nailer to see if other brands of nails fit it.