Regarded as the most convenient and all-purpose nailer, the 15 gauge finish nailers are widely used. The best 15 gauge finish nailer is not just a power tool used for nailing, it also gives a coherent look to the finished job.
The 15 gauge nailers can be used in a variety of working scenarios, whether professional or basic. The Metabo HPT NT65MA4 and the Makita AF635 specifically stand out most due to their excellent build quality and a wide variety of features. Either way, you will know your product once you finish this article.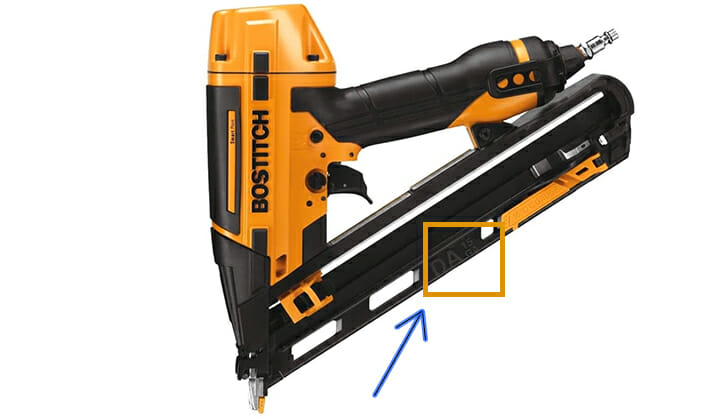 Best 15 Gauge Finish Nailer for You
Editors Choice
Best Buy
Nice Pick
Metabo HPT Angled Finish Nailer Kit | 15 Gauge | Pneumatic | Accepts Finish Nails 1-1/4-Inch up to 2-1/2-Inch | Integrated Air Duster | 5-Year Warranty | NT65MA4
Hitachi NT65MA4 1-1/4 Inch to 2-1/2 Inch 15-Gauge Angled Finish Nailer with Air Duster
Senco 4G0001N FinishPro 42XP 15 Gauge 1-1/4" To 2-1/2" Finish Nailer
Editors Choice
Metabo HPT Angled Finish Nailer Kit | 15 Gauge | Pneumatic | Accepts Finish Nails 1-1/4-Inch up to 2-1/2-Inch | Integrated Air Duster | 5-Year Warranty | NT65MA4
Best Buy
Hitachi NT65MA4 1-1/4 Inch to 2-1/2 Inch 15-Gauge Angled Finish Nailer with Air Duster
Nice Pick
Senco 4G0001N FinishPro 42XP 15 Gauge 1-1/4" To 2-1/2" Finish Nailer
There are several 15 gauge finish nailer models in the market. Not all are of the same quality. This section covers the most competent ones.
1. Metabo Hpt Finish Nailer Kit, 15 Gauge, Pneumatic, Angled, Finish Nails 1-1/4-Inch up to 2-1/2-Inch, Integrated Air Duster, Selective Actuation Switch (nt65ma4) – Best For Maneuverability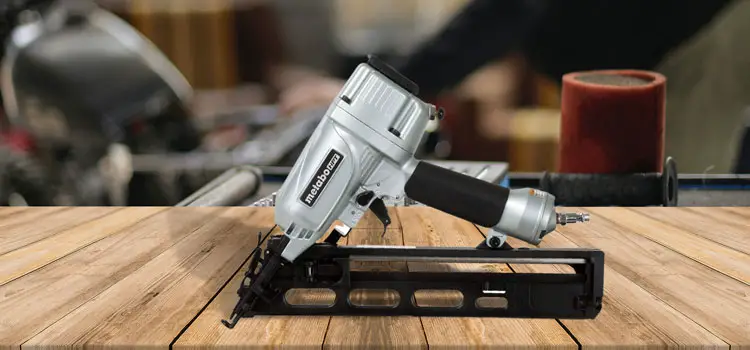 The Metabo HPT 15 gauge angled finish nailer is in short, a work of art. Installing crown and base moldings window and door casings, cabinets, staircases are no longer tiresome with this tool at your disposal.
This handy tool does its job smoothly thanks to its selective actuation switch. Whether you want to go for sequential or contact nailing, Metabo HPT's trigger does it with ease. Not to mention the depth of the drive dial is tool-free and it adjusts for flush fastening into various materials.
The most charming aspect of this tool is its maneuverability. This pneumatic gun is super lightweight and you can carry it with your to anywhere you need. Doing intricate projects won't make you feel any fatigue anymore.
The NT65MA4 finish nailer has more positive reviews than the other Metabo HPT product NT65M2S. Compared to its competitors, it is a value for money. Coupled with the ergonomic design, the operational excellence it offers makes it one of the best finish nailers out there.
On the downside, the gun has a bit of misfiring issues. Moreover, the foot of the gun may feel awkwardly big when applying it to a tight corner.
Pros
Maneuverability.
Quick nail extraction system.
Cons
2. Hitachi nt65ma4 1-1/4 Inch to 2-1/2 Inch 15-Gauge Angled Finish Nailer With Air Duster-Best for Operating in Tight Angles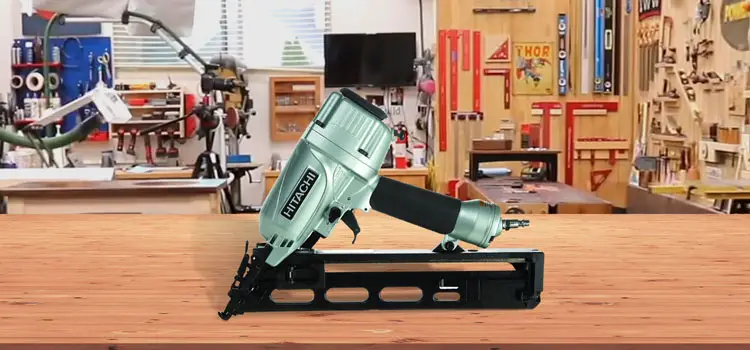 The NT65MA4 is Hitachi's 15 gauge angled finish nailer. This tool is especially effective for working in tight angles. Moldings, casings, doors, staircases, or cabinets, you can use this sublime tool with great maneuverability and ease.
One of the most unique features that you don't see in other nailers is the air duster. Hitachi used their advanced technology to develop a unique air duster button on the NT65MA4. You can easily clear away the debris and dust from the work surface and keep it clean.
Moreover, you get a tool-free depth of drive adjustment. You can effortlessly reach it under the non-slip elastomer grip trigger. The pneumatic gun also has a 360° fully adjustable exhaust. The user can direct it away conveniently so that dust and debris are avoided.
The NT65MA4 weighs only 4.2 pounds, making it one of the most lightweight pneumatic guns out there. Adding to that, the rubber grip and large magazine angle let the user work more efficiently.
However, if you forget to reload, the gun will dry fire. This will create an unwanted hole in the work surface. Also, the noise might be too much for many to handle.
Pros
Cons
3. Senco 4g0001n Finishpro 42xp 15 Gauge 1-1/4″ to 2-1/2″ Finish Nailer- Best For Professional Applications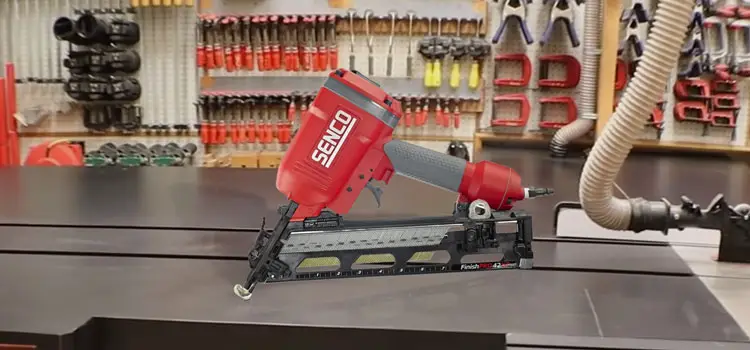 The Senco 42XP 15 gauge finish nailer is the name of precision and reliance for professional carpenters. Coupled with supreme durability and comfort, this heavy-duty nailer is great for multiple purposes such as trimming and finishing. 
The 42XP finish nailer does its job brilliantly even with the hardest of woods, moldings, cabinets, casings, etc. Regardless of the type of the job, a professional carpenter can use it without worrying about any type of wear and tear.
Professionals prioritize safety over anything. The 42XP features a lightweight, yet tough construction. The premium custom grip along with the ergonomic design makes the user feel safe and work with more comfort. 
The magazine has a capacity of 104 nailers, eliminating the hassle of frequent reloading. Many 15-gauge finish nailers in the market at the same price point will have misfiring issues. However, the 42XP resists misfiring and double nailing, making it perfect for professional applications.
The rubber grip is kind of a letdown, as it might lose its grip on the handle and start spinning. Moreover, firing nails might become troublesome as the nose needs to be in contact with the surface in a specific way.
Pros
Heavy-duty finish nailer.
Lightweight.
Cons
4. Makita af635 15 Gauge, 2-1/2″ Angled Finish Nailer, 34⁰,- Best For Powerful Applications
The Makita AF635 15 gauge finish nailer is a tool that has achieved near perfection thanks to the advanced technology applied. It offers a variety of features and functions to compel its users to keep using it. With increased control and precision, this finish nailer provides durability and power as well.
The AF635 is unlike your generic finish nailers. The gun has a rear-loading magazine that accepts standard DA style, allowing you to work in tighter angles. Moreover, you can easily extract the nails thanks to its tool-free and easy-to-clear nose. 
You will have unprecedented control over the nailing operation thanks to the 2-mode selector switch. There is also an exhaust port that can drive the air away in different directions, away from the user. Unlike the ordinary finish nailers, this one offers extra power in operation due to its efficient motor design.
Another unique feature of this nailer is the housing bumpers. This protects the tool and work surface at the same time. As a pneumatic gun, the tool is lightweight and easy to use.
The finish nailer does not use the entire stack of nails before reloading. Sometimes it is also very difficult to sink nails using this gun.
Pros
Powerful pneumatic gun.
Easy to use.
Cons
Frequently Asked Questions (FAQ)
1. Is an angled finish nailer better than a straight one?
It depends on the type of application. If you are going to work in tight areas, an angled finish nailer is the choice. But if you are going to work on a more exposed surface, a straight finish nailer should be the choice.
2. Can I use a 15 gauge nailer for all finishing works?
A good quality 15 gauge finish nailer will let you do almost all types of finishing works. For example, the Metabo HPT NT65MA4 will aid you in finishing cabinets, doors, furniture, molding, upholstery, etc. It also gives you more holding power than a 16 gauge finish nailer.
Conclusion
It is expected that you have got a general idea about the best 15-gauge finish nailers through this article. The names included in our list are competent so understandably, it might be hard to choose one from them. The key is to understand your application and buy according to the variety of features and functions.