Roofing nailer is a handy tool for any construction project. There are many types of nailer out there, some can be too unique to blow your mind. Do you know that some nail guns are powered by explosives! But don't worry, they create controlled explosions to drive nails into the workpiece.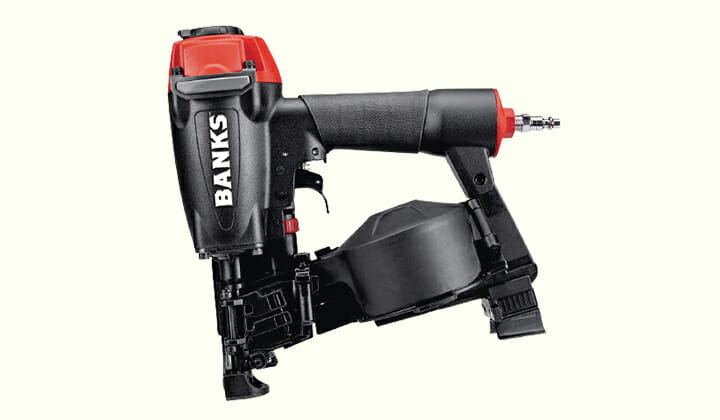 You need to have a clear idea about the tool you are buying so that any short info can't lead you to misunderstandings. As a premium quality nailer for any kind of roofer, I suggest the BANKS coil roofing nailer. And this BANKS Roofing Nailer Review article is solely dedicated to this nail gun. Let's have a look!
Know Your Nailer Better With BANKS Roofing Nailer Review 
Harbor Freight retailer offers amazing tools from the dominant supplier brands including BANKS. From this section, you will be able to know all the sides of the best coil roofing nailer of this brand. 
BANKS 15° Coil Roofing Nailer
Fastener and Magazine 
Every nailer has its distinctive supported fastener sizes. A nail gun that covers the complete range of roofing nails is required to accommodate all types of roof projects. This roofing nailer can drive 11 gauge full round head nails with lengths ranging from 3/4 inch to 1-3/4 inch.
To save you from the exhausting process of taking the nails, holding them to the point, and then driving into the woods, the magazine stores fasteners. A medium-size magazine can hold enough nails to finish any small to medium-range projects. 
You will get a 15° magazine with this nail gun that can hold up to 120 coil roofing nails and its angled design ensures fast reloading.
Power Source and Utility
Among all other power sources, the pneumatic source offers more positive traits. An air nailer is cheaper, mostly requires a cheap air compressor and it can provide more strength to shoot nails perfectly.
Thankfully, this coil roofing nail gun is powered by compressed air. This tool can be used on all types of asphalt shingles and tar paper. 
Nail Adjustment 
In a nailer with a nail adjustment canister, different lengths of nails can be automatically adjusted to suit your demands. You can also select in which depth the nail will be placed from the work surface by the adjustable depth drive. By rotating the depth control wheel, you can adjust the drive depth.
Fortunately, this nail gun comes with both the adjustable canister and depth drive features. 
Firing Mode
Single action or sequential mode and bump or contact mode are the two possible firing modes that a nailer can have. Some nailers feature both of the modes and some feature only one of them.
In sequential mode, one nail will be fired with every trigger pull. Whereas, in bump mode, your nail gun requires contact with the work surface to shoot nails after pulling the trigger.
Bump mode is suitable for tasks that need shorter nails. And sequential mode is preferable for longer nails since they are more likely to be misplaced. This nailer offers both of the firing mode options. You can even easily switch between those modes in a flash.
Safety Features and Design
To make the tool safe, durable, and long-lasting this rugged nailer has hardened steel and carbide insert wear guards on all critical points. The tool body, handle, and nose is designed ergonomically so you can comfortably use it for longer times.
Accessories
Some brands provide extra accessories along with the nailer body which may be used in emergencies or normal usage. Luckily, BANKS is one of them. You will get hex wrenches and a sequential trigger conversion kit with this nail gun. 
Warranty and Price 
Warranty is an indicator of the durability of your tool. The Harbor Freight seller guarantees that this nailer will be free from defects in material and provides free service for 90 days from the date of purchase. If you are looking for a budget-friendly nailer, this one is perfect. 
Frequently Asked Questions
Roofing nailer vs framing nailer, what's the difference?
A roofing nailer is used for medium-duty roofing projects as installing shingles while a framing nailer is used in heavy-duty construction works.
How to use a roofing nailer as a novice?
Wear gloves and eye protection. Set the firing mode and adjust depth, then test fire the nailer a few times before real work. Don't leave the tool unattended, lock the trigger or remove the power source when you are not working. 
Ending Statement
Every nailer has ups and downs, don't cross out a nail gun just for one or two drawbacks. Read the instruction carefully and test drive on other surfaces often. It will increase your productivity. You can also use shingle guides for the most precise work finishing.